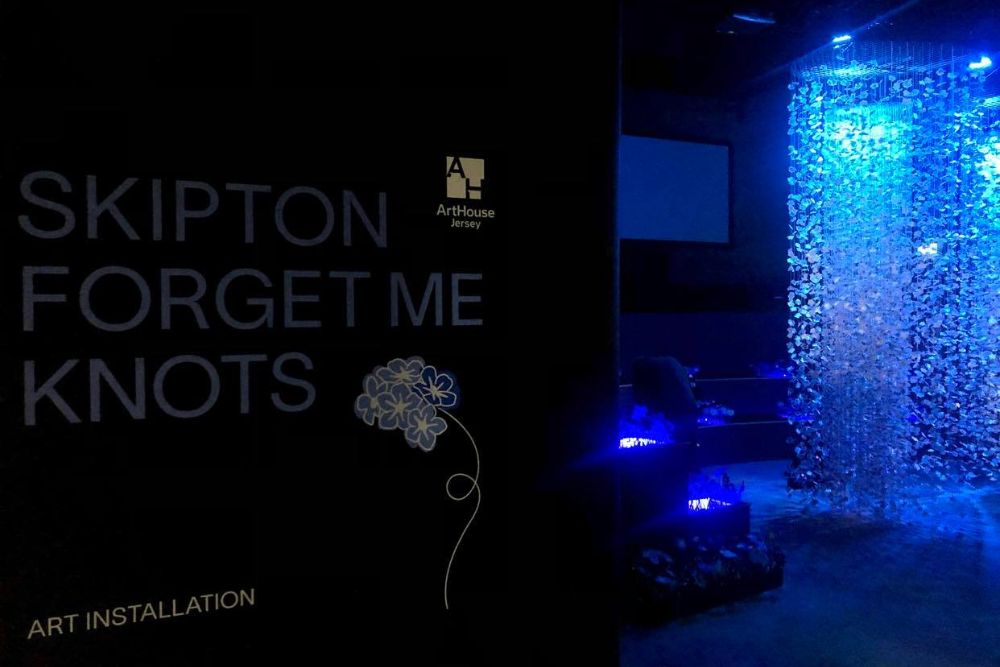 ArtHouse Jersey's 'Forget Me Knots' exhibition at the Maritime Museum symbolises the emotions felt by children during the pandemic.
The community project saw 3,400 primary school children take part in workshops to create paper flowers to explore their experiences and emotions they may have felt during lockdown.
ArtHouse Jersey has brought their emotions to life in the exhibition with immersive lighting, sensual smells of lavender and a mesmerising soundscape in the background.
Organiser Natasha Dettman says the project has helped children have meaningful conversations about lockdown and the coronavirus as a whole.
"I think it's' really important for the children to see that their thoughts and feelings have been listened to and they have had a chance to tie their hopeful memories into the knot of their flower and those are all brought together as part of one big whole wider community and they hopefully will feel supported by that.
"It's a really beautiful and moving testimony to the feelings and expressions of the children on the island and I think it's important for islanders to listen to that and the children to know they're being heard. It's a visual exploration. It's their testimony. It really is about them."
She described the exhibition as a 'magical' experience.
"It's a bit like walking into a dark but magical garden. You have an amphitheatre - two-tiered seating with lit flower beds with a blue light, and the primary school children's flowers are planted into those flower beds, and when you look up to the ceiling there's a central cascade of the secondary school children which is lit and amazing.
"They fall from the ceiling as if it's falling water, all lit blue in the darkness. The sound in the room is quite compressed so you can hear the soundtrack and you can hear their voices - it's really magical."
ARTISTS AT WORK! The Skipton Forget Me Knots art installation design is underway, using flowers made by nearly 3,500 Jersey children, as they processed their emotions through the pandemic. Open on TUES 10 NOV. Book your free 45 minute session here: https://t.co/U5yakEv0Do pic.twitter.com/W5L7m0UBfW

— ArtHouse Jersey (@ArtHouseJersey) November 3, 2020
Children's commissioner Deborah McMillan says the project has been important to help children navigate their emotions.
"Whilst it's important for them to catch up on some school work, it's really important for them to explore different ways of trying to relieve that anxiety, and being creative in this way has really helped these youngsters.
"It's fantastic to see that this has taken place as a joint project with a range of schools, and we need to see more of that to make sure children have lots of opportunities to take part. The other important thing is to make sure children learn about coronavirus and they learn these really important public health messages in a way that makes sense to them."
The exhibition will be open until Friday 4th December from 10:45am to 4:45pm Monday-Friday and 10:45am to 5:00pm on Saturdays.
A maximum of 20 people will be allowed in at any one time, with pre-booking available online.
Check out our photo gallery of the exhibition: