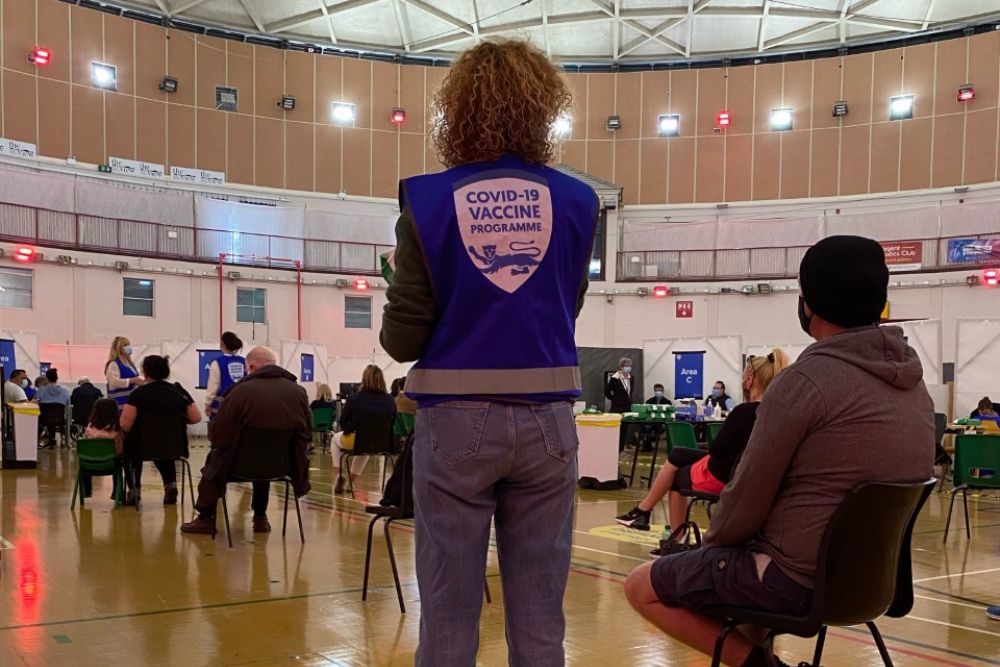 1,000 Covid-19 vaccine appointments a day are being issued for the rest of May as officers make a big push to vaccinate as many over 50s as possible.
Second jabs are being offered around a week earlier than first planned because of concerns over the spread of the Indian variant.
It has yet to be detected in Jersey, but Dr. Ivan Muscat says it's inevitable that it will arrive at some stage.
Letters have been sent to those in 'at risk' groups encouraging them to come forward too.
Nine in ten over 50s have already got their first jab, but Becky Sherrington says it's 'time-critical' that those who haven't get them as soon as possible.
"We're reserved vaccine for them, they can come and get their vaccine and we will do that at pace for them. It's really time-critical and it's important that those one in ten come forward.
"Operationally, we've stepped up to the JCVI advice and we're offering people second doses in acceleration, so we should be able to get all those over the age of 50 their second doses by the end of May."
It's estimated that 4,000 over 50s have yet to get their first vaccine.
Nearly 3,000 cases of the more transmissable Indian variant have been found across Britain.
Dr. Muscat says two doses of the vaccine offer the best protection against this new variant.
More than 40,000 islanders have now been given both doses of a coronavirus vaccine.
As of last Sunday, 73% of people in their 40s had got their first jab.
65% of adults in Jersey have been first dosed.
Nearly 56,000 of the 97,000 doses given out were Oxford/AstraZeneca. The first Moderna jabs were administered last weekend.
Jersey has a dose rate of 90.32 per 100 people in the population. That is ahead of Scotland, England, and Northern Ireland but just behind Wales.
93% of care home residents have been fully vaccinated, as have 84% of high-risk islanders and 71% of those defined as being at moderate risk of illness.
Appointments are now open to over 30s. Details of when under 30s can get their first jab can be found here.