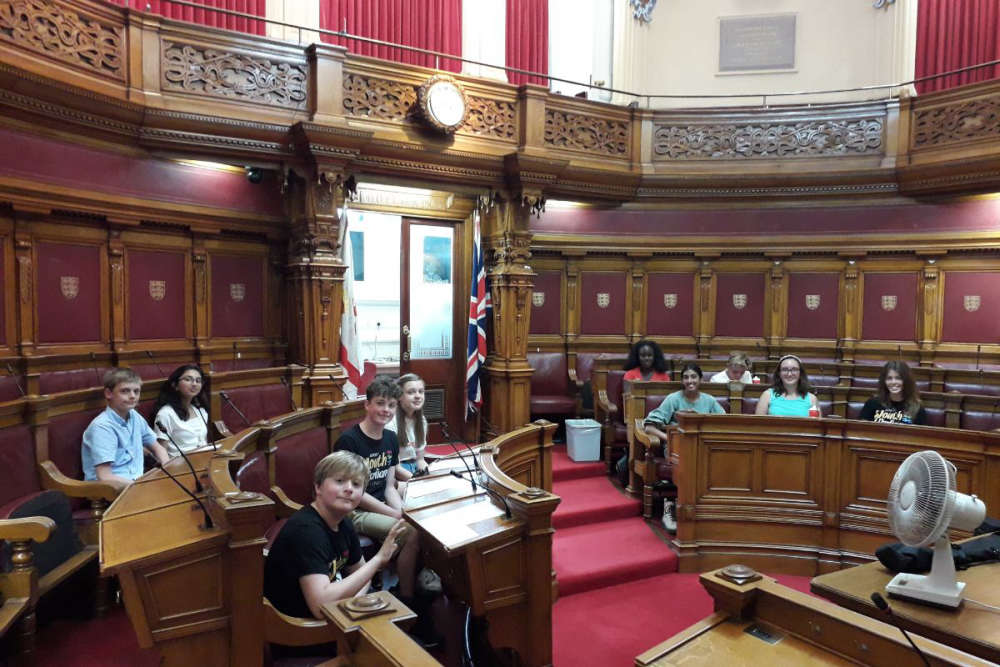 The Youth Parliament presented their recommendations in the States Assembly.
Members of the Jersey Youth Parliament have been very critical of the standard of mental health services in Jersey.
In a survey of 288 young people, nearly half thought support was inadequate and 22% didn't know where to go for help.
They've called for a fit-for-purpose children's mental health strategy, a dedicated in-patient facility for young people in crisis and improved mental health education and support in schools.
Robin Ward is the only facility where children can be admitted to, which has been regularly criticised by young people who have experienced going there.
One girl who was part of last year's Youth Parliament said she felt dismissed by staff and isolated from her friends.
During her speech to States members, Parliament member Aarya Patil conducted an experiment.
She asked the politicians in attendance to close their eyes and think about their deepest secret.
"What if I were to pick one of you to reveal your secret? What do you feel? Anxious? Nervous?
The same feeling is experienced by a child not once, but at least several times when they access mental health support.
This is because they are seen by different healthcare professionals and at each stage, they have to share their problem with different strangers.
The issue here is no continuity of care. A better journey through mental health services and improving working in partnership models need to be perfected.
We need to tackle the recruitment and retention problems facing CAMHS. A focus on workforce strategy with facilitation of international recruitment might be the answer to our problems."
New Health Minister, Deputy Karen Wilson, says her 'heart was beating' when Aariya posed her challenge to politicians.
Fellow Youth Parliament member Ruby Filleul told politicians that people 'need to trust mental health services.'
She revealed that many of her friends who have been through mental health services have said not to go to CAMHS - because it's 'rubbish' and will 'make it worse.'
"I think one of the big things is reforming the way that we deal with mental health inside government, inside CAMHS, inside governmental agencies and then getting across to people that actually you can trust that.
That kind of response to someone that is so clearly really struggling and finding things really difficult, that is only going to make things worse."
The presentation to States members came after 18 months of research and campaigning.
They also presented recommendations on two other areas:
Environment
Rolling-out island-wide kerbside recycling.
Greater protection for biodiversity.
Improving cycling infrastructure, including the introduction of a dedicated cycle lane between La Haule and St Aubin's Village.
Education
An updated PSHE curriculum to include more relevant life skills like self-defence, budgeting, stress management and more comprehensive sex and relationship education.
"Our whole team are so proud of the Youth Parliament for their presentation.
They'd spent a lot of effort in conducting research, and preparing for the event, and it really showed.
They delivered really clear compelling speeches, and well thought out answers." - Lisa Mansell, Senior Youth Worker.