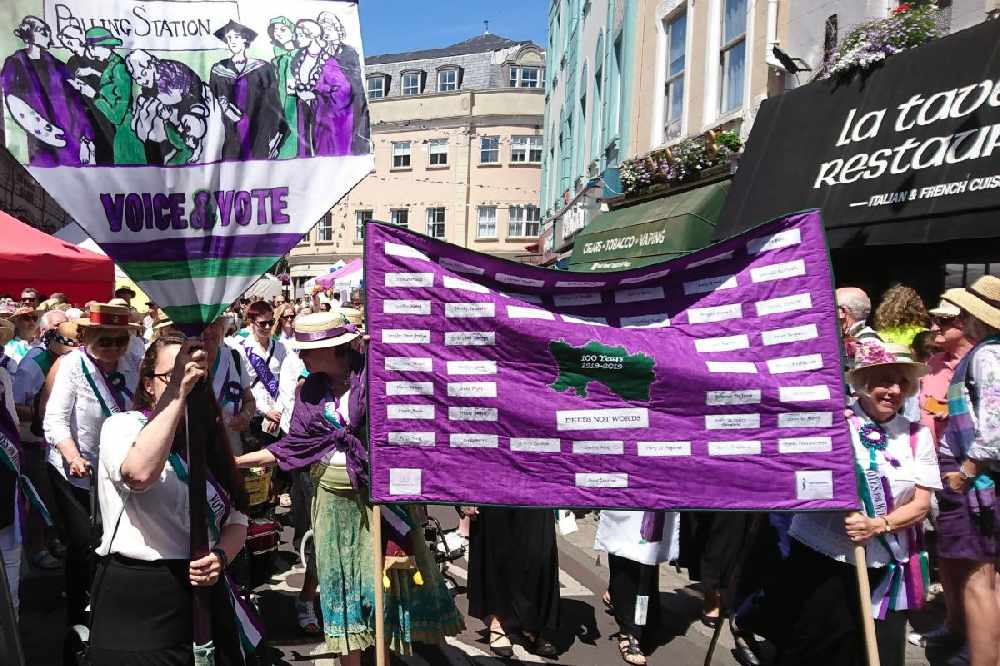 Islanders have marched through St Helier to mark the centenary of some women in Jersey being given the right to vote.
The Franchise Bill came into effect on 12th July 1919.
On that day women ratepayers aged over 30 became eligible to vote.
It followed a long campaign by brave women and men who fought for democratic equality.
Groups from each of the island's parishes carried banners through town - led by Women in Politics and the Soroptimists International Jersey.
The one kilometre parade began with a flash mob.
Local choirs Vocalize and Concordia sang 'March of the Women' before speakers addressed the crowds in the Royal Square.
100s & 100s of people turned out today to show their support for 100 years of #Votes4WomenJSY & #EqualityForAll . THANK YOU for joining us 🙌 In the words of Deputy @LouDoublet, let's "work together to ensure equality reigns in #JerseyCI 100 years from now." #StatesAssembly pic.twitter.com/ldisqypJ1D

— States Assembly (@StatesAssembly) July 13, 2019
Many of those taking part had dressed in suffrage colours - purple, white and green.
Well done Girls! What a fantastic turn-out we had - not only the Grouville contingent but all Island women who turned out in the parade #girlpower — attending Parade to Celebrate 100 Years of Votes for Women in Jersey at St Helier's Town Hall. pic.twitter.com/XfKluexP0Z

— Carolyn Labey (@CarolynLabey) July 14, 2019
Two formidable women ready to march #votesforwomen #WomeninPoliticsJersey pic.twitter.com/PpErOiAJUM

— Ben Spink (@MrBenSpink) July 13, 2019
We're ready to march! @JerseyWiP #CentenaryParade #VotesForWomen pic.twitter.com/QHkzx0r2TC

— Kate Wright (@KateJWright) July 13, 2019
On the 100th anniversary of Votes for Women, serving female politicians made a pledge to continue the fight for equality.
They gathered in the States Chamber, along with some of the 45 women who have been elected to Jersey's States Assembly since 1948.
An exhibition telling the stories of some of the courageous women who fought for the vote is continuing at the Old Magistrate's Court on Seale Street until Saturday 20th July.
There is also the chance to vote for a permanent public memorial.
Main image credit: Deputy Kirsten Morel