Artist Michelle Cain with a min version of one of the puffins
Planning permission has been granted for a willow sculpture of two puffins at Plemont.
The National Trust and Birds on the Edge hope it will highlight the threatened species and the ongoing efforts to save them.
The four metre tall and six metre wide statue will depict two puffins facing each other with their bills touching.
'Billing' is a sign of recognition and partnership between breeding mates. Jersey currently has four breeding pairs.
It will have a steel framework and footings to withstand the winds.
Like the recently removed Waterworks Valley toad, it will be temporary and is expected to have a lifespan of two to three years.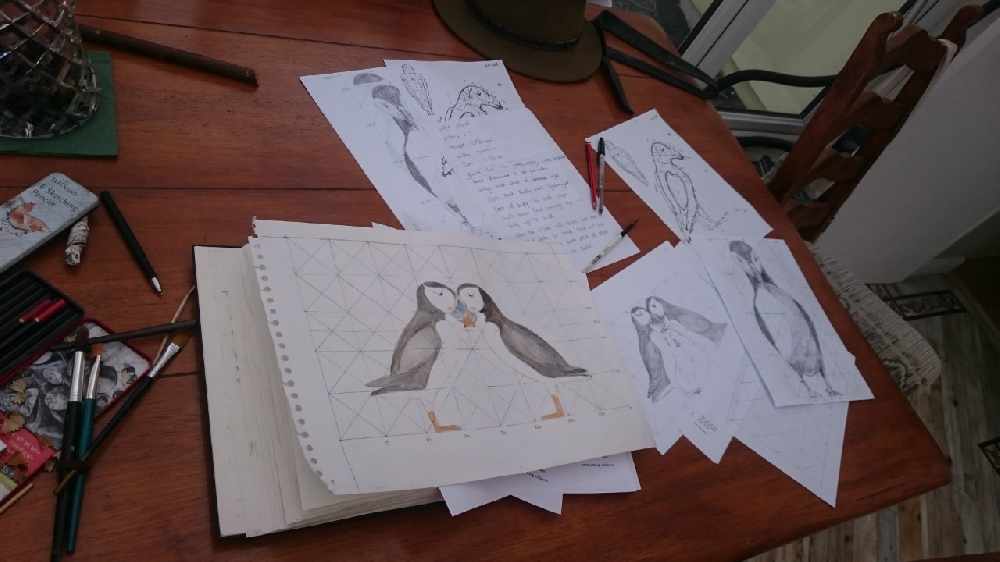 Artist Michelle Cain's sketches of the sculpture. Credit: Cris Sellarés
"It is hoped that it will become a visual cue for other features planned in this area, such as an informative "Seabird Trail" between Plémont and Grève de Lecq, or to serve as a meeting place for events, exhibitions and public presentations. We also hope that the sculpture will be the focal point of an annual event which is being currently planned, which will celebrate the arrival of the puffins at the beginning of each spring." - National Trust for Jersey.
Cris Sellarés, project officer for Birds on the Edge, says some people are still unware of the presence of puffins here:
"A few years ago, when we started, we realised that not a lot of people knew that we still had puffins in Jersey. I think knowledge has increased, but there may still be people who do not know that we have puffins, how to observe them and where they are."
"These sculptures have a temporary nature which highlights the plight of species that are disappearing."
Puffins can be seen in Jersey waters between the months of March and July, from the north coast footpaths.