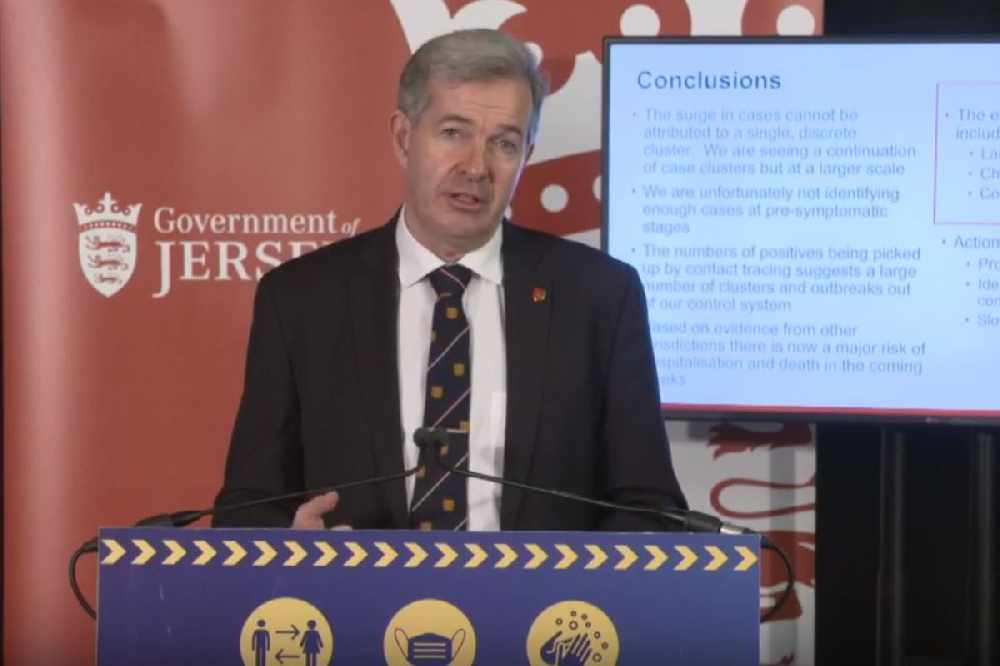 The Chief Minister has warned that Jersey 'is on the cusp of lockdown' if the current trend of coronavirus cases continues.
The stark message was given after Ministers announced further measures aimed at stopping the sharp increase in Covid-19 infections over the past week.
That includes telling over 70s and vulnerable people not to mix with anyone outside of their own household, testing the over 60s, and asking people to work from home wherever possible.
You can read more about the new measures here.
84 people were diagnosed with the virus over the weekend - bringing the number of active cases to 247. More than 2000 direct contacts have been traced and are now in isolation.
There have been more than 1000 cases in Jersey since the pandemic started.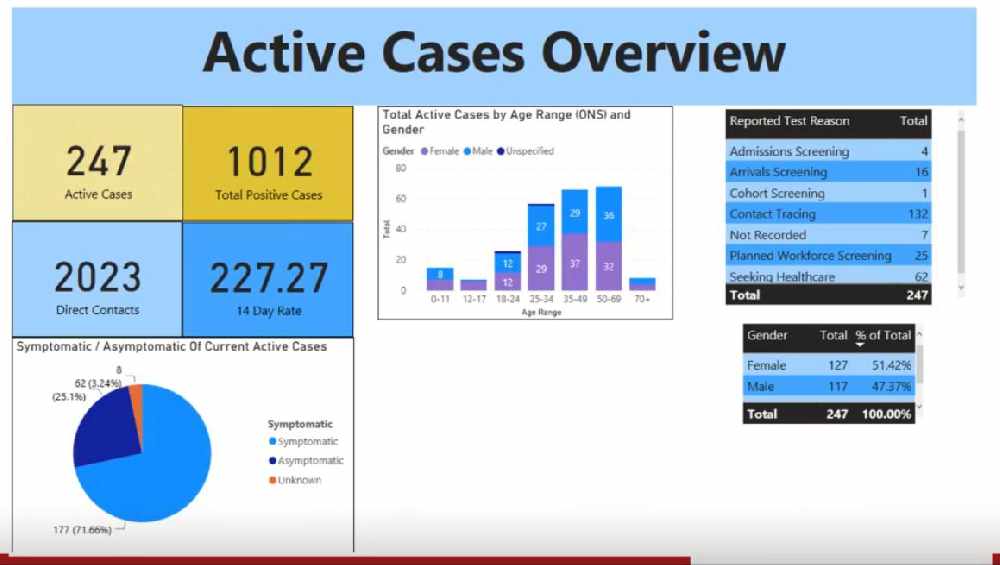 Incidents of people ignoring public health guidance to go to parties and large gatherings in pubs, bars, people's homes, and hotels have led to more than 100 cases in the last seven days.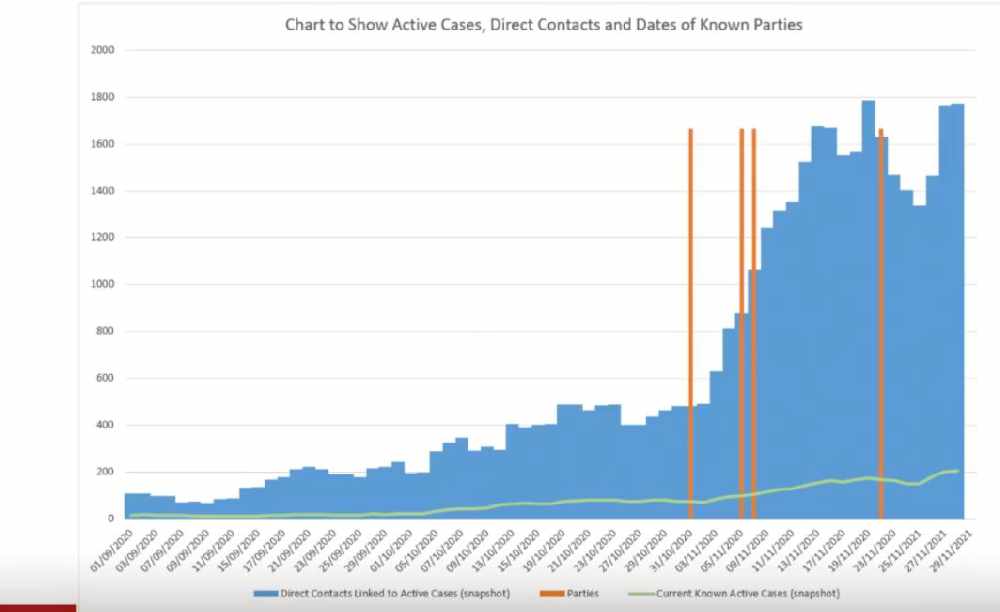 "Like many islanders, I am absolutely furious at anyone in our community who has knowingly, recklessly, and deliberately failed to follow the public health guidance.
"It flies in the face of the overwhelming majority of our community who've acted selflessly and responsibly to protect the most vulnerable." - Senator John Le Fondre.
Senator Le Fondre has also pleaded with islanders not following public health guidance 'to take this final chance to mend your ways'.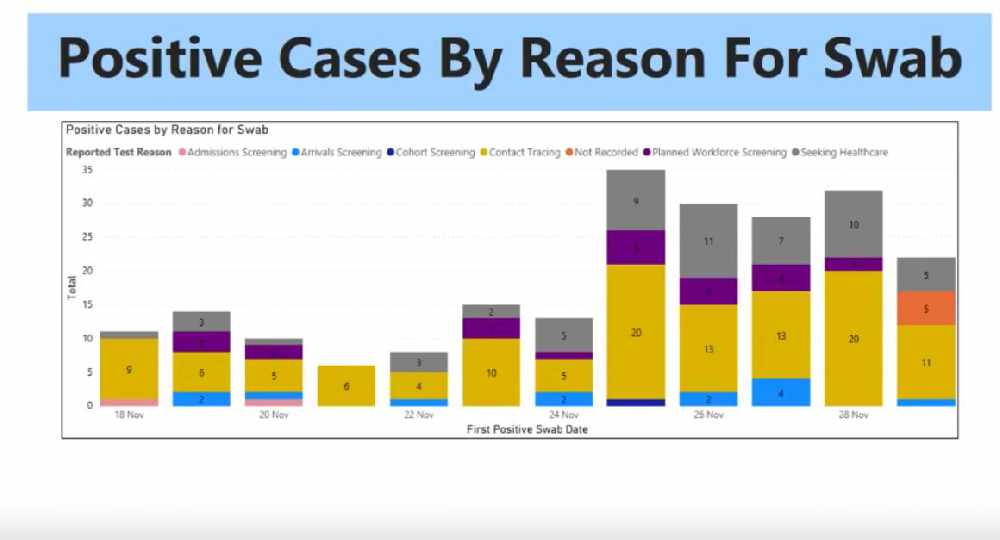 Masks also now have to be worn inside public spaces in Jersey.
The Health Minister says stricter coronavirus measures will help to avoid a second lockdown, but only if we all take responsibility for our actions.
Deputy Richard Renouf has warned that if case numbers continue to rise, more people will require hospital treatment, and the Nightingale will need to be used - which will likely lead to deaths.
"If we do not act now then we could see our health services, and the dedicated staff working within them, becoming overwhelmed at the very point that we enter the Christmas holiday period.
"Surely that is not what any of us wants to happen.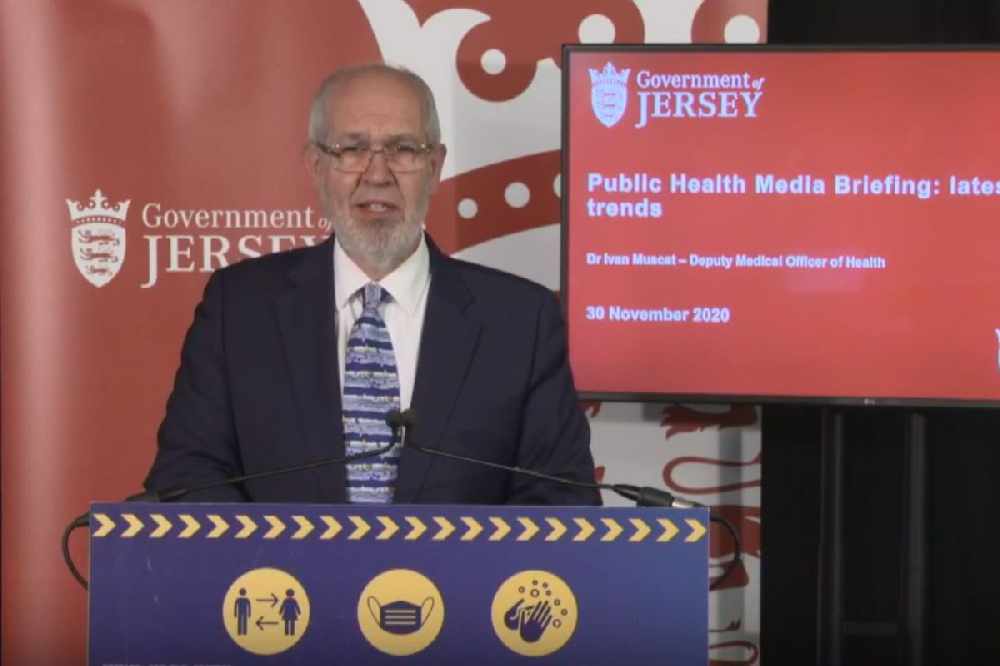 "Take responsibility for our actions and act accordingly. Please do so for all of us, in this the community we love."
The Deputy Medical Officer of Health says further restrictions on hospitality will be a focus if new measures to prevent the risk of coronavirus do not work.
The Chief Executive of the Jersey Hospitality Association has criticised some of its members for hindering progress and 'taking liberties' with public health guidance.
Hospitality has been unaffected by the further measures announced on Monday. They they still have to stop serving by 10pm, not serve drinks at the bar and only allow ten people at one table.
Deputy Renouf has hinted that this curfew could well become stricter.
"This behaviour that we saw was carried out at a time when licenced premises were open until late at night.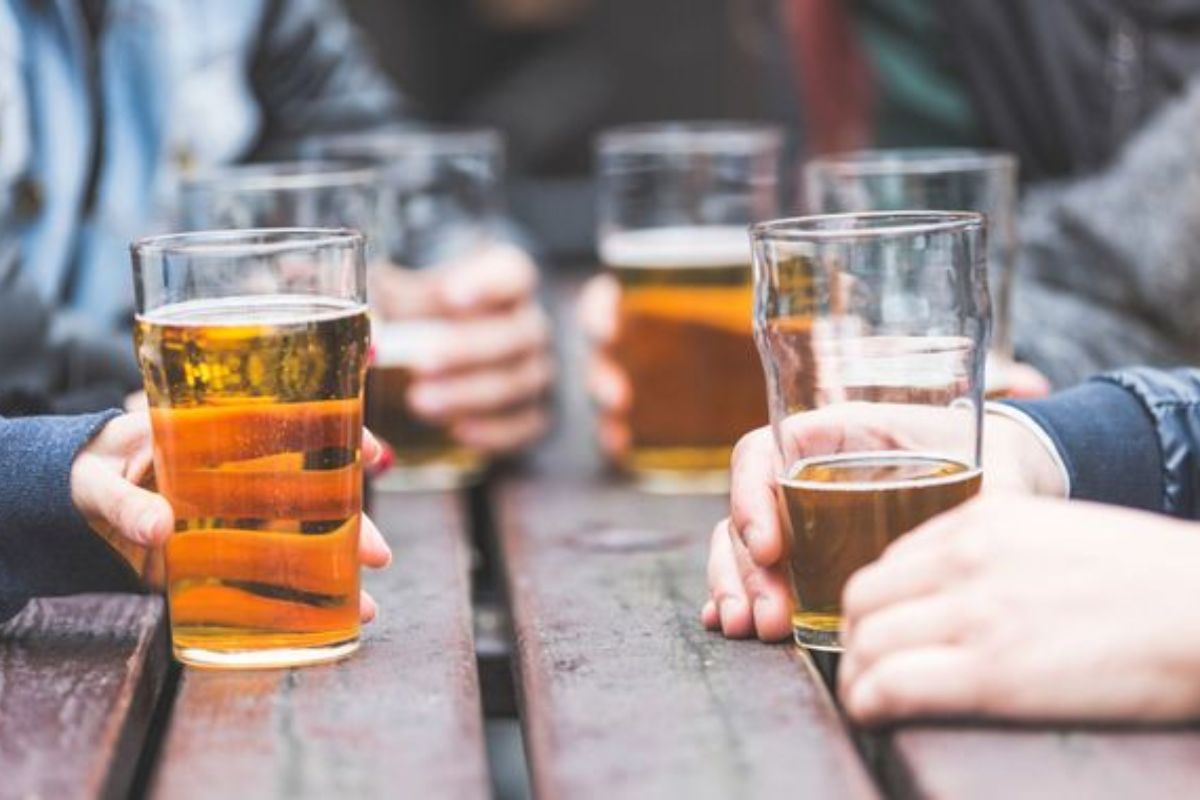 "From the middle of last week, we limited the hours to 10(pm). We've yet to see the effect of that, but I certainly want to be discussing with Ministers what the effect might be of further limiting the hours to protect people."
Asked by Channel 103 whether Ministers should be stopping Christmas socials altogether, the Health Minister said:
" People have just got to be very careful about gathering together with others. This Christmas is going to be different. It is going to be far quieter than what we are used. Unless you have got a really good reason to go out drinking, socialising with a large crowd of people -well, you just shouldn't, should you. Think and act responsibly, and try to keep away from gatherings of people."
There were calls on Channel 103's social media pages for schools to close following the increase in cases across the island, as well as amongst schoolchildren.
It followed news that hundreds of children had to take the day off school yesterday when four pupils and two members of staff at five schools tested positive for Covid-19 at the weekend.
Whole year groups at Les Landes, St Lukes and Jersey College Prep and JCG were told to stay at home as a precaution until tests are completed.
Senator Le Fondre says cases are not spreading in schools.
"They (cases) are arriving in schools from infections that are spread in hospitality, in private functions, from fitness groups and too many people hosting parties."
The government, last week, confirmed its plans to roll out the coronavirus vaccine when it becomes available in Jersey.
Vaccines developed by Oxford and Pfizer are the front-runners, with the hope that some high-risk islanders could be protected by the end of 2020.
Deputy Medical Officer of Health, Dr. Ivan Muscat, says taking preventative action now will stop a lockdown from happening when the vaccine is being rolled out.
"There is potentially an end in sight in the near future.
"So this is almost like entering the last straight. Keep going, but put more effort into it!"
The Chief Minister has admitted that while the added restrictions on the vulnerable 'isn't fair', it's aimed at curbing the poor behaviour of others which is causing the increased spread of coronavirus.
Those at risk, along with the over 70s, are being asked not to mix with others from outside their household.
Health Minister Deputy Renouf says it's an unfortunate consequence of the situation the island is in.
"We're not abandoning the elderly and the vulnerable.
"As happened months ago, there was very good care put in place through our Connect Me service, which is available via the helpline.
"The Parish Halls and many community groups stepped up to keep in contact with elderly and vulnerable islanders and look after their needs and I'm confident that will happen again - because that is what we are good at in Jersey."
It was also announced that the number of people on Jersey's contact tracing team will go up from 55 to 89 from the start of next week.