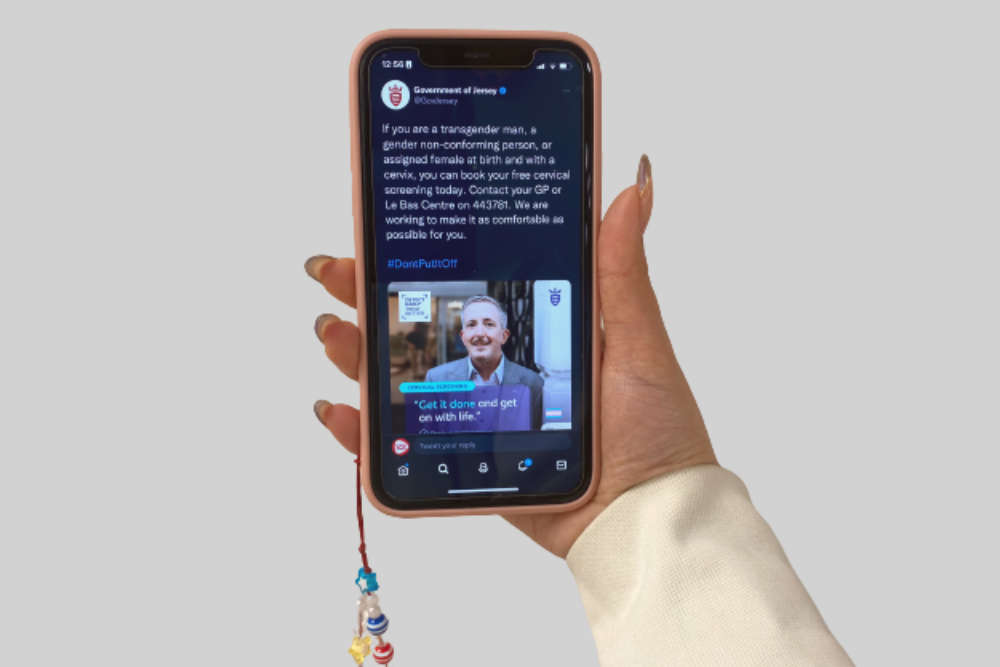 The Director of Public Health has defended a current cervical cancer screening advert amidst an online backlash.
A campaign message aimed at transgender men and people who identify as non-binary has drawn criticism for not including women.
If you are a transgender man, a gender non-conforming person, or assigned female at birth and with a cervix, you can book your free cervical screening today. Contact your GP or Le Bas Centre on 443781. We are working to make it as comfortable as possible for you.​
​#DontPutItOff pic.twitter.com/7E7b9nNeOW

— Government of Jersey (@GovJersey) January 23, 2023
Health officials say the idea behind the campaign is to encourage everyone with a cervix to get tested, regardless of identity and gender, as the test saves lives.
The American Journal of Preventive Medicine found that transmen are less likely to attend pap smears than women.
Professor Peter Bradley, Director of Public Health says the test is potentially life-saving and the purpose of the adverts is to be 'as inclusive as we could'.
"We know that there are barriers for some groups, so the transgender community would be one example of that, so it is quite important for us to get the message out that those people are welcome, along with the women who are eligible."
The tweet has reached nearly four million people and drawn over 5,000 comments, with many people expressing they are unhappy with the message.
Excuse me but **** this !! The only word left off is woman. What the hell is going on? https://t.co/BERuCD6CL5

— Sharron Davies MBE (@sharrond62) January 23, 2023
Why have you not put woman in there? You can't exclude women from a medical post that affects us! This creates unnecessary upset and widens division. By erasing a word we treasure and are empowered by you disrespect so many of the population

— Emma Kenny (@emmakennytv) January 23, 2023
Posted for clout. Shame on your PR department.
Desperate to go viral instead of actually wanting to be inclusive.
The state of SM managers these days 🙄

— Nadia Essex (@LadyNadiaEssex) January 24, 2023
Jersey woman here @GovJersey. All for being inclusive but don't cancel women in the process. @drhelenmiles this cannot be right

— Karen Gallichan (@GallichanKaren) January 23, 2023
On the contrary, a lot of people have shown their support for the campaign.
The Jersey Government have repeatedly done ads aimed at women to get cervical screening tests.

When they did one aimed at trans people, anti-trans activists all piled on it.

So anti-trans activists are saying they want trans people to receive no targeted health messaging. https://t.co/CZsy5uD7OX pic.twitter.com/wAaswFqw17

— Owen Jones (@OwenJones84) January 24, 2023
I love this, so inclusive. Well done Jersey.

— Black Rose (@Irnbrumaiden666) January 24, 2023
Trans Men may not realise they are still at risk of getting cervical cancer. I think the government want to encourage them to come forward for testing. As far as I'm aware, I don't think the cervix is removed during transitioning.

— heidi lewis (@heidininalewis) January 24, 2023
Solidarity with trans and gender non-conforming people in Jersey 🏳️‍⚧️✊🌹

Their lives matter and their access to vital healthcare matters too. Public healthcare messaging aimed at reaching them should be welcomed.#DontPutItOff

— Deputy Sam Mézec (@SamMezecJsy) January 24, 2023
Two of the other #DontPutItOff campaign tweets show three women, one asks female islanders specifically, as well as people with cervixes, to get checked for cervical cancer.
Both tweets have just over 100,000 views combined with around 210 comments.
Did you know that cervical screening tests are free? ​
​
If you are female or have a cervix and are aged 25-64, you can opt-in and book your free cervical screening test today by contacting Le Bas Centre on 01534 443781 or your GP. ​
​#DontPutItOff pic.twitter.com/j0c0QcsjYL

— Government of Jersey (@GovJersey) January 23, 2023
When was your last cervical screening test? ​
​
Cervical screening identifies abnormalities that may lead to cervical cancer. If you are aged 25-64 you can opt-in and book your free cervical screening test today with your GP or Le Bas Centre: 01534 443781 ​
​#DontPutItOff pic.twitter.com/mlA50gZjMH

— Government of Jersey (@GovJersey) January 23, 2023