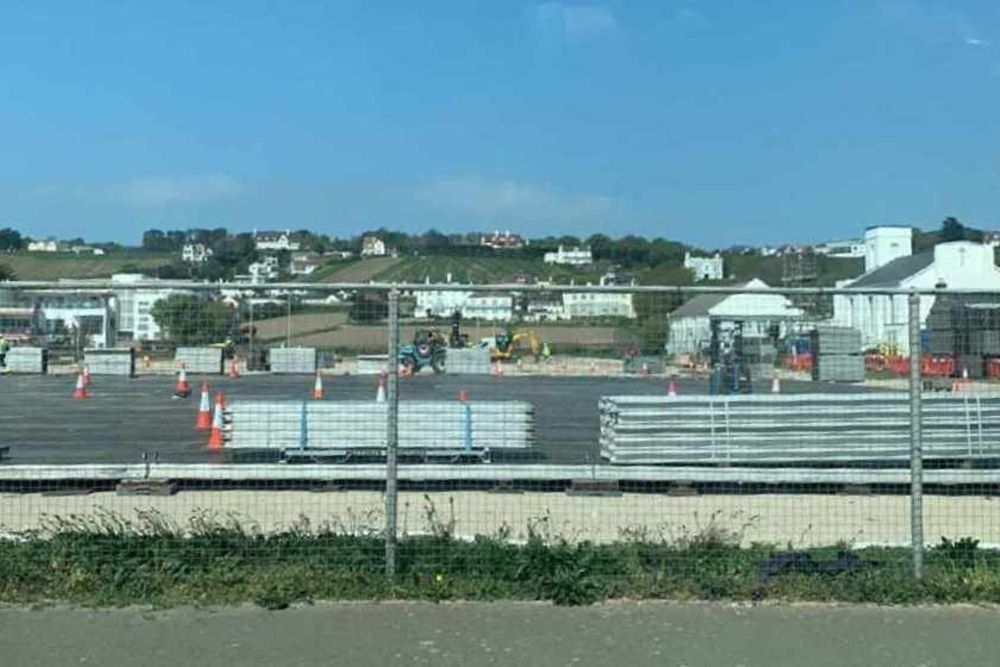 The Chief Minister says government is working closely with people living near the Field Hospital building site to make sure their concerns are heard.
The £14.4 million, 180-bed Nightingale hospital is being created to offer extra care for people suffering with coronavirus.
Work started over the Bank Holiday weekend. It's due to be operational in the first week of May, when the Covid-19 peak is currently due.
Senator John Le Fondre spoke about the hospital in a video statement released this evening.
"I know that the construction will have a particular impact on those living close to Millbrook, and the team are actively working to manage and resolve any complaints they receive from local residents. In Government, we are working closely with the St Lawrence Parish Connetable and Deputies to ensure those living near the Nightingale site are able to voice their concerns, get answers and are given regular updates on what is happening in their neighbourhood.
"I would to thank the Connetable and Deputies for their assistance, and the Rector of St Lawrence, who has given the use of the Hall adjacent to the Glass Church, as the J3 site office.
"I appreciate the real concerns all the residents in the area have, and want to thank them for the cooperation and understanding they've
shown the team as the construction has gotten underway."
After the field hospital announcement was made last Thursday, St Lawrence Deputy Kirsten Morel asked for reassurances for people who live nearby, amid fears of the virus being transmitted.
He's since met government officers and says the information will include facts about the hospital, the safety of residents, traffic and accessing homes.
It will include facts about the hospital, safety of residents and specific matters such as traffic arrangements, access to homes & more.

You will see work starting from today and over the weekend. This is preparatory work but the site will develop quickly over the coming weeks.

— Kirsten Morel (@KirstenJersey) April 10, 2020
The hard foundations and drainage needed have started to be laid down. The temporary structure has arrived and the building floor is being laid.
Local businesses have been brought in as part of the project to give condition surveys, temporary electrical surveys and utilities.
"The demands on our Health services will increase, and we need to be prepared to meet them head on. That is why the construction of the Nightingale hospital now is the right step to take. When the peak comes, it will help us to face it and manage it appropriately.
"It will provide the resilience we need to try to protect our most vulnerable and save as many lives as we can." - Senator John Le Fondre, Chief Minister.
This is the second video statement released since Thursday regarding the field hospital. Channel 103 has asked the government whether the Chief Minister will be answering questions on it. We are awaiting a response.