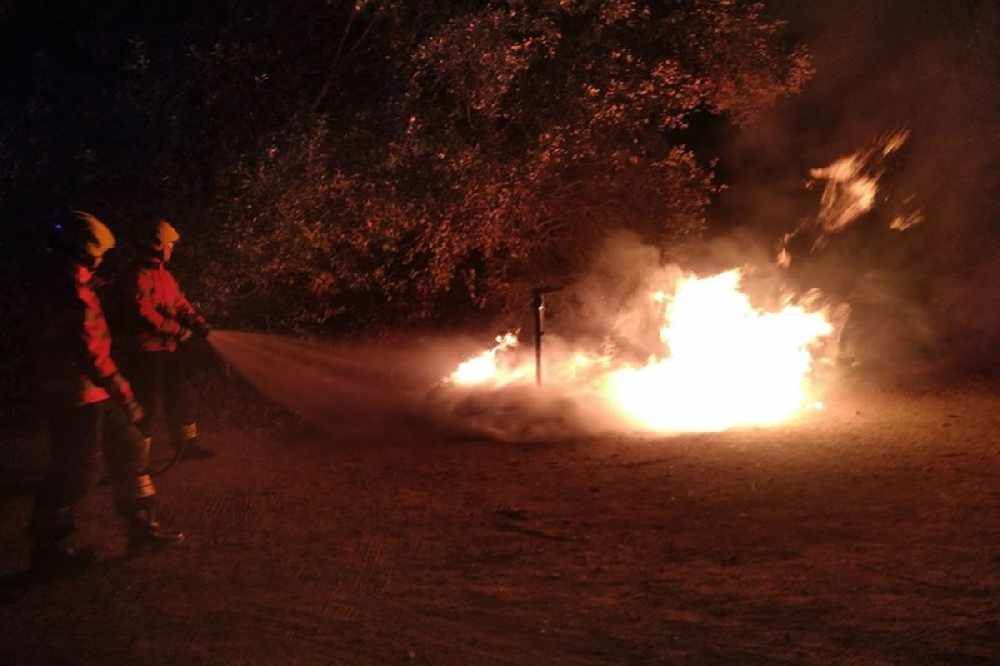 Credit: Jersey Fire & Rescue
Crews were called out to deal with two euro bin fires last night started by disposable BBQs.
The first in St Brelade was extinguished by a member of the public with buckets of water...
...with the second at Longbeach car park in Gorey brought under control after spreading to a nearby hedgerow.
It follows several other BBQ fires this summer, some of which have caused injuries.
Jersey Fire and Rescue has already asked people to take care when cooking outdoors, issuing this advice:
Gas BBQs
Ensure gas pipework is in good order and not cracked and perishing.
All connections must be spanner tight, not just hand tight.
Carry out periodic gas lead tests using soapy water or leak test fluid.
In a fire situation, if you're unable to safely turn the gas supply off, evacuate the area and call 999.
Charcoal BBQs
Only dispose of BBQ coals/tin when completely cold. Immerse in water if necessary.
Think about where you're BBQing – could you set fire to vegetation.
Remember that the area under a disposable BBQ could stay hot for a long time after use.
Use water to cool the area or carefully dig out the area if it's appropriate to do so.
Think about the carbon monoxide risk if using or moving hot coals in a confined or poorly ventilated area.
"We don't want to stop people having fun and taking advantage of this amazing weather. We simply ask that they spend a little bit of time checking and maintaining their BBQ and, if using charcoal, think about where they're cooking and disposal of coals; hot coals, rubbish and plastic bins don't mix!" - Phil Falle, JFRS.