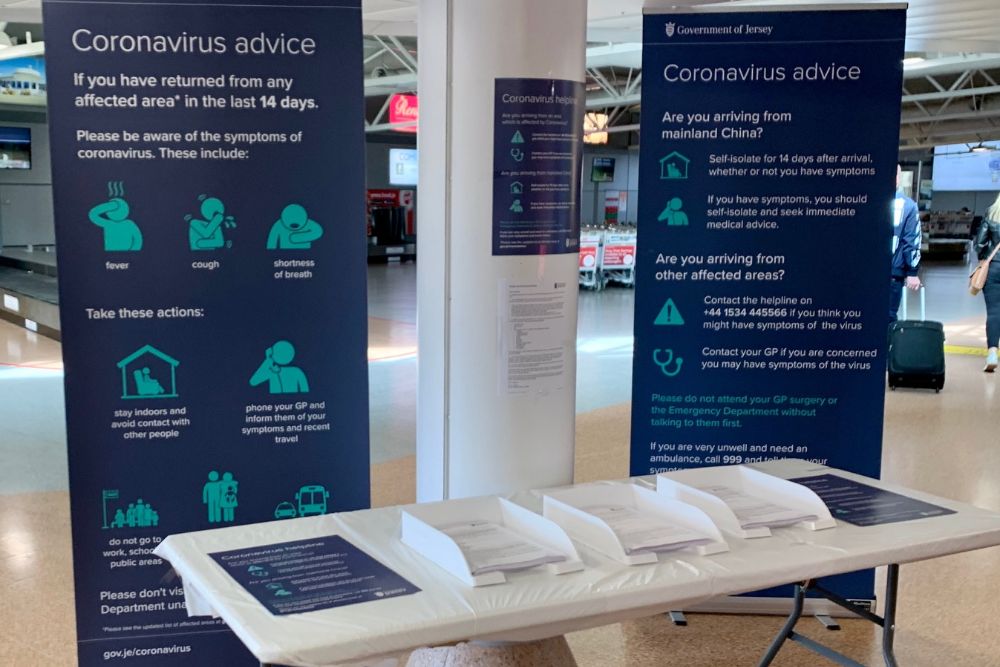 Jersey's government has issued new travel advice that anyone arriving in the island from 52 counties across europe and asia must self isolate for 14 days - even if they don't have flu-like symptoms - to prevent the spread of coronavirus.
It includes the Republic of Ireland, but not the UK, and does not apply to essential workers.
"The guidance is that all travellers arriving in Jersey from Europe and Eurasia must now self-isolate for 14 days. This includes travellers who arrive in Jersey from these countries via the UK and applies regardless of whether travellers are displaying flu-like symptoms or not."
Anyone who develops flu-like symptom during the self-isolation period should call the helpline on 445566.
People are being advised not to travel to the island unless they have the ability to self-isolate for a full 14 days in Jersey.
"We have not taken this decision lightly, but to protect our community we feel it is right and proper to put this measure in place.
Mainland Europe is now the epicentre of the coronavirus and ensuring that anyone coming to Jersey from Europe and Eurasia self-isolates for 14 days is a prudent approach." - Chief Minister, Senator John Le Fondré,
The government says islanders are advised to only travel off-island if it is truly essential, such as for medical care, to provide care for vulnerable dependants and for essential business that can't be undertaken remotely by electronic or other means.
As of midday on Monday 16th March, Jersey had five confirmed cases of coronavirus.
The Director General of Jersey's health department said they had all returned from affected countries and urged islanders to follow Jersey Government advice.
Join Channel 103 from 9am when Jersey's Primary Care Medical Director Dr Adrian Noon will be taking your health-related coronavirus questions.

The Emergencies Council - led by the Chief Minister - is meeting for a second time to discuss the situation. It first convened on the subject of Covid-19 last Thursday.
The EU is shutting its borders from midday for 30 days to slow the rate of infections.
Condor says it is working up a plan to put on sailings over the next few days to help passengers who need to get home.


In separate developments:
*There willl be an extra States Assembly sitting this week for politicians to ask Ministers urgent coronavirus questions.
On Wednesday afternoon, States Members will also debate emergency measures to allow them to vote remotely if necessary and to make decisions even if more than half are unable to be present.
*Jersey's largest retailers have come together to plead with people to 'shop sensibly'.
It's as shop shelves are being quickly emptied of the likes of hand sanitiser, toilet rolls and pasta.
An important - and joint - letter to consumers from the Island's four big supermarket retailers and @JerseyConsumer. Please take 15 seconds to read it, and then share it far and wide as we need this message to reach as many people as possible. Please use #shopsensibly pic.twitter.com/a4JMKoJkFN

— Carl Walker (@CarlWalker7) March 16, 2020

* The royal visit of HRH Sophie, Countess of Wessex to Jersey next week has been postponed.
*Some Parish Hall enquiries have been cancelled for the next two weeks because of concerns relating to Covid-19.
Anyone due to attend those affected will be contacted by the Honorary Police.
* All Scouting meetings, activities and events have been suspended until further notice.
The decision affects 800 young people and more than 200 volunteers.
The organisation is looking at ways of sharing activities online that can be done at home.
*Blue Islands has introduced a revised timetable from today to make sure essential lifeline routes are maintained.
There are morning and evening services between Jersey and Guernsey, twice daily Guernsey to Southampton and Jersey to Southampton services plus a daily service to Bristol.
The airline insists the links to Southampton are not threatened by the collapse of Flybe - and that services will continue.
* Jersey FA has postponed all local league and cup fixtures, friendly matches and training including after-school skills sessions and holiday fun weeks.
Jersey Reds don't know when they will nextplay after the RFU suspended all training and games until 14th April at the earliest.
The opening meeting of the Jersey Horse Racing Season at Les Landes on Easter Monday has been cancelled because of Covid-19.
---

Coronavirus Advice
If you think you might have the virus, you should self-isolate and call the Health Department's coronavirus helpline:
01534 445566
It's open every day between 8am and 8pm. Calls outside these times, or when the line is engaged, won't be answered straight away - but we're told to leave a message and Health officials will call you back.
Please don't visit your GP or the Emergency Department at the General Hospital if you think you have the virus.
Coronavirus symptoms are similar to that of the flu - a combination of a cough, fever and aching muscles. If you've had any symptoms, even if you haven't travelled abroad, we're being told to self-isolate until they clear up (for a minimum of seven days).
Anyone who has come into contact with a person confirmed to have the coronavirus should stay in self-isolation for at least 14 days.
All the latest information can be found on Gov.je.