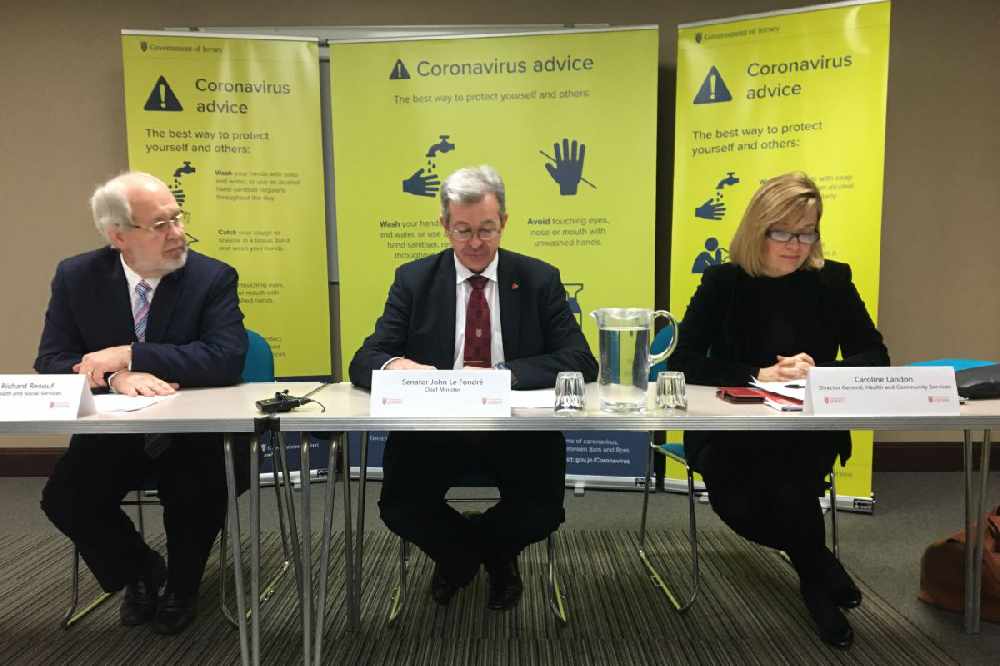 The government has cancelled all off-island school trips because of coronavirus.
That includes ones due to take place during the Easter Holiday. It's not known how long the ban will be in effect.
Many islanders were angry that JCG pupils were allowed to go to Italy earlier this month. At the time, there was no advice given to say they couldn't go - that's changed since their return.
Chief Minister Senator John Le Fondré. has addressed the issue.
"It all depended on the medical advice one receives at that point in time. It has changed rapidly.
"So for example, when that particular group came back they didn't need to self-isolate, but that changed within 24 hours. That gives an indication of how quickly some of this has moved."
In a press conference called this lunchtime (13 March), The Chief Minister has attempted to clarify his position on travel after islanders criticised the Council of Ministers for saying that islanders should carry on as normal, including taking holidays off-island, following medical advice.
That's very different advice from Guernsey's health professionals, who have told islanders to only travel if absolutely necessary.
"We have been advised by the Deputy Medical Officer for Health, Dr. Ivan Muscat, that the Island does not need to be locked down at present, and we need to enable Islanders to retain normal life activities.
"If Islanders want to travel they should only do so under FCO guidance - as is currently the case in the UK."
The Chief Minister, Health Minister and Director General of Health all addressed questions from the media today - which included:
* It's likely that further decisions will be made as to whether schools and colleges will remain open.
* 17,000 islanders aged 80+ are being contacted to receive free health checks.
* "It's quite feasible that there will be fatalities most regrettably, but that is because it is an epidemic. We must prevent that degree of harm occurring if we allow the spike to develop." - Deputy Richard Renouf, Health Minister.
* An epidemic room has been set up in the hospital.
*Civil servants may be asked to come into hospital services to do some work, to release health staff to deal with coronavirus issues.
* "The virus is a completely unfamiliar virus, so therefore we are having to ensure that the information we give to the public is the right information because it is our job to keep islanders safe." - Caroline Landon, Director General for Health & Community Services.
* A dedicated manager in the hospital hub has a specific remit to focus on ensuring health staff wellbeing.
* Education Minister Senator Tracey Vallois will be invited to the next Emergencies Council meeting on Tuesday.
* There are no current plans to close or restrict access to the States owned Sandybrook Nursing Home.
* "Unless children have comorbidities, then thus far we are not seeing at children will be particularly affected." - Caroline Landon.
* A special meeting of the States Assembly could take place on the subject of coronavirus and more minor States business could be delayed. The Youth Assembly has been postponed.
* "Our aspiration is to manage the peak and to ensure that when the peak comes, it is within a curve that we are able to service." - Caroline Landon.
* At the moment, priority is being given to testing people who've returned from Tier 1 or Tier 2 counties with obvious symptoms.
Carl Walker from the Jersey Consumer Council has pleaded with islanders to stop bulk buying, after many islanders raided local supermarkets this week following the first confirmed case.
Enough is enough. Islanders MUST be more considerate and stop bulk/panic buying. The vulnerable are at serious risk of going without or being caught up in the hysteria. Retailers have confirmed they are well stocked and have deliveries on the way.

— Carl Walker (@CarlWalker7) March 13, 2020
A Jersey doctor has hit out on Twitter after hand rub and clinical wipes were stolen from the hospital:
What's the island coming to when our stock of hand rub and clinical wipes are stolen from the hospital!! Calm down people. Please!!

— David Ng (@JerseyGIdoctor) March 13, 2020
The Jersey Bulls match with Westfield this weekend has been postponed:
🚨 GAME OFF 🚨

Westside understandably didn't want to risk their players' health so have decided not to travel for tomorrow's game. 🚫

🚨 SHARE SHARE SHARE 🚨 pic.twitter.com/RXqLMSzGBY

— JerseyBullsFC (@jersey_bulls) March 13, 2020