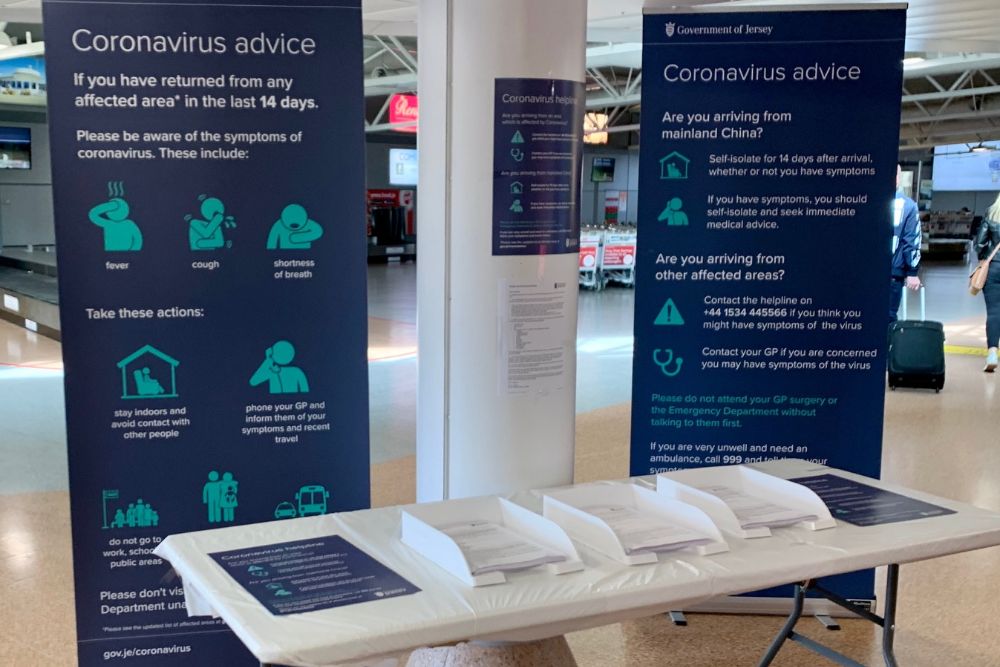 Two pull-up banners in the Arrivals Hall at Jersey Airport.
Anyone arriving in Jersey from France or Germany who develops symptoms of coronavirus should self-isolate.
Jersey health officials have updated their advice for travellers after considering the evolving situation with Covid-19.
Advanced monitoring has been taking place at the airport for people arriving from Tenerife, with passengers told how to report any symptoms they develop during the flight, when they arrive, or after leaving the airport.
It's now been extended to the ports, yacht clubs and aero club to reach people who may have travelled from Jersey to France.
There are no cases of coronavirus in Jersey. 42 tests have been carried out and all results have been negative.
"We consider new information at our daily meetings and amend our advice accordingly. Considering the ease of travel between France and Jersey, we have decided to ask anyone who has arrived in the Island from France to self-isolate if they develop symptoms on their return.
"There is still no need at this stage to avoid or cancel large gatherings, and good hand hygiene is the best way to protect yourself and others from contracting this, and other, viruses." - Consultant Microbiologist and Jersey's Deputy Medical Officer of Health, Dr. Ivan Muscat.
States members were briefed at lunchtime on Jersey's response to the outbreak - led by the Chief Minister, Health Minister, Dr. Muscat and other health officers.
Alongside the Minister for Health and Dr Ivan Muscat, I have just updated @StatesAssembly Members on the @GovJersey 's preparations and plans for tackling the spread and impact of the Coronavirus pic.twitter.com/BwflfTHOv6

— John Le Fondre (@John_Le_Fondre) March 3, 2020
Local businesses have been told to make sure their contingency plans are up to date. A meeting is being held with industry bodies later this week. Officials have spoken to the Jersey Fishermen's Association to update them and schools have been contacted with advice on any planned school trips.
Travellers are being urged to stay indoors and avoid contact with other people if they've returned to Jersey from:
- mainland China in the last 14 days, even without symptoms
- Iran, South Korea, or lock-down areas in northern Italy since 19 February, even without symptoms
- France, Germany, Hong Kong, Japan, Macau, Malaysia, Singapore, Taiwan or Thailand in the last 14 days and have a cough, high temperature or shortness of breath (even if symptoms are mild)
- other parts of northern Italy (anywhere north of Pisa, Florence and Rimini), Cambodia, Laos, Myanmar or Vietnam since 19 February and have a cough, high temperature or shortness of breath (even if symptoms are mild)
Lockdown areas in northern Italy are: Codogno, Castiglione d'Adda, Casalpusterlengo, Fombio, Maleo, Somaglia, Bertonico, Terranova dei Passerini, Castelgerundo and San Fiorano and Vo'Euganeo.
The advice on people arriving in Jersey from Tenerife can be found here.