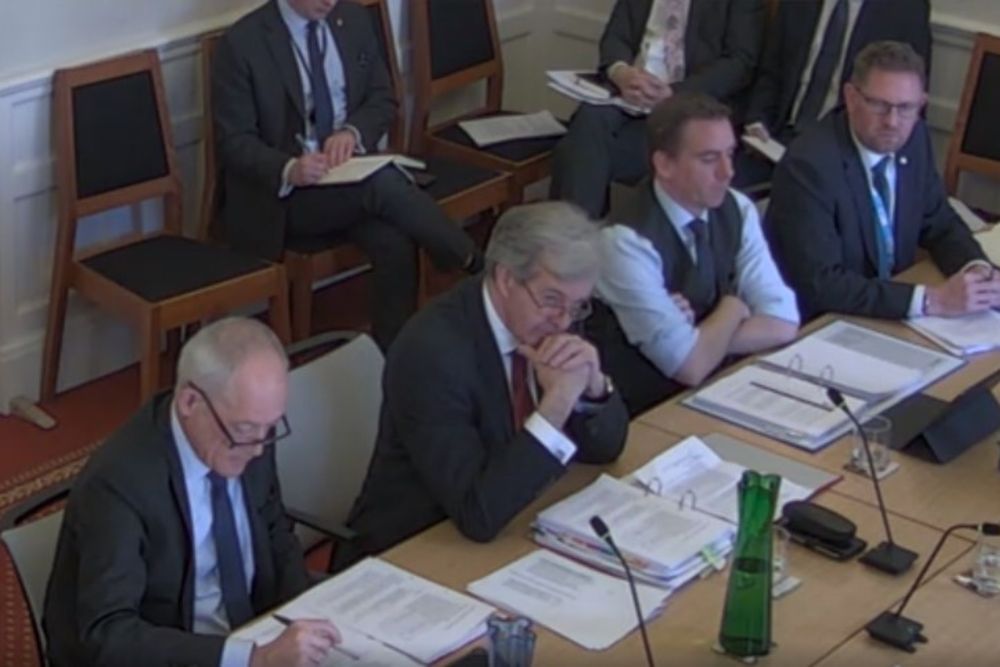 Government CEO Charlie Parker and Chief Minister John Le Fondré at a Scrutiny hearing this week.
Jersey's Chief Minister has reissued a denial that civil servants, and not Ministers are running the island.
It's after repeated concerns from senior politicians about who's really in charge.
Channel 103 asked for a government response following stringing criticisms made on Twitter by the Education Minister, Senator Tracey Vallois, and then this week by Senator Kristina Moore - who referenced a 'toxic combination' of a strong civil service and weak political leadership.
Supplying a prior statement, Senator John Le Fondré says Ministers decide and civil servants advise, support and implement those decisions:
"I have made it clear that the States Assembly is the ultimate decision-making body in the Island. I have always championed this principle. Government is held to account by the Assembly and through the functions of Scrutiny panels.
"As I and other Ministers have clearly stated, Ministers decide and civil servants advise, support and implement those decisions. While there may be occasions where Ministers are advised to take a contrary course of action, civil servants will also enact the wishes of their Minister, as it is they who are held to account by the Assembly and the public.
"We are putting the civil service organisation through a massive modernisation process, which ultimately will make it more effective and more efficient. This means that our public service will be better able to carry out the responsibilities that we, as politicians, task it with.
"Finally, I would note that just over 12 weeks ago the Government Plan was approved by one of the biggest ever margins (43 of 49 votes). I have stated that 2020 is about delivery. We now have a programme of activity for not just this Government, but also for the years to come. This forward-thinking approach does not indicate a lack of leadership. On the contrary, it demonstrates clear leadership."
It ends: "As Chief Minister, I am pleased and proud to lead a government that has tasked itself with making so many changes to improve the lives of all islanders, and that remains our focus".
The Senator revealed in a Scrutiny hearing that he has not had a chance to discuss his Education Minister's tweets last month directly with her.