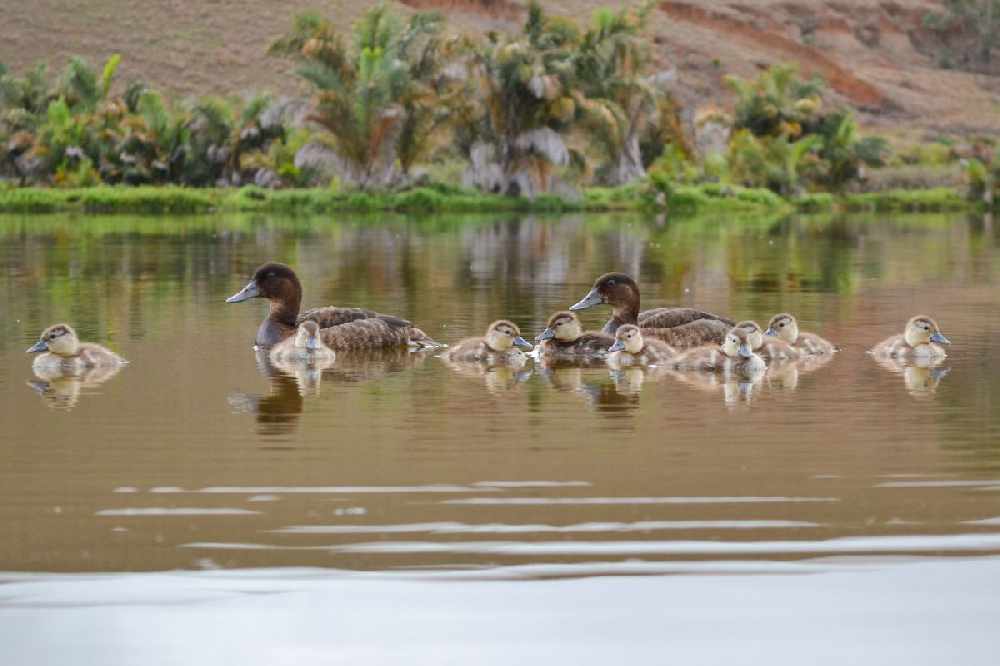 Durrell's mission to save the world's rarest duck has been given a massive boost.
12 pochard ducklings have been spotted in Madagascar, just a year after Durrell released 21 captive-bred birds to try and establish a new population.
The two broods of eight and four were spotted on Lake Sofia, a remote site in the north of the island.
It was feared that the species - known locally as Fotsimaso - was extinct until a chance discovery in 2006, with a rescue mission three years later bringing the ducks into captivity.
The discovery of the ducklings has 'defied expectations'.
"As much as anything it is about a year ahead of schedule. Our understanding of how old the birds would have to be to breed put them at about two years really, so they have bred at about one year old." Dr Glyn Young.
"Despite the release techniques being a world-first, it's clear that our methods and the careful preparation and planning have worked to save the Fotsimaso. After much hands-on effort to rear birds in captivity, and to transport and release them at this remote location, it's fantastic to see the ducks take this next critical step for themselves." - Felix Razafindrajao, Durrell's Wetlands Manager
The project to save the pochard is a joint one between Durrell, WWT, Asity Madagascar, the Aga Khan Foundation and the Madagascar Ministry of Environment.
A monitoring team will be keeping a close eye on the ducklings to make sure they are finding enough food and that they develop their first full feathers to keep them warm and waterproofed against the cyclone season.