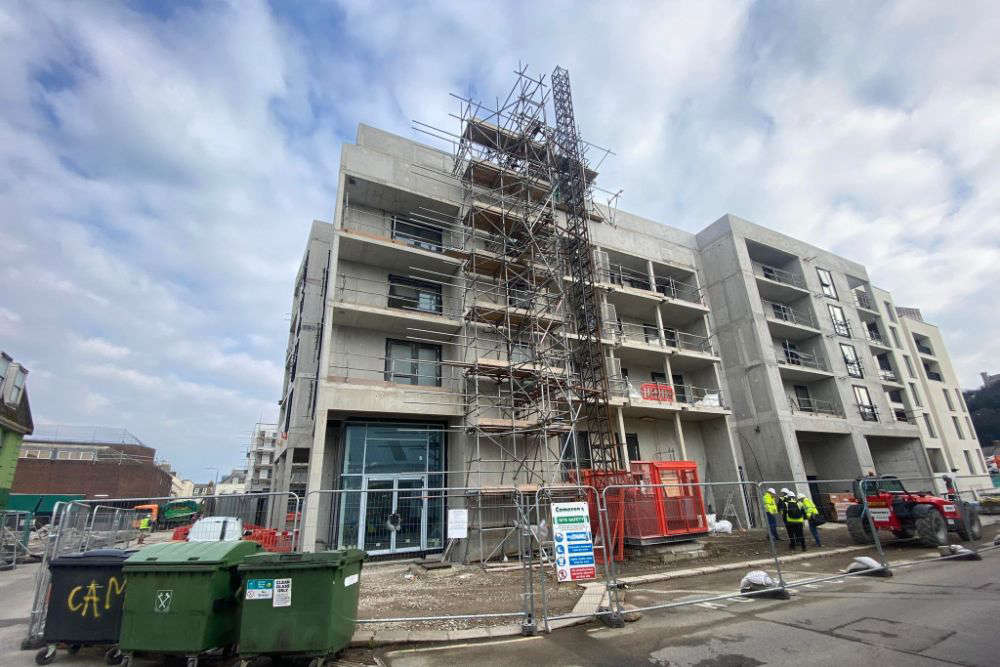 Workmen are back on site at Andium's Ann Court development.
The building site at Ann Court has reopened with a new contractor following the closure of construction firm Camerons.
Work is continuing 'without interruption' on the Andium Homes' project, despite Camerons ceasing trading with immediate effect.
The decades-old local building firm has blamed Brexit, Covid and spiraling costs for its decision to seek a winding up order.
The social housing provider Andium has appointed ROK Construction to complete the remaining 85 unfinished homes at Ann Court - now called Cyril Le Marquand Court.
Around 100 people were working on site, and CEO Ian Gallichan says they can continue their employment:
"If they (former employees and sub-contractors) want to carry on, we want them to speak to ROK. We've said bring your contract with you and ROK can have a look at that and get you back to work.
For us, what we want to see is business is usual. Let's get people back to work. We have got a contract to finish and there is 12 months work here. They shouldn't notice any difference, except that they will have a different employer."
Mr Gallichan told Channel 103 that the closure of Camerons would not delay the building schedule, or its targets for delivering new homes, and that it would have 'minimal financial impact' on Andium.
"Obviously liquidators will be appointed to oversee the winding down of Camerons, and understandably we will be talking to the liquidators about work that might not be finished."
Works continue at Cyril Le Marquand Court, following the news that Camerons (Jersey) has ceased trading. The project is in the latter stages of construction with 80 homes already occupied. Read more: https://t.co/hui6z5DRJ2 pic.twitter.com/KBfzSB430i

— Andium Homes (@Andiumhomes) February 28, 2023
Development company Le Masurier confirmed that it had 'alternative arrangements' in place to ensure its £70m Merchants Square project - which Camerons was also working on - would be finished.
It's first three apartment blocks - the Port House, the Pergola and Soave- all sold out off plan.
"We are fully committed to see the development on Bath Street through to completion and have adequate funding and resourcing in place to achieve this." - Brian McCarthy, Managing Director.
The Chamber of Commerce has expressed its sadness at the demise of Camerons, one of its members.
Simon Matthews, Chair of the Chamber's Building, Housing and Environment Committee, said he hoped the banking community who look after the interests if some of the sub-contractors and supplies impacted would check on their customers and offer support.
"There will be many of the Chamber's members impacted by the announcement. Chamber would encourage all of the Island's business and financial services communities to rally around and support the individuals involved. We would also ask client organisations impacted to make every effort to honour the agreements Camerons had made with their suppliers, to ensure the consistent employment of those individuals involved on the projects involved."
Economic Development Minister Deputy Kirsten Morel says support is available to Camerons' staff at Customer and Local Services.
"My first thoughts are with the employees and their families, who will be facing immediate uncertainty in light of this announcement but who have skills that are valuable to our island, and I would expect new employment opportunities to emerge very quickly given the level of demand in today's construction sector."
Camerons had been due to take on government building projects including at Oakfield sports centre and a new police firing range.
"We will now reassess how these are delivered."