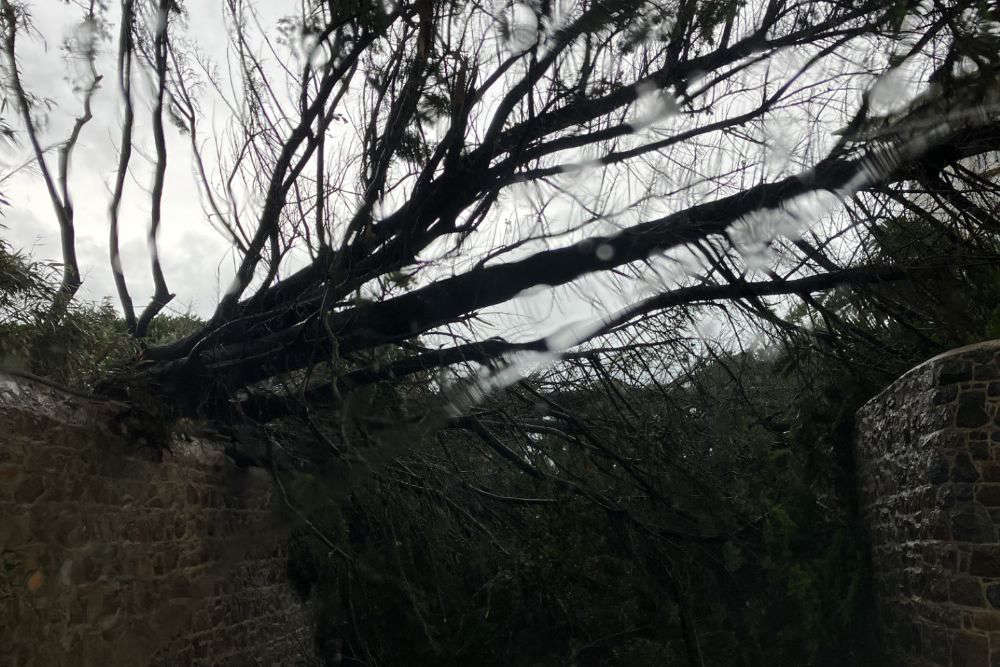 Schools and the airport return to normal today, but the States warn blocked or partially blocked roads and vast amounts of tree debris will take time to clear and that is impacting on bus services.
Guernsey will get mostly back to normal today (3 November) after Storm Ciaran, with schools and businesses reopening.
The exception is the College of FE, which has problems with its roof and the heavy rain only exacerbated that.
Nick Hynes is the director of education:
"Existing leaks that we have already have been made worse at both the Coutanchez and Delancey sites. It's taking quite a lot of mopping up and there have also been a couple of new leaks and new issues, mainly to do with the roof."
But some bus routes will be affected by ongoing road closures, like at Jerbourg, where trees block the route to the Point.
A number of homeowners, and guests at the Hotel Jerbourg, are only able to get out by foot.
The States estimate it'll take three days to clear all the roads of fallen trees and branch and leaf debris.
Freight services have resumed, with the Commodore Goodwill in at 0530 and the airport will open at 0830 and flights arriving from 9am.
Alderney's airport reopens at 0800.
The emergency control room, known as JESSC, took 281 calls during the storm and that excludes the build up on Wednesday night.
70 trees at least are known to have fallen and a number of properties, especially those along the west coast, and inland from it, suffered minor damage to their roofs.
Deputy Peter Ferbrache praised the efforts of emergency staff and volunteers but warned the clear up will take time:
"They still have much work to do, so please follow their guidance now, and in the next few days. I would also like to thank all members of the Bailiwick for their resilience , cooperation and good sense. Some people will have suffered damage to their property but we will hopefully be able to remedy that as soon as is practical."
In Jersey, schools are closed and people still advised to stay home. Their airport suffered damage to both systems and buildings and won't reopen till 2pm.
Winds eased yesterday late morning and there's a lull before a far less severe period of gales this weekend.