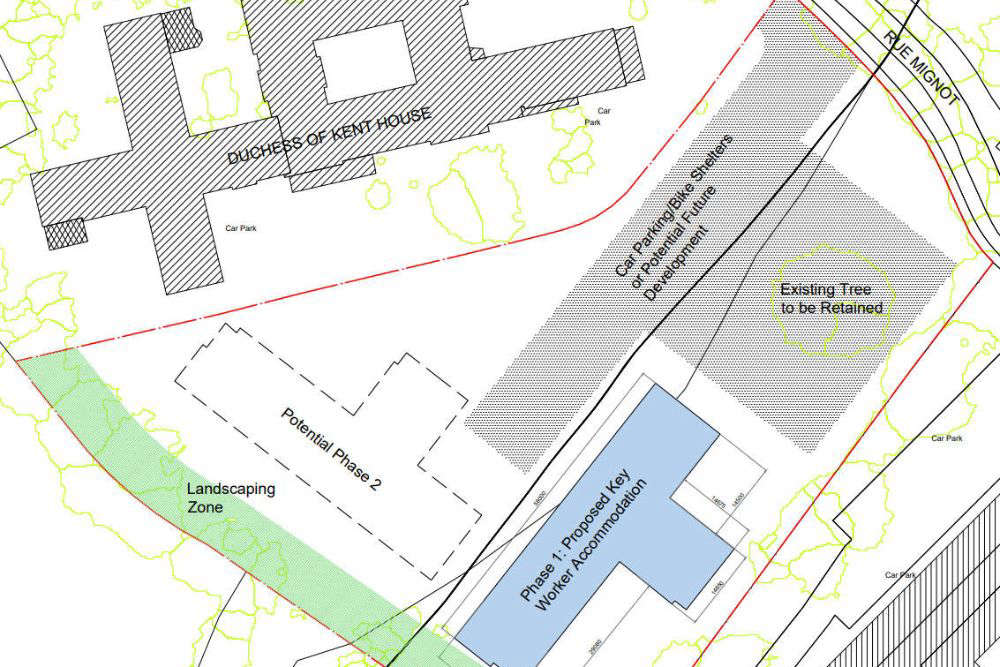 The consultation period for the plan to build homes for nurses on the Vauquiedor field at the Princess Elizabeth Hospital has been extended for five more days.
The deadline for responses to the outline planning application submitted last month by Policy and Resources has been extended.
P&R is seeking permission for 66 flats on the field that sits in the valley at the Vauquiedor entrance to the PEH.
The plan is for a three and four storey building, consisting of one bedroom flats and other facilities.
A cycle shelter which will hold 50 bikes,
Between 70 to 120 car parking spaces,
10 disabled parking spaces,
And 20 motorbike spaces.
Several deputies have publicly voiced their opposition to the proposed development.
La Societe Guernesiaise President, Roy Bisson, called them a 'disgrace.'
But Health Committee President Deputy Al Brouard and HSC colleague Deputy Mark Leadbeater urged support for the plans, saying accommodation for healthcare workers next to the hospital is essential if the island is to recruit much-need staff.
HSC says there already is a waiting list of 100 for alternative accommodation.
Deputy Aiden Matthews, who is also on the HSC Committee, has objected:
I've submitted a representation against building at the Le Vauquiedor green field, as there's other brownfield alternatives that are more suitable. pic.twitter.com/TKDdTjGRTn

— Aidan Matthews (@AidanDSMatthews) January 9, 2023
People have been given more time to have their say because of the problems with the States of Guernsey website last week.
A power cut took services offline.
The five-day extension applies to all current applications:
"The Planning Service is allowing an additional five-day period for representations to be made on planning applications beyond the published 21-day consultation expiry date following the recent period of time when gov.gg was offline.
This means that planning decisions will not be made and issued until at least that additional period of days has expired, and any representations received up until the decision is made will be taken into account." - States of Guernsey.