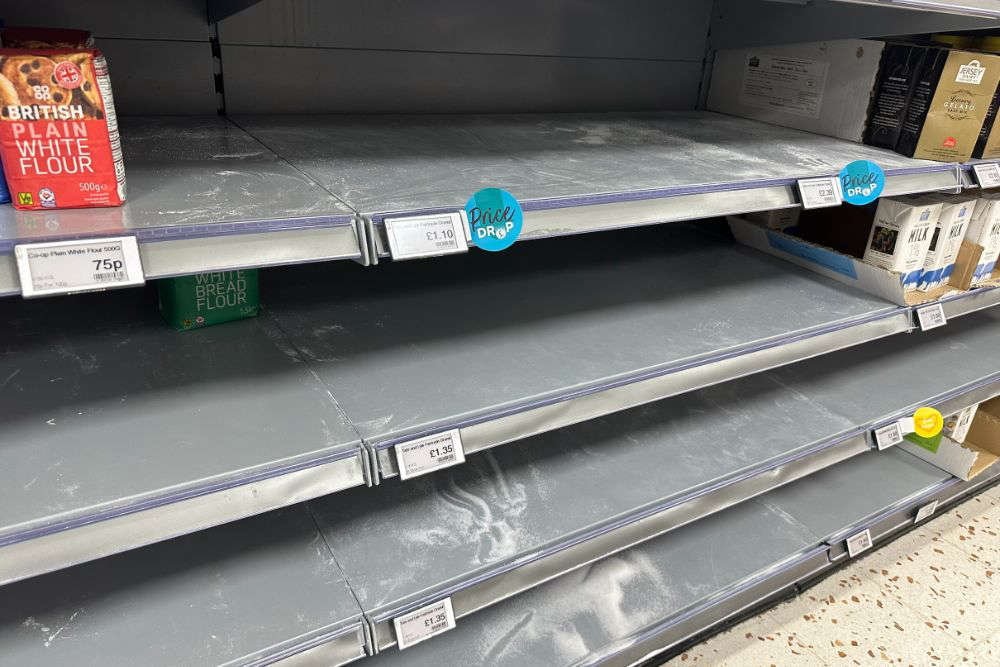 A rare red weather warning and wind gusts of 95mph mean all transport links between the islands and UK will end tonight (1 November) and will stay that way until Friday.
Storm Ciaran is being likened by many to the hurricane of October 1987. Forecasters say it will begin in a south easterly direction and then swing westerly.
Guernsey Met has issued a warning that it expects flooding in St Peter Port and along parts of the east coast tonight.
Tomorrow, it says a storm surge and waves of 30 feet in height are likely to inundate sections of the west coast.
These people we spoke to are getting ready:
"My freezer's full of food so we're fine and I'm not moving from the house until Friday."
"I don't know how extreme it's going to be yet, but it tends to be windier here anyway so we'll see."
"Living on the west coast it can be really bad. I remember 1987 really well, all the trees down, it was terrible, horrible."
"It's probably going to be quite frightening."
Shops are suffering from panic buying and shelves of bread, cakes and fresh veg are empty across many outlets.
Feels a bit 2020 pic.twitter.com/2SuEEnskih

— Nichole Culverwell (@MrsCulverwell) October 31, 2023
The States of both Guernsey and Alderney have been preparing for the storm. All schools will be closed across both islands and there'll be no access to the Castle Emplacement walkway and the Alderney breakwater, given the danger of being swept off them.
The airports will close too and there are no sailings scheduled because of the storm conditions. This means the islands will be isolated for around 36 hours.
Police will patrol the roads and will provide updates on social media. States Works is clearing drains of leaves ahead of the storm. Ops director Ian Gavet says they're used to it:
"States Works has a long and proud history of being an emergency response resource. We have a strong and skilled workforce who are well equipped and they'll be helping the recovery from the storm."
St John emergency ambulance says it will prioritise life threatening 999 calls, while less serious cases could be given medical advice over the phone.
Meanwhile, Guernsey Ports says medevac services will not be available from 9pm tonight (Wednesday 1 Nov) until midday tomorrow (2 Nov) although it warns this could change.
CT Plus will assess the road conditions which will determine the level of service it can operate safely.
Many island businesses are heeding States advice for people to stay at home and so they are closing. These include Specsavers and Creasey's department store and the St Peter Port constables. Beau Sejour will shut too.
Information on disruption can be accessed online and Island FM will bring you the latest news as we get it.