Striking teachers from 30 States primary and secondary schools have been protesting in the Royal Square over their pay.
Unions have rejected a 7.9% pay offer, with many teachers saying if the government keeps 'eroding' their pay, they will move away.
The friends, family and even students of the island's teaching staff turned up outside the States Assembly building at lunchtime today (5 July) to show their support.
The wife of one teacher told Channel 103 their ability to pay for things like food has dropped and she has seen how much pressure her husband is under.
" I have seen my husband coming home after work and spending four or five hours into the evening unpaid, (and) working Saturdays and Sundays unpaid.
I'm the one that's there when he's struggling to cope with the pressure. They're not just teaching lessons, they're helping to support the children's health. It's the pastoral care… It's all the work they put into differentiation to make sure they can support all the children of different abilities… It's all the unpaid overtime that they're putting in to then ultimately not be able to afford to live anyway.
A lot of them are surviving, but they're not living."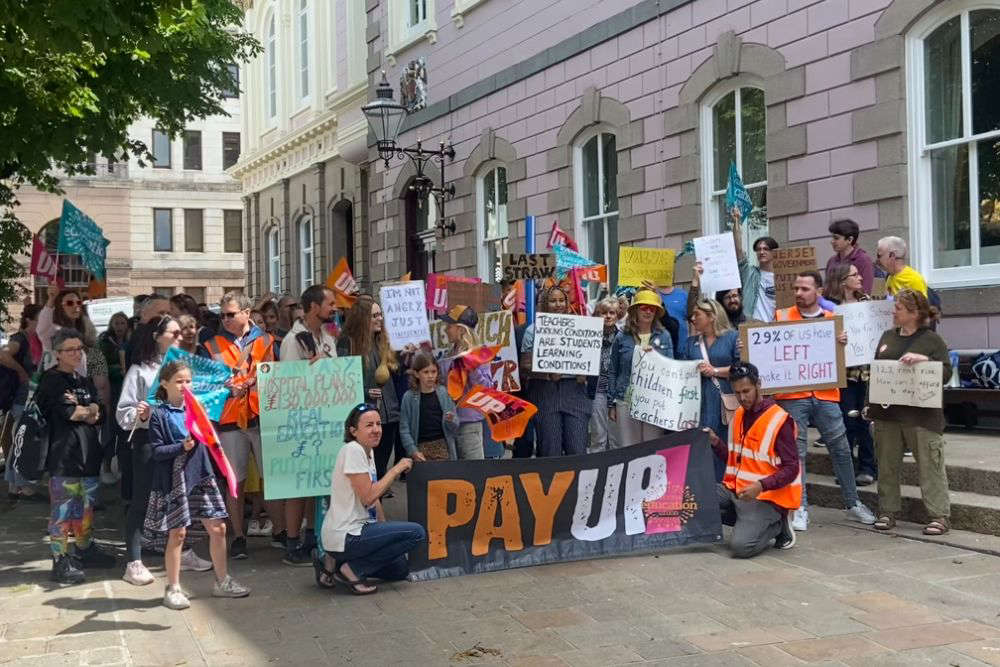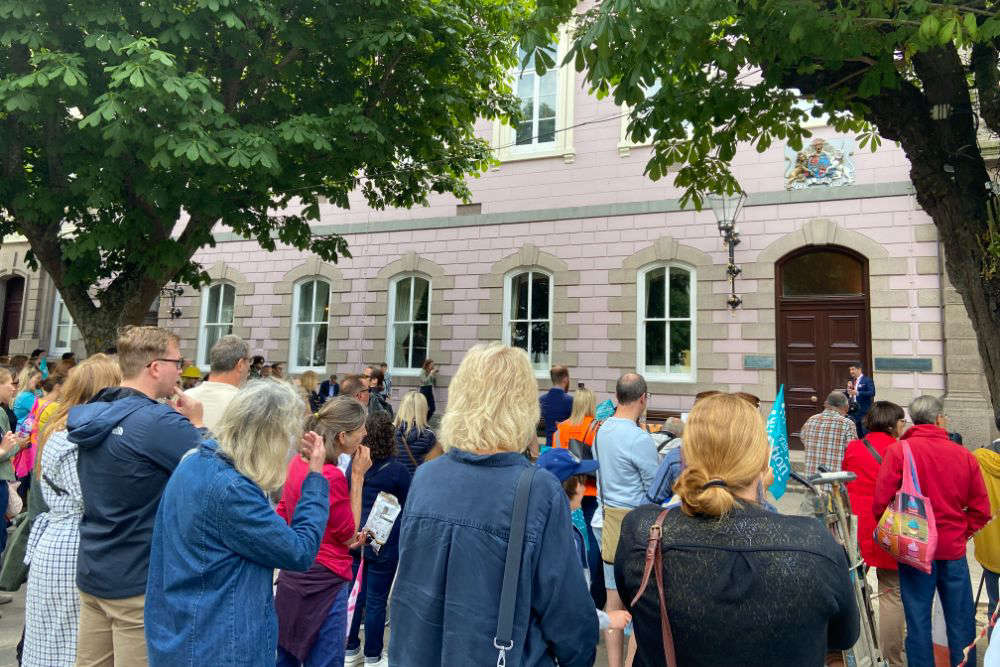 Deputy Sam Mézec speaking in front of striking teachers
Reform Jersey members gathered with the masses to speak to and rally with those asking the government to 'pay up'.
Party leader Deputy Sam Mézec gave a speech:
"I had some really good maths teachers. In fact, I got an A in my maths GCSE.
I learned that the number 7.9 is in fact a lower number than 12.7, and so if you were offered a 7.9% pay increase when inflation is 12.7% - by no stretch of the English language can that be described as a pay rise."
Summary of today in the States:

- "We can't afford to pay teachers more"

- "Hey, let's preserve all these tax exemptions for the super rich"

— Deputy Sam Mézec (@SamMezecJsy) July 5, 2023
Deputy Rob Ward says the first part of understanding we have a problem is understanding the problem itself.
"They need to be listened to and we need a long-term plan for teaching, not constant below-inflation pay rises and unsustainable workloads.
None of these teachers want to be here today, they want to be supporting their students, but they have the foresight to see and say that unless we get this right now, we're not retaining staff, we're not recruiting and the job is becoming almost impossible."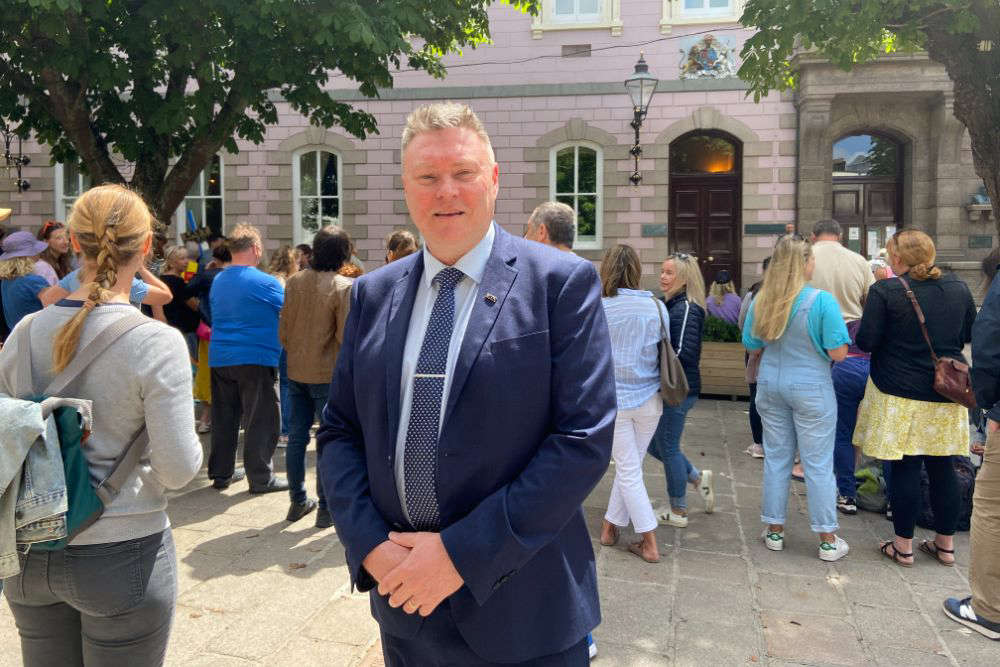 Deputy Rob Ward
However, the island's top ministers, including the Chief Minister, were not greeted with the same enthusiastic cheers. They were booed as they left the States Assembly for their lunch break.
Chief Minister, Deputy Kristina Moore, tried to address the striking teachers but struggled to speak over heckles of 'imagine not being able to pay your bills' and 'we can't afford our rent anymore'.
"It would be helpful if we could all hear each other, obviously it fills us with no pleasure whatsoever to see schools closed and to see you all here.
We understand the difficulties, but we also have to approach this in a way that doesn't increase inflation for the rest of the islanders, because we have all islanders to be taken into account. We are focused on delivering additional supply so that assists people."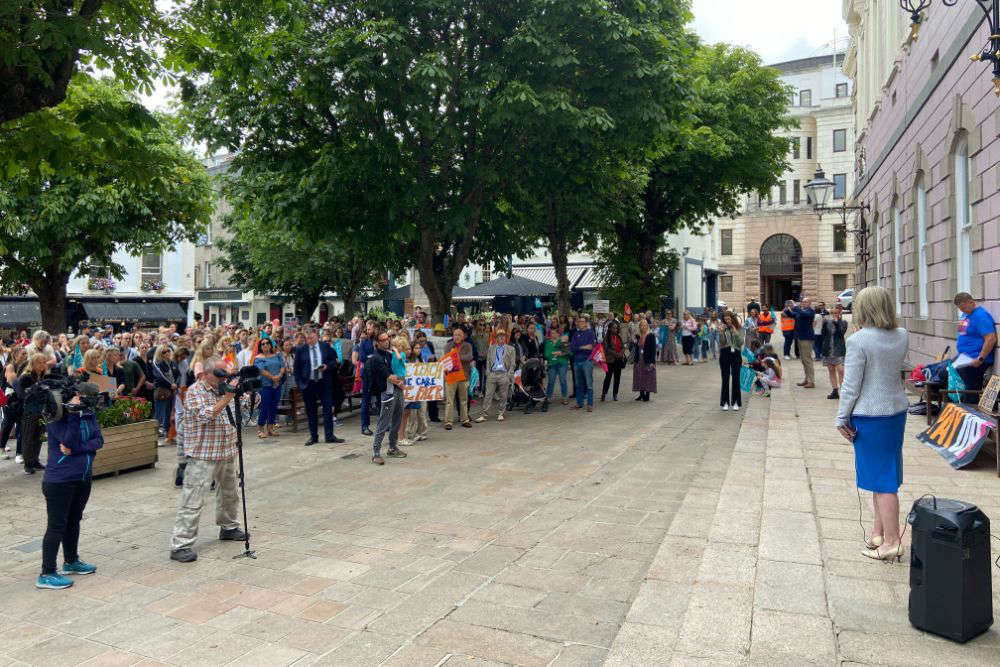 Chief Minister Deputy Kristina Moore on the States Assembly steps
Samantha Wharmby, Joint Jersey Branch and District Secretary for NEU, says the Chief Minister is listening but the government is not acting.
"Teachers are working ridiculously hard, we're all completely overworked, very much underpaid and she's not listening to that fact.
We would welcome her to come into schools and see what life is actually like. That's what she really needs to do in order to make sure what she's saying is actually the truth, because it's not at the moment."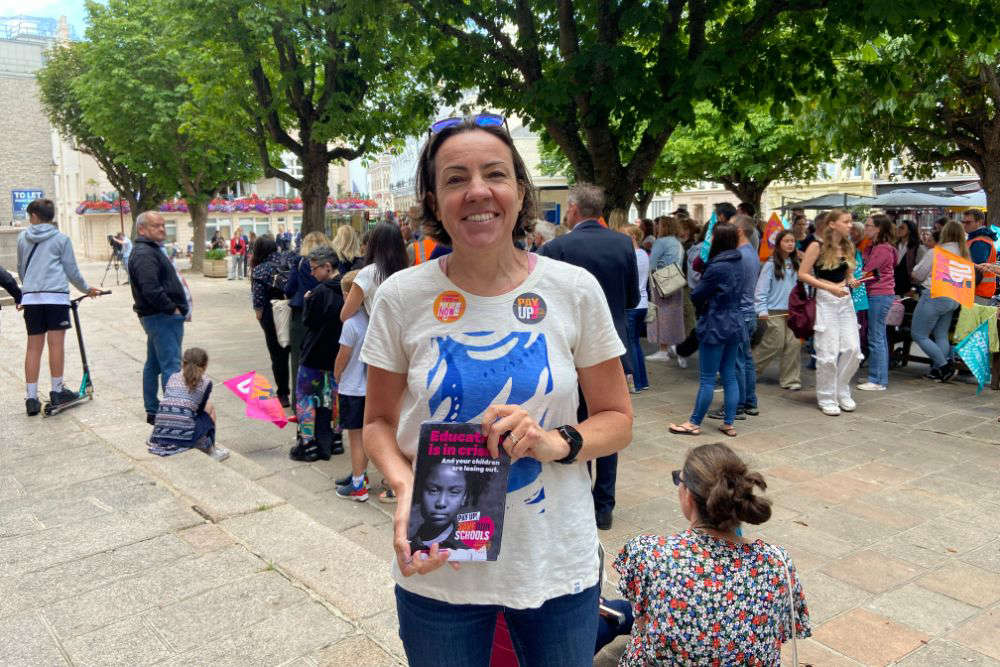 Samantha Wharmby
A young secondary school teacher, Ayesha Frederick, took to the steps of the States Assembly to share a plea to the government:
"I implore you to spend some time in our shoes, experience what we do day to day to understand the level of dedication that teachers, teaching assistants and support staff give to education.
The hours and time and patience given to teaching, lesson planning, differentiating, homework, pastoral care, safeguarding, interventions, revision, parents evening, welcome evenings, marking, assessments, progress tracking, admin, career advising, behaviour management, student support, school trips, activity weeks, …the list goes on."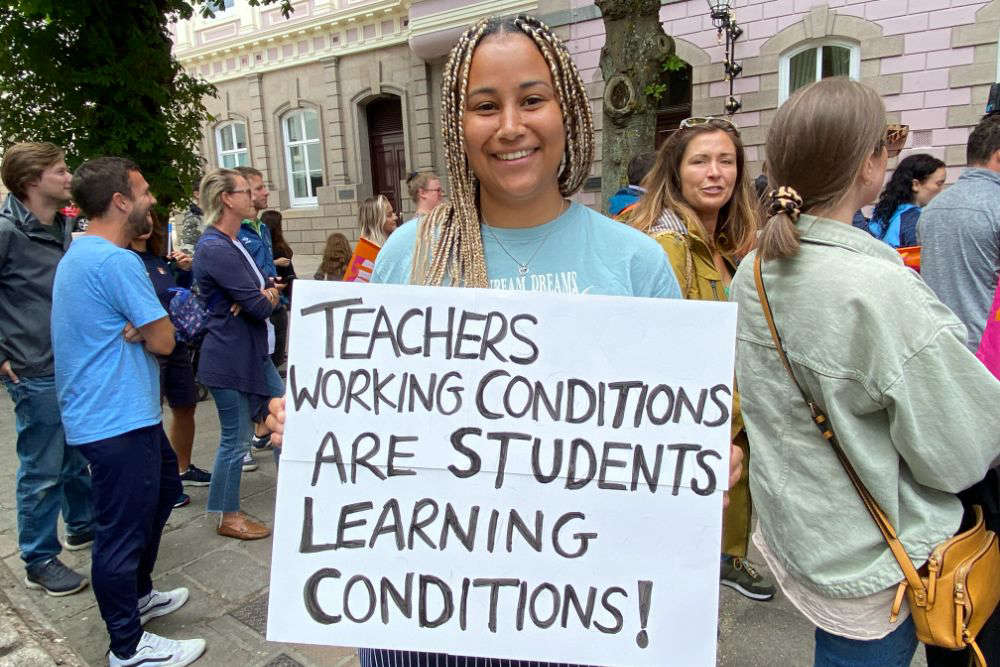 Ayesha Frederick
Sam Cooper, Regional Secretary for the National Association of Headteachers says it is really sad that the NEU has had to take action.
"It's a crying shame that schools have had to close it is a reflection of the strength of feeling amongst the education community.
It's really difficult to appoint people to work in schools and one of those contributing factors is pay. Pay degradation going back now for a couple of decades is affecting our capacity to do our job, that we love."
The fact is that schools are closed today to highlight to the public, to highlight to the States Employment Board that we are absolutely at the end of our tether and as an NAHT member, I'm here in solidarity with our friends from the NEU."
30 out of 33 Jersey schools were closed today as 100s of teachers went out on strike over pay. The Jersey Government must get back round the negotiating table and make a sensible offer to stop the crisis in teacher recruitment and retention. @JerseyNEU #saveourschools @NEUnion pic.twitter.com/gm3jMvOEIX

— National Education Union South East (@SouthEastNEU) July 5, 2023
Another worried teacher says her husband is retired and they are struggling to afford to live in Jersey on just one income.
"I know three people who have really had to downsize and they really shouldn't have to if they're professionals. I'm not saying we live in big houses at all."
Vice Chair of the States Employment Board, Constable Andy Jehan, told Channel 103 it has its next scheduled meeting with union representatives on Friday and that it hopes to 'get back round the table' to find a resolution to the dispute.