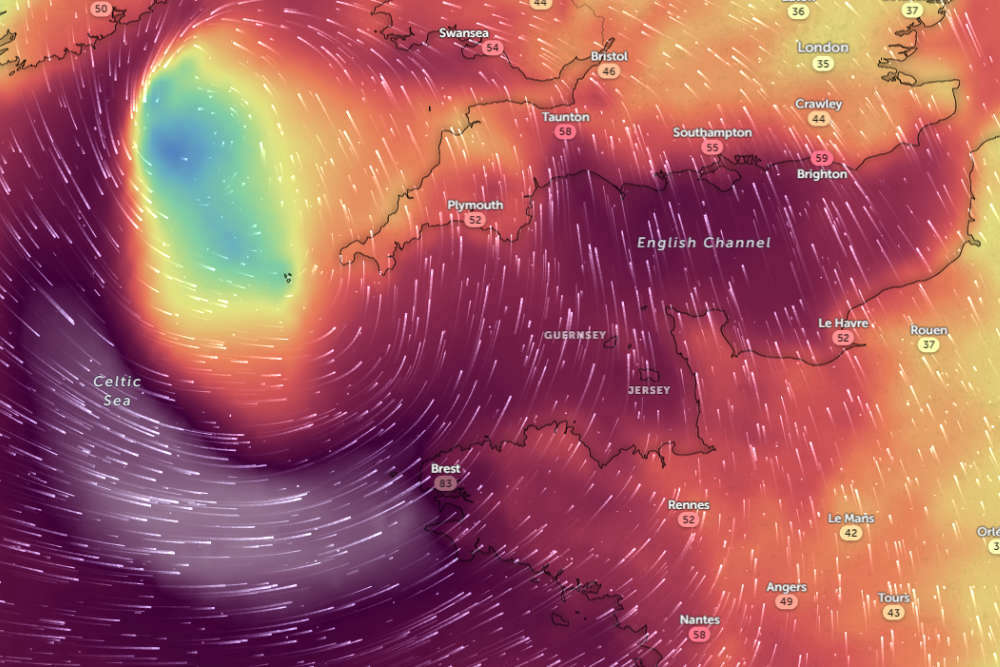 The Met has revised its wind predictions, upping the level to violent storm Force 11 with speeds of up to 95 mph.
The general picture has not changed too much from predictions made earlier this week according to local forecasters, but the expected peaks of wind strength have increased.
Storm Ciarán will be at its strongest between 4:00 am and 9:00 am, with exceptionally strong gusts.
A rare red weather warning has been issued for the Channel Islands.
Combined with high tides, storm surges, coastal flooding and significant rainfall, the conditions have the potential to be highly destructive.
Wind Warning 1/11 issued 08:52 UTC Wednesday 01 November 2023 pic.twitter.com/CtTrVbIBNu

— CI Weather Warnings (@Jersey_MetCI) November 1, 2023
Meteorologist Matt Winter says this is one of the most severe storm systems we have seen since the Great Storm of 1987.
"Very similar in terms of the overall wind strength, in terms of the mean wind speeds and also the gusts."
There are some differences in the details between the 1987 storm and the incoming system.
Peak wind strengths came from a south-easterly direction 36 years ago, whereas the direction of storm Ciarán will come from the west to southwest.
"The winds will be gradually easing off through the day tomorrow. It isn't just going to stop.
"The winds are going to stay very gusty, certainly through the late morning to early afternoon.
"Although the strongest winds are forecast between 4:00 am and 9:00 am tomorrow morning, the winds are going to be picking up significantly overnight tonight."
Islanders can expect gale to severe gale force winds from the southeast after 9:00 pm.
Sandbags and storm boards have been placed on coastal routes, with an expected storm surge.
High tide tonight (1 Nov) will coincide with strong winds of around 70mph.
Channel Island government advice:
Stay at home on 2 November
✏️ Schools closed 2 November
✈️ Airports closed 2 November
🏥 Hospital for emergencies only
⛴️ Ferry sailings cancelled
🚎 Bus services suspended
⛔️ Several coastal roads closed
🛒 Many shops and businesses closed
📣 'Keep away from coasts'
🔨 Secure loose property and clear drains
🚨999 for true emergencies
📣 'Don't put yourself at risk'