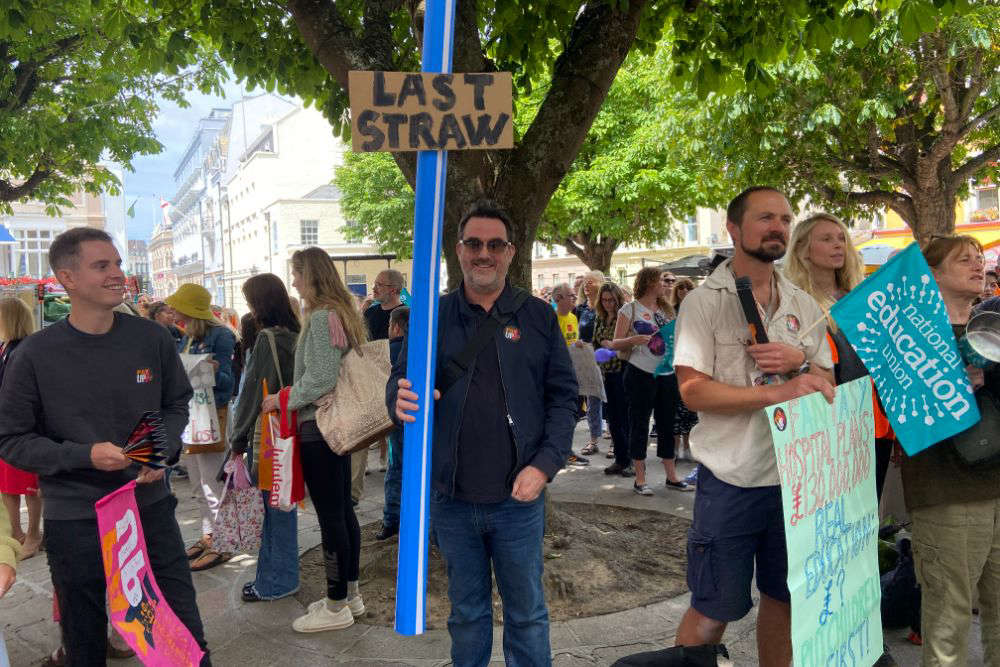 The National Association of Head Teachers and NEU will join the NASUWT in a walkout at Jersey's schools next week.
Teachers and senior leaders will be striking next Tuesday (12 September) in a row over pay. The action was announced on Monday by the NASUWT, with further walkouts planned for 18 and 19 October.
The NAHT and NEU have confirmed they are joining the action, saying they have 'exhausted all other avenues' to resolve the long-running dispute.
Together, they will stage a demonstration outside the States Assembly at 12:30pm to protest at what the unions have called an 'unacceptable offer' of 7.9% and a further one-off unconsolidated payment of £220.
Nick Childs, the NEU's Senior Regional Officer, says it is disappointing that the government has come to the table with nothing further of significance to offer on pay.
"If they are serious about resolving this dispute and addressing the crisis in teacher recruitment and retention, then they need to start valuing the Island's teachers and start to genuinely negotiate and make a meaningful pay offer."
Rob Kelsall, NAHT's assistant general secretary, says the only way to avoid schools being forced to close next Tuesday would be for the Chief Minister to agrees to meet them and tables 'an offer that is acceptable to teachers and leaders which reflects their unstinting dedication, commitment, and professionalism'.
The vice-chair of the SEB, Constable Andy Jehan, told Channel 103 on Monday of his 'disappointment' at learning of the impending strikes via the media.
He said the SEB is willing to backdate the 7.9% pay rise to January 2023, if all industrial action is ended - something he says is 'not an unreasonable position'
"With pay discussion due to start soon for 2024, where the unions are expecting to negotiate a multi-year deal, it is important we start them with a clear field and a constructive and mature approach."
The NAHT claims that school leaders have had their pay fall by more than 11% in real terms for over a decade despite an increased workload, especially after the pandemic.
Action short of a strike was by 98% of voting members and 86% backed strike action.
It includes refusing to work overtime, engaging with government requests and participating in non-statutory consultations, surveys, meetings or data requests.
Carl Howarth, president of NAHT Jersey, says any form of industrial action is a last resort.
"We understand that any action we are taking may cause inconvenience and we apologise in advance for this.
"However, in the face of a government that is refusing to deal with the very real and legitimate concerns that we have, and following years of real terms pay cuts, we have no option and a civil responsibility to take action in order to protect the quality of education in our island."