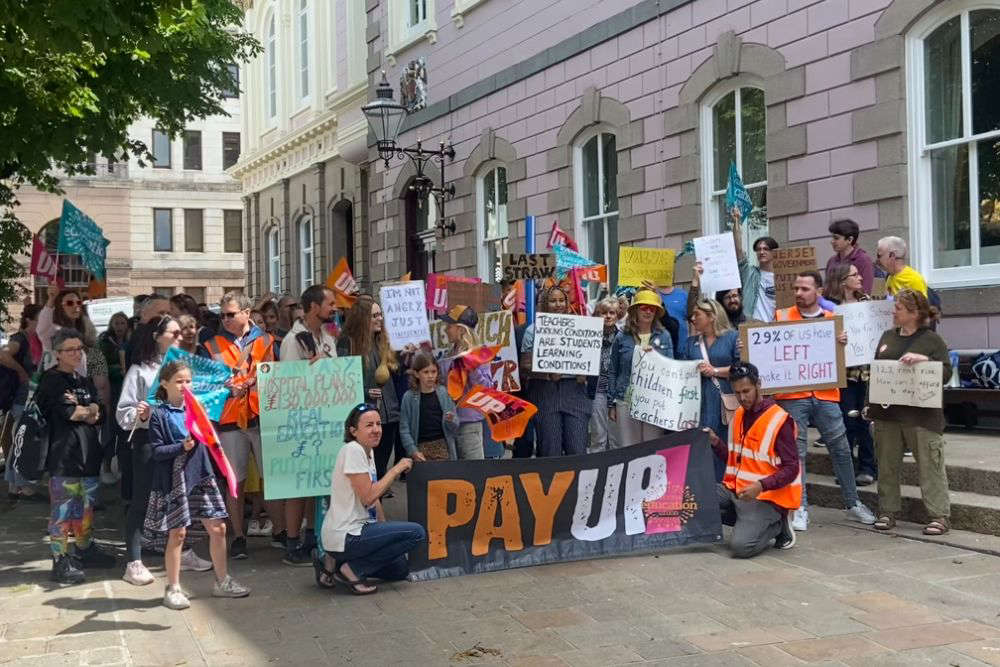 Teachers staged a protest in Jersey Royal Square in July.
Teaching union the NASUWT has given notice of three strike dates in the new school term.
Members will walk out on Tuesday 12 September and Wednesday 18 & Thursday 19 October.
It'll be the second strike by teachers this year after members of the National Education Union members walked out on 5 July, forcing the majority of schools to close.
Channel 103 previously reported these planned strikes in July, just as schools were breaking up for the summer holidays.
We had seen a letter from the union to its members.
The following day, the union said it has suspended the threatened action following 'positive talks' with the States Employment Board.
The union says the action is now back on because of the States Employment Board failure to address 'the years of real terms pay erosion that teachers have suffered since 2008'.
NASUWT General Secretary Dr Patrick Roach says the SEB has withdrawn previous promises.
"This backdated pay award would have gone some way towards addressing the impact of the cost of living crisis and real-terms cuts that teachers have been subjected to.
But the promises of backdated pay have been cynically withdrawn without explanation.
Our members have been angered by the actions of the government and they are resolute in stepping up their industrial action.
Industrial action will continue unless and until the States Employment Board delivers a better deal for teachers on pay and working conditions."
But SEB Vice Chair Constable Andy Jehan denies it has broken promises:
"The SEB implemented a 7.9% pay uplift for all teachers before the summer holiday, despite there being no agreement by the trade unions to do so.
We have also offered to back-date the pay award to 1 January, in line with all public service pay groups that have accepted. We continue to discuss this point as this offer is the best achievable by negotiation.
We understand the NASUWT are prepared to consult their membership, although the NEU have rejected our request to ask their members about this way forward.
Fellow teaching unions the NEU and NAHT ended the last academic year with members 'working to rule' - refusing to carry out additional duties.
Channel 103 has been told those unions are preparing a statement.