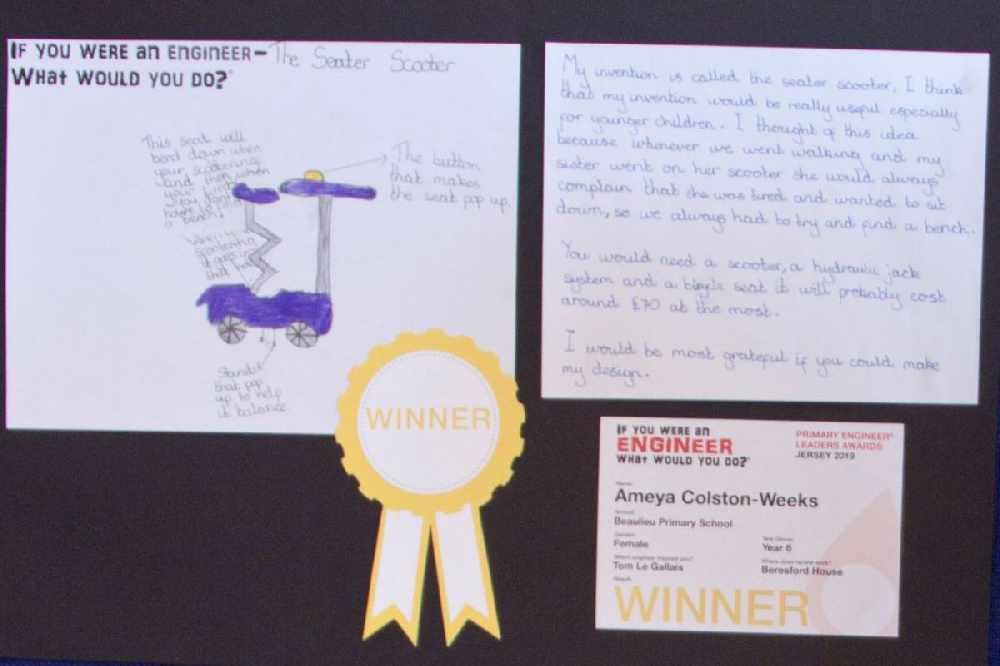 A Beaulieu pupil's design of a scooter with a pop-up seat is being made by UK engineering students.
The 'Seater Scooter' was created by 11 year old Ameya Colston-Weeks as part of a national engineering competition.
Nearly 800 young islanders entered, and 48,000 children took part nationwide.
Ameya won the Year 6 age group category.
A prototype is being made at Kingston University and will be presented to Ameya at the awards event at the Town Hall next summer.
"I think that my invention would be really useful, especially for younger children. I thought of this idea because whenever we went walking and my sister went on her scooter she would always complain that she was tired and wanted to sit down, so we always had to try and find a bench.
You would need a scooter, a hydraulic jack system and a bicycle seat. It will probably cost around £70 at the most."
She told Channel 103 she was shocked and speechless to find out that she had won.
"I never really thought it would be my thing, doing engineering - but I really enjoyed the experience."
Skills Jersey's Dave Roworth, who developed the ongoing partnership with Primary Engineer to promote STEM skills in local schools, hopes to see even more students involved next year.
"Ameya is just one of hundreds of children with the imagination and creativity to make anything possible. We had 800 pupils taking part in this first year, and I am confident that we can double that number for next year's event."