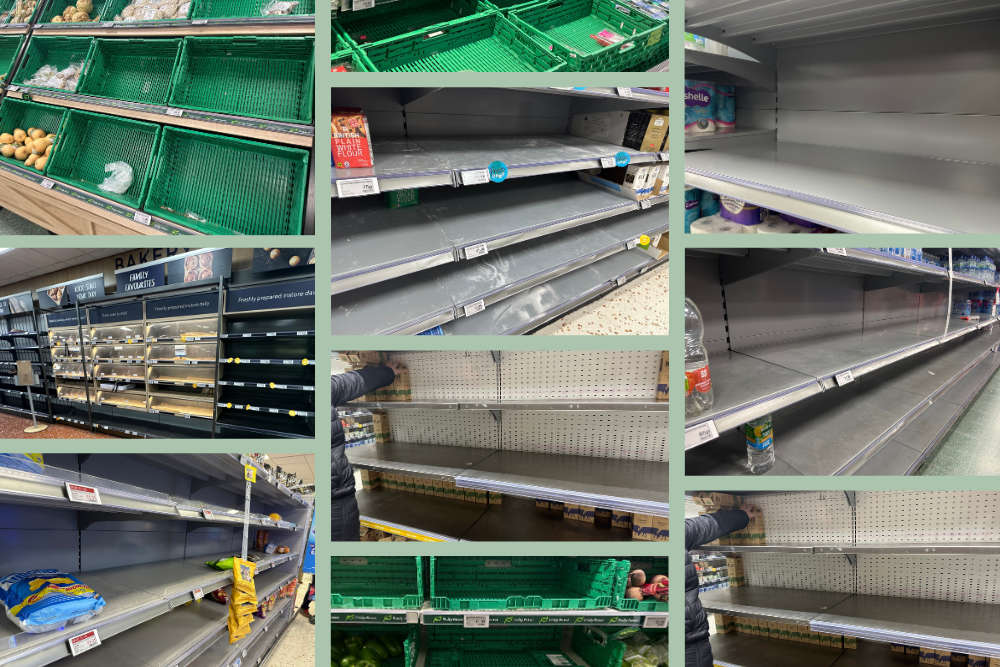 Supermaket shelves have been emptied as people in Jersey have rushed to stock up on essential supplies ahead of Storm Ciaran hitting the Channel Islands tonight (1 November).
The government is advising us to stay indoors on Thursday (2 November).
Jersey Met has issued a red level weather warning for severe gale force 9 to storm force 10 winds arriving overnight and continuing to batter the Channel Islands for much Thursday.
Meanwhile, the shipping forecast for the CI area warns of 'perhaps locally violent storm 11 with gusts to 90kt/95 kts later (105/110mph)
In preparation for the likely destructive winds, the government has announced schools will be closed on Thursday.
The airport and ferry terminal will be shut to commercial travel, and the hospital will only be open for life-threatening injuries and illnesses.
Despite calls to 'buy responsibly', many islanders have rushed to the shops to stock-up on essential items, including flour, milk, potatoes, bread and bottled water.
In an address on Tuesday evening, Chief Minister Deputy Kristina Moore urged people not to panic-buy:
"Our supply chain has built-in resilience and we have been in contact with supermarkets to ensure minimal disruption."
Condor has warned of the longest disruption to its services in its history, with sailings expected to be impacted until Tuesday 7 November, but it said it was making every effort to ensure food and medical supplies reached the island.
The Goodwill freight ship arrived just after 4.30am on Wednesday, but today's Clipper service is cancelled and no boats will run on Thursday.
Deputy Moore said it is likely to be' a difficult few days':
"To assist our emergency services teams, Islanders are asked to stay at home on Thursday and avoid all unnecessary travel and secure all garden furniture and equipment.
Please check-in on vulnerable neighbours and family members. We are grateful for your assistance and co-operation.
These could be a difficult few days, but I know that our community spirit will once again shine through.
Please look after yourselves, one another, and stay safe."
Islanders Channel 103 has spoken to have been heeding the advice to prepare for the severe conditions:
"I remember 1987 really well - all the trees down. It was terrible. It was horrible."
"It is probably going to be quite frightening. I am going to be going around to check what needs to be taken in."
"I am taking in all my garden furniture, and battening down anything that is moveable. We live above the west coast so we are going to get hammered."