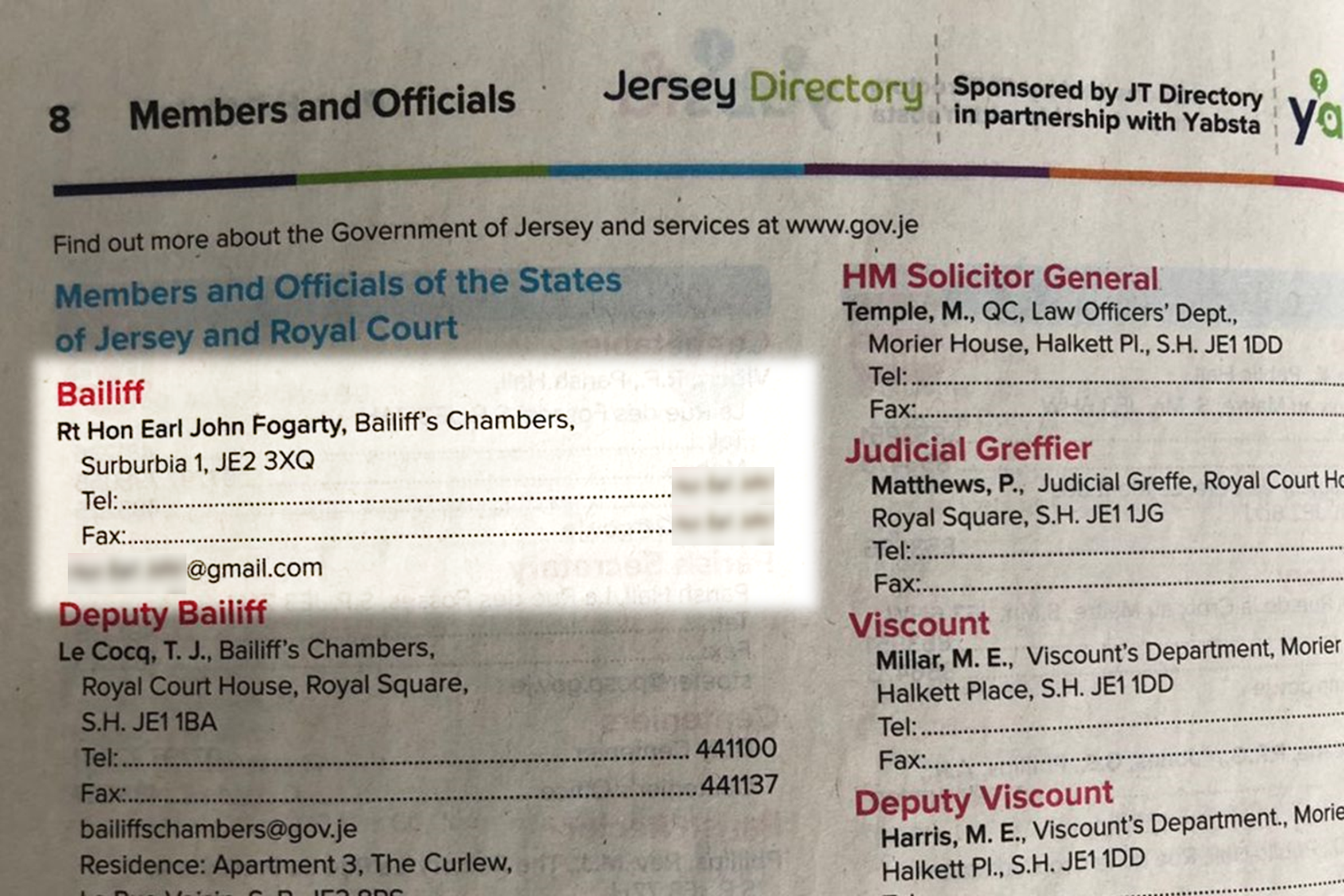 JT has apologised after the Bailiff's name and contact details were incorrectly printed in the new Jersey Directory.
The 'Rt Hon Earl John Fogarty' has been named as Jersey's Bailiff eight pages into the new phonebook.
The address is given as 'Surburbia', along with incorrect contact numbers.
A JT spokesperson says that even though the phonebook is no longer compiled by them, it's still associated with the company and this is an embarrassing and prominent mistake:
"We have been made aware of an error in the recently issued 2019 Jersey Directory which is now compiled by directory specialists Yabsta, who took over production and distribution of the publication in June 2018. From the information we have received we believe that the erroneous information – provision of an incorrect name and contact details for Jersey's Bailiff – was an illegal misrepresentation to Yabsta and as such, this matter has now been passed on to the relevant authorities to investigate.
"Although the Jersey Directory is no longer compiled or owned by JT, we acknowledge that it is still strongly associated with the company and this is an embarrassing and prominent mistake. We would like to apologise to those members of the public who may have already received their copy of the Directory for this misleading information and we have contacted the Bailiff, Sir William Bailhache, to offer our own personal apologies directly."
Distribution has now been halted while an investigation is carried out.
Directory specialists Yabsta, who compiles it, has also apologised to Sir William Bailhache:
"We have now halted distribution until this has been fully investigated and next steps agreed. Following an initial immediate internal investigation, we now believe the error was the result of what we believe was illegal misrepresentation made to our staff about the contact details for the Island's Bailiff and this matter is now being looked into by the relevant authorities.
"We know that 10% - 6,000 of the 60,000 which are distributed in the island - have reached households and organisations over the last few days. We would like to reassure islanders that mistakes of this sort are extremely rare given the stringent and careful checks which are in place.
"We would like to apologise sincerely to the Jersey public for any inconvenience or confusion and, most importantly, to the Bailiff, Sir William Bailhache, for any embarrassment caused."
Yabsta says it will be discussing the matter with the Bailiff's Chambers.