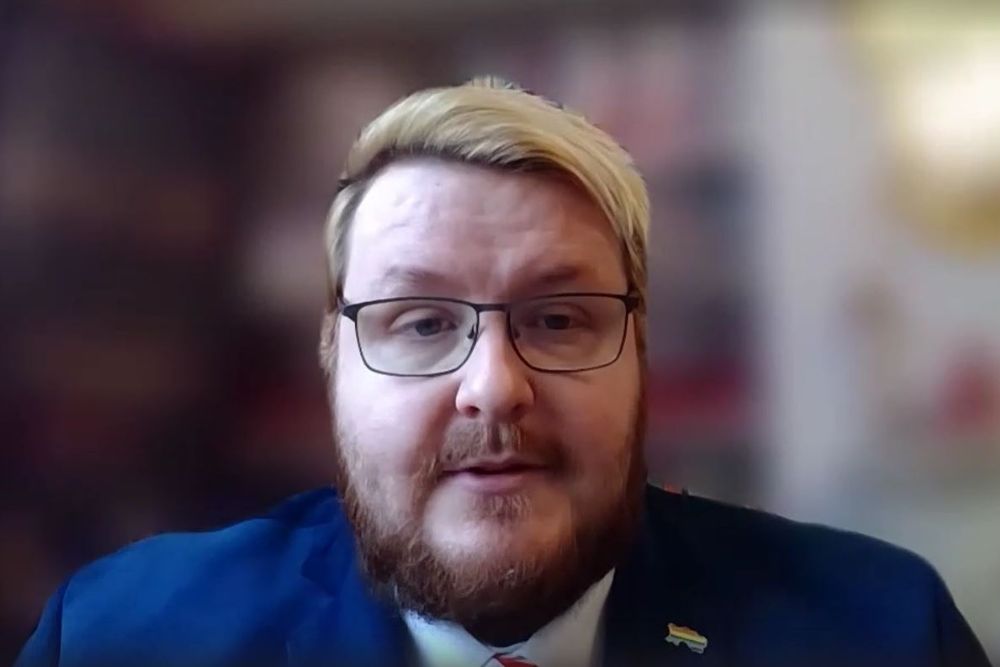 Deputy Macon due a virtual States meeting earlier this year.
Deputy Jeremy Maçon has resigned as Minister for Children and Education.
The St Saviour No.1 district deputy has tendered his letter of resignation to the Chief Minister.
He was removed from his ministerial position 'temporarily' in March following his arrest for an unspecified offence.
At the time, Senator John Le Fondre said Deputy Maçon was 'not currently capable of fulfilling his Ministerial duties'.
In his resignation letter, a copy of which he released to the media on Monday evening (7 June), Deputy Maçon says:
"Given the continuing police investigation against me and its considerable negative impact on both me and my family, I have reluctantly come to the decision that, for the good of my family, the Island and my colleagues, I should now stand down as Minister.
"This has been an extremely difficult decision to reach, made harder as I had sincerely hoped that matters would have been long since resolved. However, as they are not, I would not want this continuing situation to be used to undermine you, our colleagues on the Council of Ministers or to act as a distraction from the excellent work being done by this Government.
"I should make it plain that, despite taking the decision to resign from my Ministerial post, I do not accept guilt in relation to any allegation that has been made against me nor is it to be interpreted as such and if I come to be charged with a criminal offence in due course, I have every intention of fighting to clear my name."
He remains an elected parish deputy and member of the States Assembly and signs off by saying that he can 'now solely concentrate on serving my constituents to the best of my ability.'
The Chief Minister has taken over the portfolio of Children and Education, with Assistant Minister Deputy Scott Wickenden assuming many of the responsibilities.
Senator John Le Fondré confirmed that he has accepted Deputy Maçon's resignation, but has yet to announce who he plans nominating as his successor:
"This evening I received an email from Deputy Jeremy Maçon, resigning as Minister for Children and Education, effective immediately. I have accepted his resignation.
"In accordance with the States of Jersey Law, I will bring forward the nomination of a candidate to take on the critical role of Minister for Children and Education as soon as possible."
Last month Jersey Police said a man remains on police bail until July.