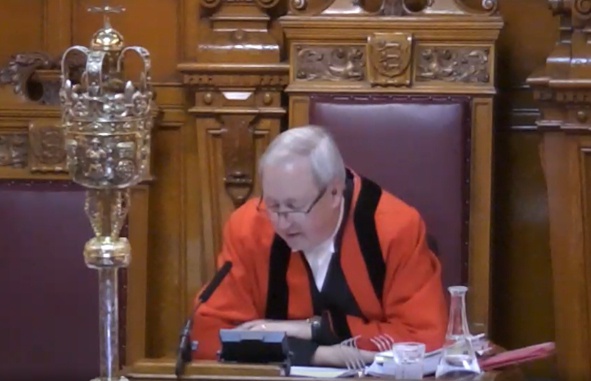 Jersey's retiring Bailiff has used his last ever States sitting to defend his role from criticism by the Care Inquiry Panel.
It's follow up review, published last month, renewed its call for the end of the Bailiff's dual role as both head of the judiciary and Presiding Officer of the States Assembly.
Sir William Bailhache has condemned the conclusion as being based on 'preconceived notions and prejudices':
"It accepted unquestioningly the complaints of the present system, often express by those who had no real knowledge of how it worked."
"..bad as the inquiry's recommendation 7 was in July 2017, the most recent report, presented only two weeks ago, is even worse."
Using the 'communications from the presiding officer' section at the beginning of Tuesday's sitting, Sir William slammed the panel's assumption that the office of the Bailiff is part of the so-called 'Jersey Way':
"There is an assumption by the panel that the perceived lack of separation between the judicial and legislative or executive powers - in other words the office of the Bailiff - is part of this alleged culture of cover up, unfair decision taking and decision-making in secret. The juxtaposition of these paragraphs bears no other reasonable interpretation."
He said a lawyer of Frances Oldham QC's experience would not have inadvertently drafted 'such an unfortunate juxtaposition of words'.
"Her linkage of the allegations of lack of fairness and transparency in decision taking by the Bailiff to historic child abuse was a grave error. I reject that linkage and the underlying assumptions absolutely. The Inquiry had no basis for saying it, and it is not true.

...It is important that none of us adopt merely the entirety of what is a flawed report simply because the abuse was as bad as it was."
Sir William retires this month. Deputy Bailiff Tim Le Cocq will be sworn in to office on the 17th October.