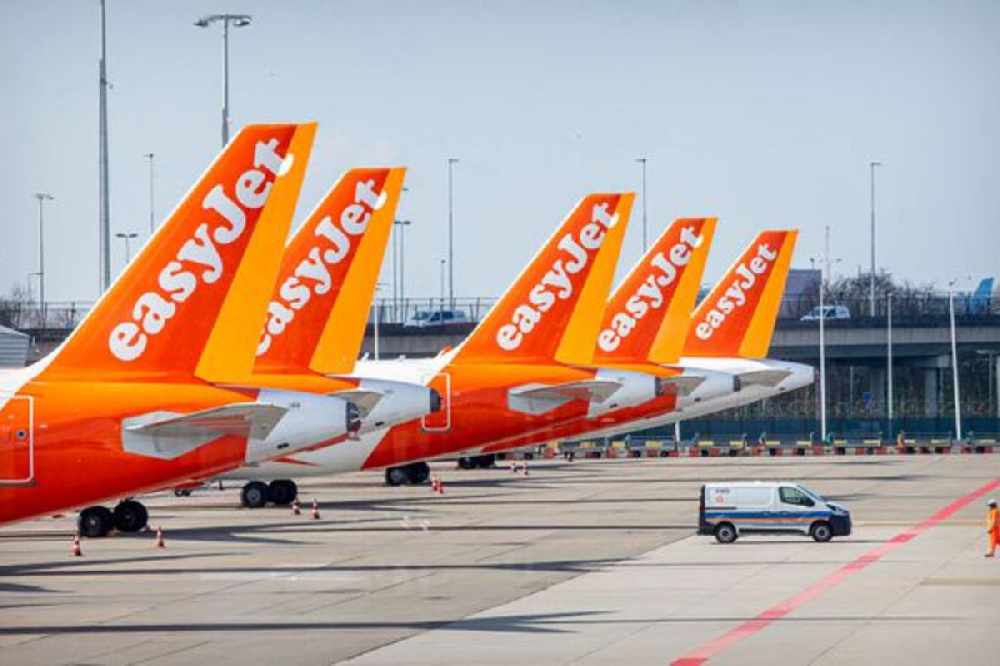 EasyJet says it plans to resume a small number of flights from the 15th of June.
Passengers and cabin crew will all have to wear masks when travelling.
The airline says the schedule will initially be made-up of mainly domestic routes within the UK and France - with further routes added when able and expected to be profitable.
Flights on some routes to and from Jersey - including Gatwick and Liverpool - are bookable on the EasyJet website for travel from mid-June onwards.
Jersey's government has not given a date for travel to services. Currently only pre-approved 'essential' travel is permitted for work, medical or compassionate grounds.
Asked to respond to EasyJet's announcement, the government said:
'Jersey was not announced as a first-wave destination by easyJet this morning.
Government is continuing to work with easyJet on how they could safely return to Jersey once the Island reaches the right point in the Safe Exit Framework.'
Matt Thomas, CEO of Ports of Jersey, has issued this statement:
"We welcome easyJet's announcement that they are to resume flying between domestic locations within the UK and France as a sign that the impact of COV-19 is beginning to pass. At this time however, travel restrictions remain in place for arriving passengers into Jersey, who will be required to self-isolate for 14-days on arrival.
We are in regular contact with our key airline partners and preparing our terminals to ensure that we are ready to welcome passengers safely onto the Island when our Government determines that the travel restrictions can be lifted to allow commercial flying to resume".
Easyjet has furloughed thousands of staff and borrowed £600m under a UK government-backed financing scheme as it seeks to shield itself from the effects of the coronavirus crisis that has hit the industry hard, with BA, Ryanair and Virgin Atlantic collectively planning 18,000 job losses.
It said that the cautious commencement of flights would only go ahead with a series of measures agreed with regulators and in-line with the advice of national governments.
These steps include:
:: Customers, cabin and ground crew will be required to wear masks.
:: Enhanced cleaning and disinfection of easyJet aircraft.
:: Availability of disinfectant wipes and hand sanitiser onboard.
EasyJet said there would be no onboard food service.
Johan Lundgren, the easyJet chief executive, said of its plans: "These are small and carefully planned steps that we are taking to gradually resume operations.
"We will continue to closely monitor the situation across Europe so that when more restrictions are lifted the schedule will continue to build over time to match demand, while also ensuring we are operating efficiently and on routes that our customers want."
Earlier this week, Condor Ferries said it intended to resume sailings from Jersey to the UK and St Malo from mid-June, subject to government travel restrictions being lifted.
Speaking during this week's States sitting, Senator Ian Gorst said travel cannot recommence until STAC (The Scientific and Technical Advisory Committee), has provided the advice that it is safe to do so.
Rapid Covid-19 testing at the ports or before coming to Jersey is currently being investigated as an alternative to arriving passengers having to self-isolate here for 14 days. That rule remains in place for the moment.
Yesterday Economic Development Minister Senator Lyndon Farnham told the States that the biggest long-term economic risk is the permanent loss of our travel connections 'caused by failure to convince our airline partners to maintain flights here at a time when they are rapidly reviewing their strategic deployment options'.
He said that was likely to cause structural harm to the economy. GVA is currently down 30%, or £120m a month
More than three quarters (77%) of gross value added from tourism, hotels, bars and restaurants is generated by visitors.

"In the short-term the tourism industry will need certainty over when Jersey will begin to allow overseas visitors to return to enable them to plan for the future. The longer the travel restrictions remain the greater the risk to the permanent loss of key tourism assets."