The Chief Minister has been given a tour inside the new field hospital, as work edges closer to completion, and has indicated it could take Covid-19 patients from Guernsey if necessary.
Senator John Le Fondre has said that the islands are working closely together on their response to coronavirus.
"I have been asked if we will also support Guernsey for example through the Nightingale hospital if they required additional bed capacity when they reach their peak. I will say that our Health and Community Services department work very closely with colleagues in Guernsey regarding our response to the virus and we are always happy to work collaboratively with our island neighbours, as they are with us."
The Chief Minister's comments come in his latest recorded video message - filmed during a visit to the new field hospital at Millbrook, which he has visited along with the Health and Infrastructure Ministers, the Bailiff and Lieutenant Governor.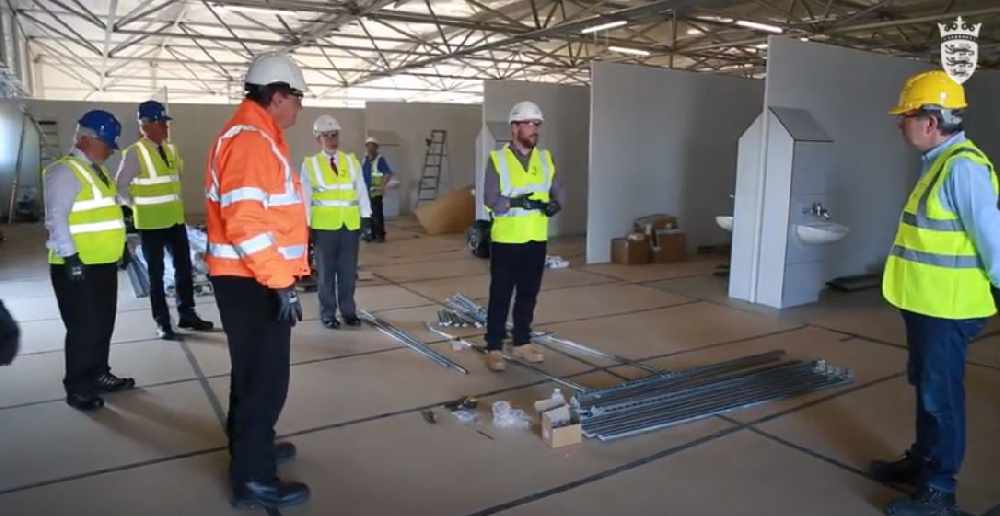 180 beds will be available if the General Hospital becomes overwhelmed with coronavirus patients.
The first 60 are due to be available for use, if needed, from 4 May.
"An increase in cases will put pressure on our health services, which have an upper limit to the number of patients which can be treated within our current resources."
£14.4m is being spent on the building, which is broken down into:
*£1m on building hire and erecting.
*£6.3m to fit it out
*£4.8m on medical equipment
*£1m on utility connections and upgrade costs
*£1.3m on contingencies.
The St Aubin's inner road is closed until Sunday evening for drainage and electricity work to be completed, after work started to fit out the temporary facility at the weekend. An update on the water and power connections was given on Wednesday.
18 people have died in Jersey after contracting coronavirus. 14 Covid-19 patients are in hospital.
Today the Chief Minister is visiting the hospital laboratory and Urgent Treatment Centre on Thursday. He is due to give a second press conference this week on Friday afternoon.