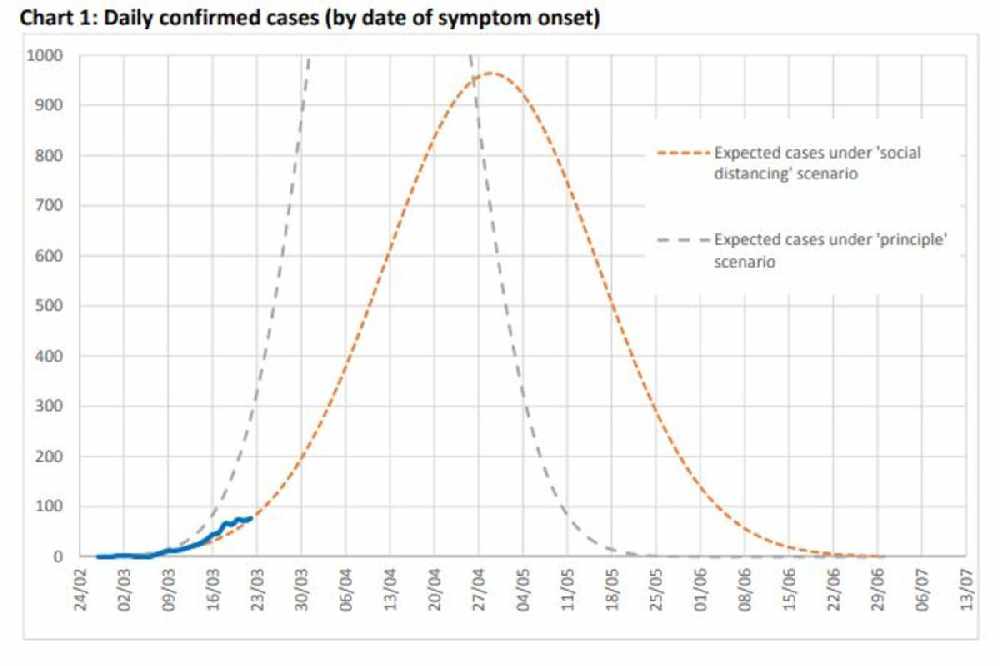 The curve as it currently stands. Credit: Government of Jersey
Just under 1,000 people are expected to be diagnosed with coronavirus in Jersey at its peak, which is currently expected in around the first week of May.
That's according to the latest statistical modelling released online by the government and as long as people abide by the social distancing measures.
Currently, 118 people are diagnosed with Covid-19 here.
The latest update, as of Friday 3 April at 3pm:

992 confirmed negative
118 confirmed positive
232 pending
2 people who tested positive for coronavirus (COVID-19) have sadly died.

Read the latest advice: https://t.co/vulxRy7HNt#CoronavirusJSY pic.twitter.com/n0XgblkSBv

— Government of Jersey (@GovJersey) April 3, 2020
Speaking to Scrutiny, Senator John Le Fondre explains the longer-term picture, as it stands at the moment.
"The overall period is that we're going to be, at the least, towards the back end of June before we're clear of this (coronavirus).
"Bear in mind that's the present information. Sometimes the advice can change, sometimes the data you get from the studies that are happening in other jurisdictions may suddenly change the profiling."
The data has been uploaded ahead of the first weekend of essential lockdown in Jersey, with sunshine and highs of 17°C expected.
All Jersey mobile phones have received a text message, calling on people to stay at home this weekend despite the good weather.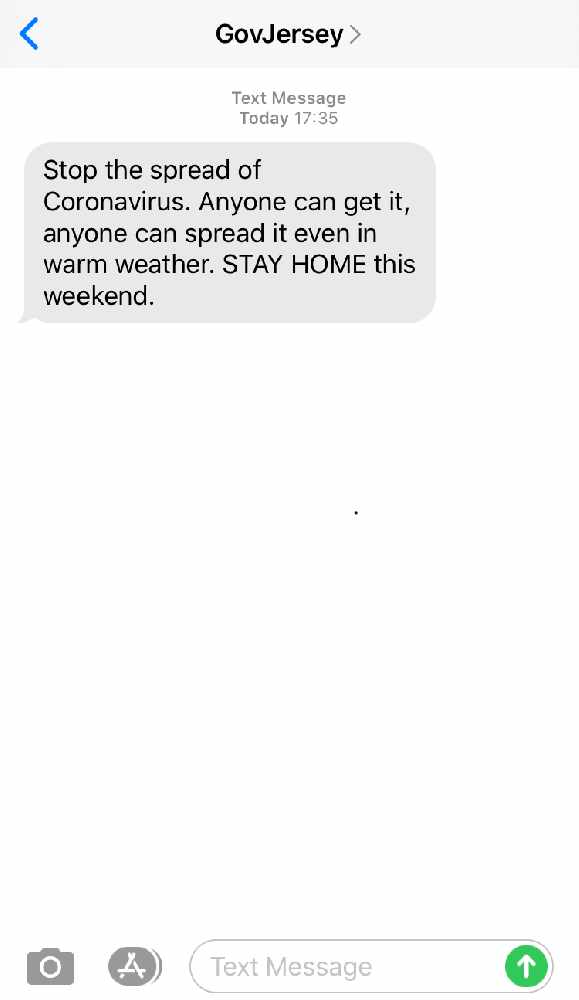 The Chief Minister says today and tomorrow will be the first real test of resolve for islanders.
"We must all stay away from each other to stop spreading the virus, and that means you should not be meeting friends unless you are in the same household.
"Instead, you should keep in touch using the phone, video calls or social media apps. This also means no group gatherings, and includes BBQs on the beach or in your gardens with people outside your household."
Chief Minister Senator John Le Fondre has also warned that stricter lockdown measures could be imposed if the social distancing measures are not successful.
"That might include reducing the scope of essential business, it might further limiting non-essential business activity, it might include extending the duration of the stay at home instruction.
"There are all sorts of measures there and we'll have to see, as the next couples of weeks progress, whether our track on that curve stays."
---

Coronavirus Advice
If you think you might have the virus, you should self-isolate and call the Health Department's coronavirus helpline:
01534 445566
It's open every day between 8am and 8pm. Calls outside these times, or when the line is engaged, won't be answered straight away - but we're told to leave a message and Health officials will call you back.
Please don't visit your GP or the Emergency Department at the General Hospital if you think you have the virus.
Coronavirus symptoms are similar to that of the flu - a combination of a cough, fever and aching muscles. If you've had any symptoms, even if you haven't travelled abroad, we're being told to self-isolate until they clear up (for a minimum of seven days).
Anyone who has come into contact with a person confirmed to have the coronavirus should stay in self-isolation for at least 14 days.
All the latest information can be found on Gov.je.