Bird keepers at Jersey Zoo are using a sock puppet to hand-rear a Javan green magpie!
They are critically endangered and at risk in the wild from illegal trapping.
There are two pairs at Jersey Zoo and because one of them wasn't looking after their chick properly, keepers intervened to hand-rear in a very Blue Peter-esque style!
"Magpie gives the clues, it's a Corvid. Corvids are sensitive, they're intelligent, they're smart and they learn.
"What we don't want for this sort of project is a bird that is seeing a human being as a friend." - Liz Corry, Senior Bird Keeper.
The birds are new to captivity and keepers noticed a few issues with the parents. They quickly decided, because of the risk to the species' future, to step in.
Jersey Zoo staff spoke to colleagues at Chester Zoo and Prague Zoo who also look after these magpies, but had to improvise quickly to save the baby bird, hence the use of a sock puppet, as well as a green balaclava and hoodie.
"When we normally hand feed, you're hand-feeding with tweezers and the chicks, when their eyes are open, can see a hand and you. What we have to do is disguise that hand.
"So we are using a green sock, some buttons for eyes, a red sock, and black just to imitate the markings that the adult would have and then feed the chick using that.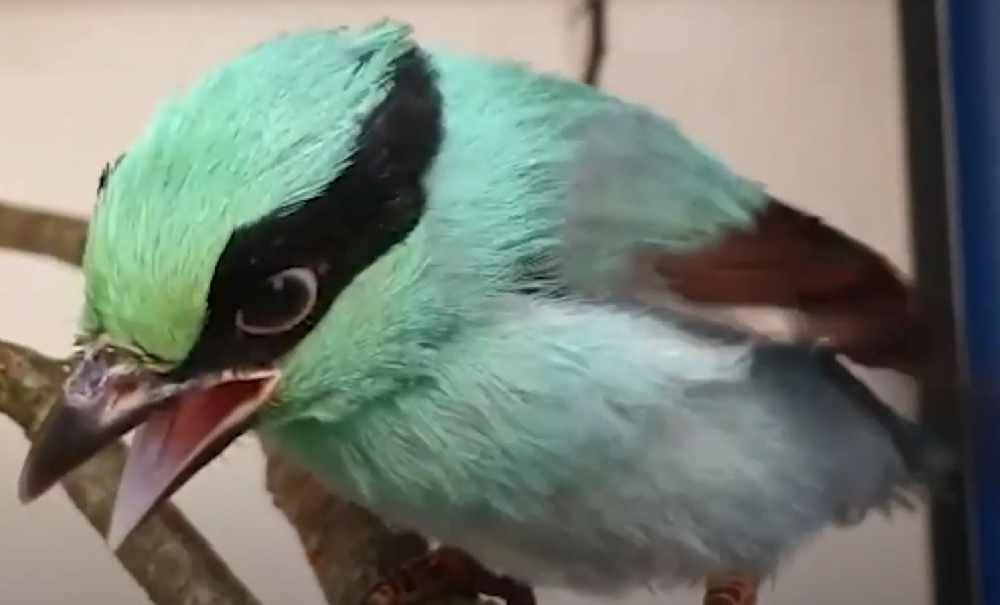 "We also wanted, as best as possible, to cover our faces. Crows in particular are known to recognise facial expressions and the eyes of people. That's obviously quite different to do in a working environment so we went through a few iterations!
"We now have a green balaclava and a green hoodie to wear so when we're feeding it, that's what it saw rather than us." - Liz Corry, Senior Bird Keeper.
The balaclava is now worn every day by staff in the zoo section as protection for Covid-19 purposes.