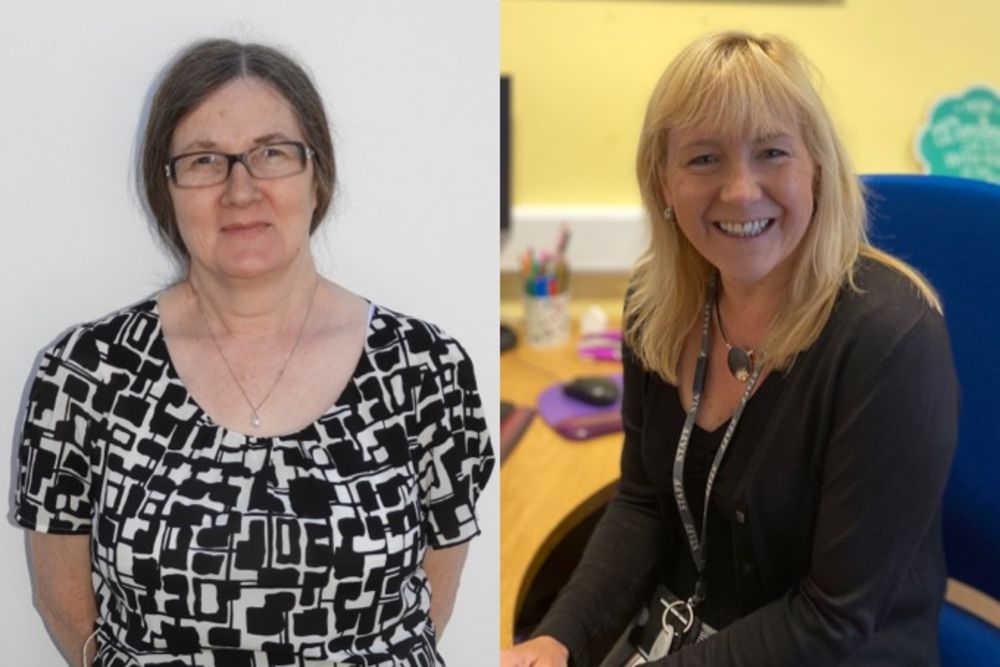 Two primary school headteachers with more than 70 years of teaching experience between them are spending their last day in the classroom today.
Sam Dixon from St Peter's and Sonia Burton from Bel Royal are retiring.
Mrs Dixon became headteacher at St Peter's School in 2017. She started her teaching career at First Tower School in 1990 before moving to Janvrion School in 2005. Mrs Dixon then moved to St Saviour's in 2008 as Deputy Headteacher before moving to St Peter's.
"It's mixed emotions! I've been teaching for 30 years and this is my final day in the profession.
"I'm incredibly excited to be retiring and moving to the Lake District, but I'm also very sad to be leaving all the children behind.
"They're (students) all coming up and telling me they'll miss me and I've had some lovely gifts from children that I've worked closely with and lovely messages from parents.
"There have been one or two cards that have brought tears to the eye!
"I've had so many highlights during my career, but nothing quite beats meeting someone you taught and supported through troubled times, and discovering that they still remember you and have gone on to university or have got a good job. That makes all the hard work worthwhile."
She is moving to the Lake District with her husband to get closer to her children Chris and Kelly.
Sonia Burton, who qualified as a teacher in 1979 and started her career in London, returned to teach in Jersey at 1985 - working at the likes of St Mark's School and Les Landes School.
She became deputy headteacher at Bel Royal school in 1990 and stepped up the top role in 1996.
"I have had the great professional honour of working alongside colleague heads, teachers and support staff who have been totally committed to the task of working alongside children and in partnership with their parents. These relationships have been hugely supportive over my career.
"At Bel Royal, with the support of the dedicated staff I have worked alongside with, I have been passionate about developing an inclusive learning community where achievement is promoted for every child from their own starting point and recognising that every child is unique with their own bank of talents and approaches to learning, which teachers can foster to take their learning forward. Children respond to inspiration in order to aspire."
Both schools will be led by another school's headteacher from September when the 'Leading Headteacher' role comes into effect.
Vicki Charlesworth will lead St Peter's and her current school Les Landes, with John Baudains heading up Bel Royal and La Moye.
Today is the last day of term before the summer holidays. It's been a disruptive last few months for teachers, parents, carers and students as schools had to be closed for several weeks to limit the spread of coronavirus.
A letter has been sent to all parents of government-run schools today from the Education Minister, Assistant Education Minister and Children's Minister to say thank you.
"Many of you will have spent the last day of the summer term surprising your teacher, teaching assistants, headteacher, and school support staff with thank you cards and gifts as you finish for the holidays.
"Today we want to say a personal thank you to you too, and to your parents or carers, for all of your hard work and effort over the last few months.
"In March, everything changed in the blink of an eye for you because of the coronavirus pandemic. Your school closed, events were cancelled, you were asked to follow rules you had never known and live a life that was completely strange to you.
"But you accepted these new rules, of staying indoors, learning from home online and being unable to see or hug your family and friends.
"Your parents or carers also deserve to be congratulated for supporting your home learning online, while juggling working from home themselves and other commitments.
2So, we would like to take this opportunity to thank you all for helping to play your part in accepting and adapting to the changes with so much courage and patience.
"We know it has been a difficult time for you all and we are delighted that so many of you have had the opportunity to spend some time back in school with your friends and teachers before the summer holidays.
"And finally, we are grateful to everyone who took part in the recent celebrations for Jersey's first Children's Day – we were blown away by the amazing artwork and creativity.
We hope that this day gave you the chance to celebrate "your day" with your school friends and teachers and made you feel proud of your achievements.
"Thank you and we wish you all a very happy and safe summer holiday."