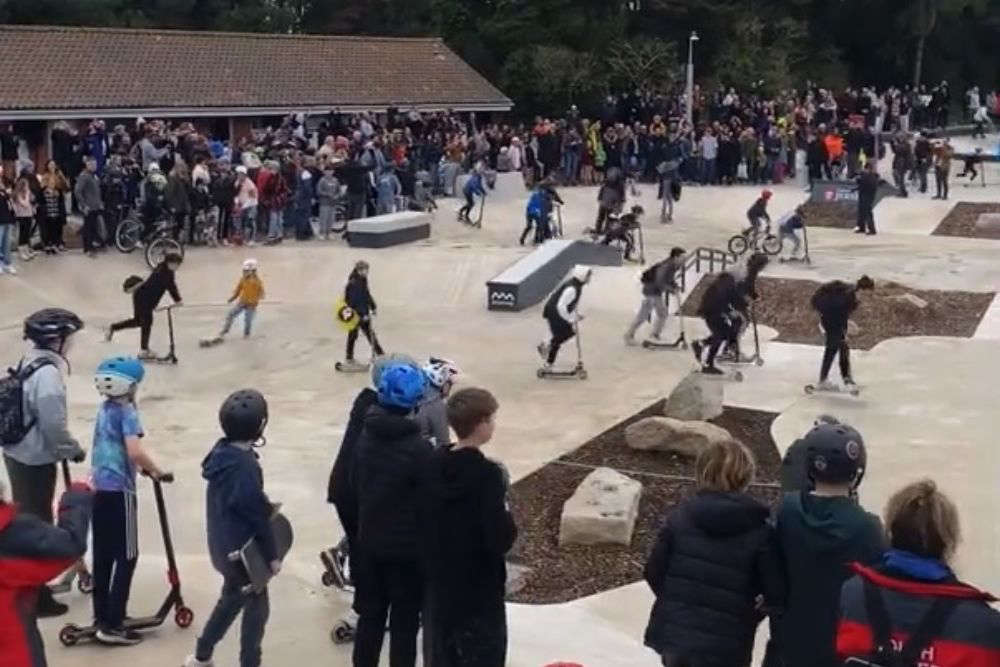 Scores of skateboarders and scooter-riders couldn't wait to put Jersey's new skate park to the test!
Following five months of planning and a year and a day in construction, the island's new skate park has opened.
Hundreds of people gathered at Les Quennevais on Saturday afternoon (4 February) to get a first turn on the concrete.
Channel 103 reporter Harry Whitehead was there:
Les Quennevais Skatepark Opening

After months of delays, the Les Quennevais skate park has finally opened. Our reporter Harry Whitehead was there to find out what the island's skating community thought 🛹🛴

Posted by Channel 103 on Saturday, February 4, 2023
Channel 103's Liberty Lester described the 'brilliant atmosphere'.
Do a flip!

It was amazing seeing the Les Quennevais Skatepark opening today! The atmosphere there was brilliant 🤩 pic.twitter.com/kyWWVsa4aa

— Liberty Jane Lester (@libertylester) February 4, 2023
Youth worker John Cornwall told us:
"It's the culmination of a lot of work and a lot of excitement and a lot of planning. It's somewhere for the skate community to be, and it's a really welcoming home for people to enjoy the sport they love."
Members of the Jersey Skateparks Association expressed delight with the finished park: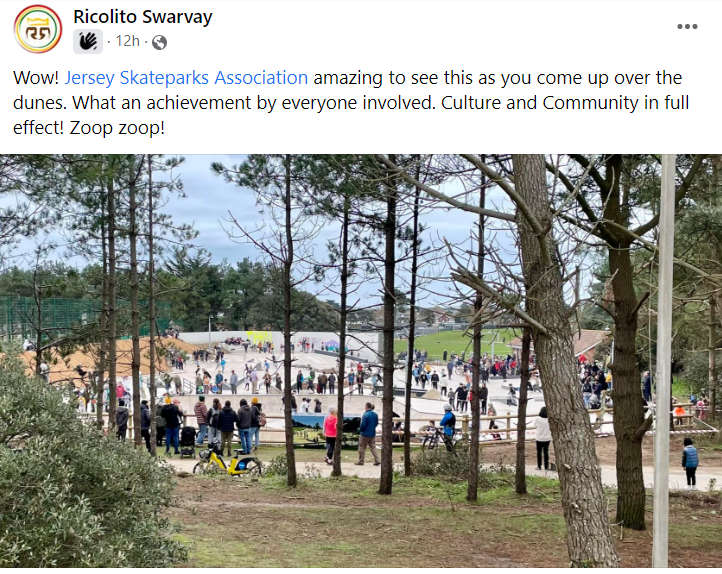 St Brelade Constable Mike Jackson attended the opening ceremony and welcomed the addition of the facility to his parish:
Lots of smiling faces at the opening of the new skatepark as part of the Les Quennevais sports complex this afternoon. Grateful to @GovJersey depts. @PortsofJersey and all investors, in what will be of great future benefit to the youth of #StBrélade#communitymatters #jerseysport pic.twitter.com/nVAqZOqiIz

— Connétable Mike Jackson (@mikejackson1952) February 4, 2023
Sports Minister Deputy Lucy Stephenson made a short speech to declare the skate park open and paid tribute to former States Members who had pushed the project forward.
Wow wow wow! What an opening for the new Les Quennevais Skatepark and an incredible celebration of community and government working together for good. It was an honour to open it, but thanks really goes to @pallett_steve @HughRaymondJsy politically & many others @Jerseyskatepark pic.twitter.com/vmJmsb6hHy

— Lucy Stephenson (@LucyStevoJSY) February 4, 2023
The park has 2,000 sq metres of rideable space for skateboarders, rollerbladers and scooter and BMX-riders of all abilities.
Officials say it has been designed and constructed to meet the requirements for a 'Recreational' facility under the World Skate – Skatepark Facility Certification Rules and a majority of the 'Competition' facility requirements,
That incudes 'a bowl 'deep end' of at least 2.4m with a vertical section and a stair section between 1.2m and 1.6m with 'hubbas' and rails'.
Spades were officially in the ground on 3 February 2022, following years of campaigning for a skate facility.
The £1.9 million park has been plagued by delays caused by global supply issues, with work initially hoped to have finished by May 2022.
The government says a further £1.25m remains set aside to provide lighting at Les Quennevais in the autumn of 2023 and a further skate facility in St Helier. South Hill remains the current focus for that project.