Governors from Haute Vallée School have handed back a poster promoting the government's 'putting children first' pledge, saying students don't have faith in it.
Philip Le Claire, who chairs the school's Board of Governors, told Scrutiny politicians that a Year 11 student had asked if the poster could be removed:
"On behalf of all the children at Haute Vallée we'd like to give this [poster] back because we don't think that it's appropriate that it's up on our walls because we don't think you are putting children first."
He was accompanied by fellow governor Phil Horsley, who said the school board was 'fully supportive' of Mr Le Claire's comments.
The exchange took place in a hearing with the Children, Education and Home Affairs scrutiny panel, reviewing the States' spending plans.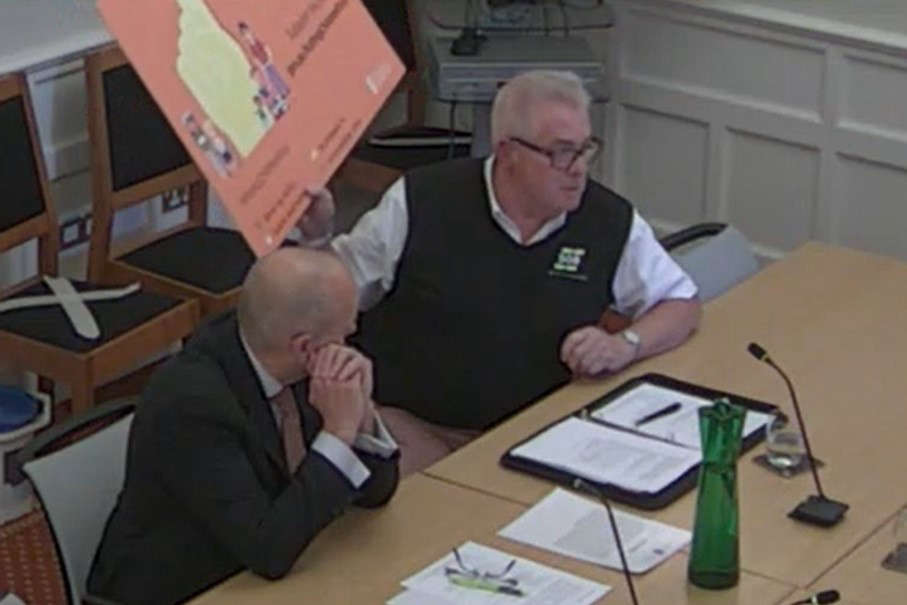 Philip Le Claire handing politicians back the 'Putting Children First' poster, on behalf of Haute Vallée students
Mr. Le Claire added that the government urgently needs to address an annual £23 million shortfall in education funding.
He said the Haute Vallée governors have been urgently seeking a meeting with Education officials for months to raise concerns about school funding and teachers' workloads.
Mr. Le Claire said he wrote to the Chief Minister, Senator John Le Fondré, in May - when he was acting Education Minister at the time - as well as his successor Deputy Scott Wickenden.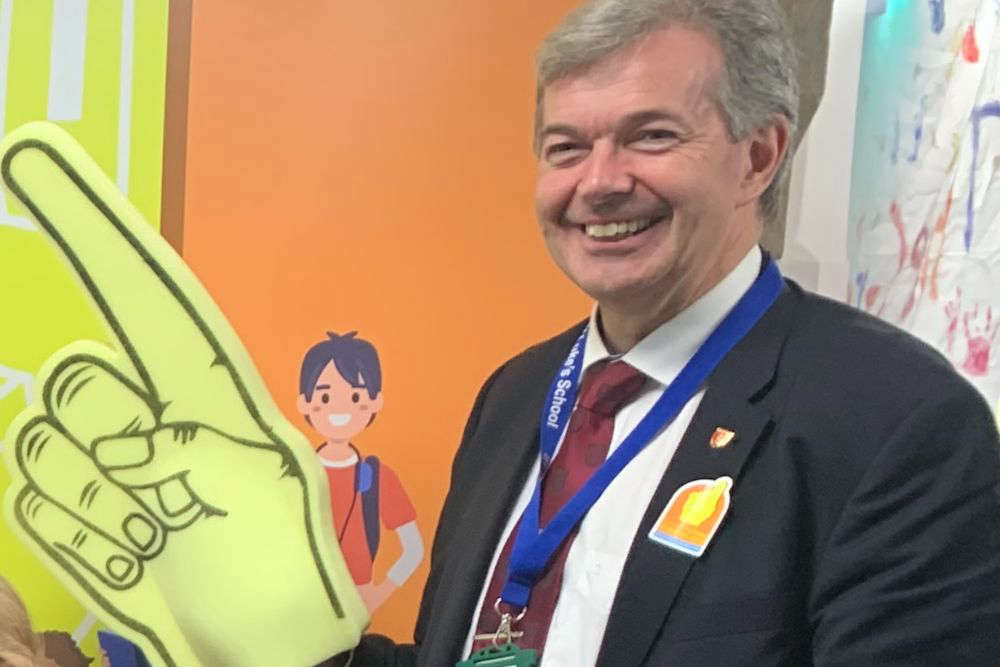 Senator John Le Fondré at the launch of the 'Putting Children First' campaign in 2019
Deputy Robert Ward chairs the Children, Education and Home Affairs scrutiny panel:
"I'd first like to thank the Chair, and former Chair of Governors, for their comments during this hearing.
"It is clear from their comments that Haute Vallée students benefit from dedicated and passionate staff, who go above and beyond to support them. But it is painfully clear that this is despite the significant funding challenges the school faces.
"While the Panel is shocked by some of the evidence, much of it is not surprising. Our Teacher Recruitment and Retention Review found that the cost of living was one of the factors hampering the recruitment of teachers.
"As part of our ongoing review into the Government Plan 2022-2025, I'd welcome input from Governors of any other schools."
In response, the government has repeated its commitment to put children first.
"Since 2019, the States Assembly has voted an additional £35 million per year for the range of services that support the Island's children and families.
"The Education Reform Programme, underpinned by an independent funding review in 2019, is providing £11.6 million additional, recurrent funding by 2024. This is designed to tackle the structural deficit in some school budgets and to release new investment across the school system to address identified gaps in provision. This extra funding has been determined by evidence from the independent review, and was agreed by the Council of Ministers and the States Assembly in 2020.
"As part of the reform programme, a new funding model will ensure a transparent approach to funding schools from September 2022. Headteachers will continue to be engaged in this work and the new model will be kept under review.
"The Government is also committed to taking forward the findings of this year's inclusion review to determine the funding that will be needed to meet a growing demand from children with special educational needs and disabilities (SEN&D). The draft Government Plan 2022-25 proposes an additional £678,000 in 2022, rising to £2.1 million in 2025, to tackle demographic pressures, including those relating to SEN&D.
"The draft Government Plan 2022-25 recognises that additional resources are needed to support a small, but significant, group of young people with complex needs. The plan proposes additional investment of £400,000 for an Intensive Youth Support Service that would operate across schools, social care, youth and criminal justice services to ensure a wrap-around approach to meeting needs. The Minister will ask officials to continue their dialogue with schools, including Haute Vallée, so the approach is informed by the experiences of head teachers and their staff.
"When schools resume after half-term, the Chief Minister and Minister for Children and Education will continue their dialogue with Haute Vallée, and other schools, about how best to put children first."