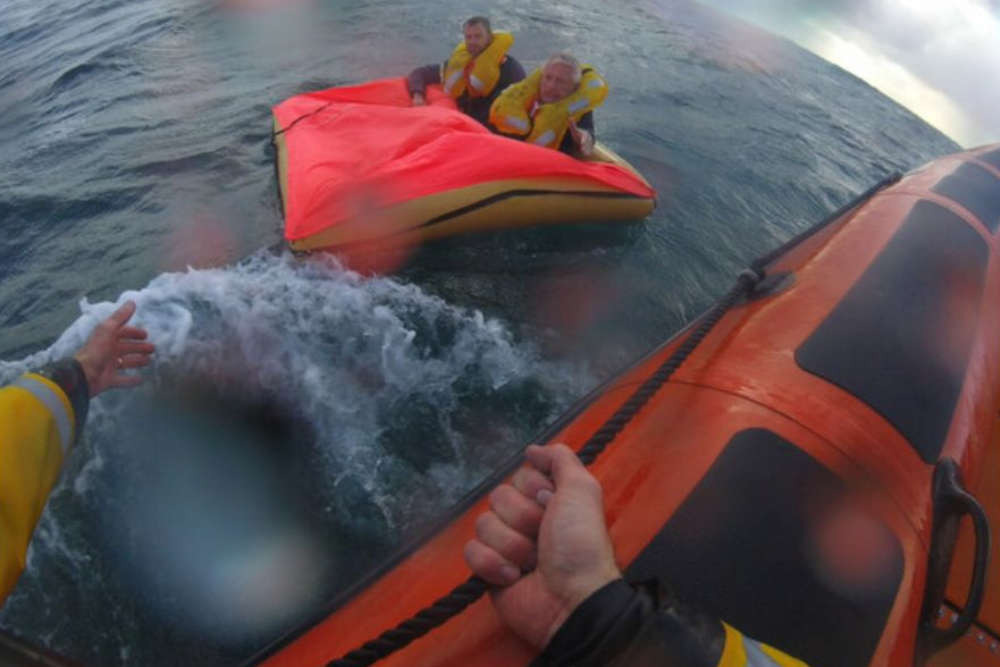 The crew at the Channel Islands' RNLI saved five lives in 2022 including those of two pilots from Jersey who recall how it felt seeing the lifeboat come to their rescue.
The St. Helier RNLI saved the lives of Paul Clifford and Duncan Laisney after their plane ditched in the sea off the southeast coast of Jersey last November.
The experienced pilots called for help after landing the aircraft on the water.
Paul says he had owned G-WINS for 25 years and was in tears because she was a huge part of his life.
"It started to go and it just tipped, the tail end goes up into the air and it just slid elegantly into the water.
Golf Whiskey India November Sierra was no longer my little plane, as it just disappeared into the bottom of the sea."
The pair put out a last-ditch call and were told it would take half an hour before the lifeboat crew would reach them.
"Duncan did say we're going to get a bit wet and when he said that, I thought 'hmm I'd thought that a few seconds ago actually'.
I said, 'I'm going to be in trouble. Lindsey was expecting me to pick her up at 4pm and I'm going to be late' so we were having a bit of a joke, but we were obviously serious and watching what was happening."
Duncan spotted the RNLI first, powering across the sea, when they were told they were close to coming to their aid.
"It felt rather nice. We hadn't been frightened because everything had gone well. We had ditched into the sea; we got out with the liferaft; we knew the RNLI boys were coming for us; we knew how good they are; we know they'd be there - it was just a matter of them finding us."
Peter Lutwhych, RNLI Crewmember, helped to save the men and says it was a great feeling when they rescued them.
"We went into a four o'clock [meeting] and everyone said 'how are you?' and I said 'you wouldn't believe what I've just been up to' and I remember a really good feeling that we brought the guys home safely.
I remember having my dinner with my family that evening and thinking those guys have gone back to have dinner with their family tonight, and that is a great feeling."
The RNLI responded to 131 requests for help in Channel Islands' waters in 2022.
The charity is motivating islanders to walk, run or jog a mile every day in May for the Mayday Mile fundraising event.
The fund will means crew can continue with vital training to save more lives across the islands, and the RNLI will be able to buy more equipment.
Jersey's RNLI supporters can join a Wellie Walk at St. Catherine's Breakwater on 16 April.