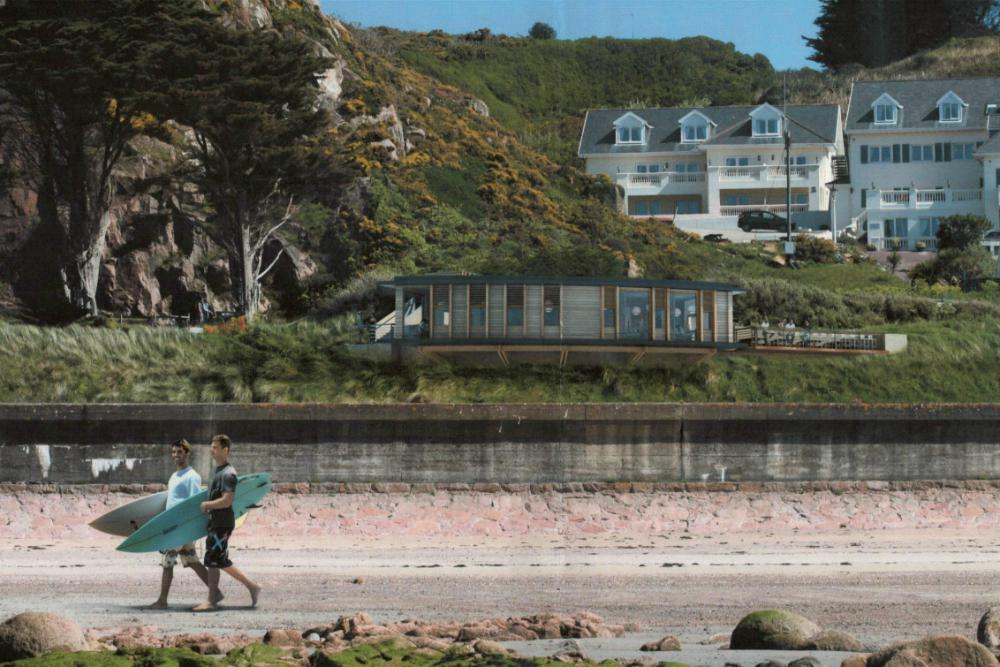 Artist's impression of the new café from St Ouen's Bay
The founder of Nude Food says more than 20 new jobs will be created when its fourth café opens at La Pulente next summer.
The company already has one outlet in St Aubin and two more in St Helier.
Lucy Morris has told Channel 103 it'll be good news for local economy and tourism when it's able to open:
"Some of my staff that have been with me for a long time will now get the opportunity to step up and do something new, something exciting - so all the staff are on board and looking forward to the new challenge.
"Obviously with another location, we'll be recruiting. We'll be creating at least another 20 permanent, full-time jobs in the island. We'll probably have another 15 part-time jobs available for school leavers, students during the summer months."
Nude Food's New Venture.

Nude Food is excited to announce a new chapter in its island story. Having secured a new site at La Pulente, work is currently underway on the opening of a carbon-neutral, eco-friendly and community-based café. Nurture Ecology have started rehoming all wildlife and species on the site, and will be onboard during the construction process and upon completion to ensure that the ecology and biodiversity are safeguarded, and not only is the habitat restored but is also improved. Using understated natural colours and innovative environmentally friendly building materials, the construction will be blended into the land and be built and run with the protection of our island's environment as its guiding principle. After opening Europe's first carbon-neutral café in St Aubin's, Nude Food is proud to be part of a much wider movement towards sustainability. At its heart, Nude is a family-run business with an ever-growing extended family of customers and supporters committed to our vision of a healthier way of life. With a clean, uncomplicated menu crafted around local produce. The new project will create over 20 jobs and we hope it can also serve as a new, thriving location for events run by local charities and collectives. We look forward to welcoming you all soon.

Posted by NUDE FOOD on Thursday, September 24, 2020
The fourth café was announced on Thursday after being revealed at a Parish Assembly earlier this week.
While Nude Food will run the café day-to-day, the site is owned by a private company - Shell House Limited.
It has owned the run-down toilet block since 2014 and put in plans to create a permanent café there a year later, but the project never got off the ground.
The company was taken over by new owners earlier this year, who were keen to progress with the development, leading to the Parish of St Brelade not renewing The HideOut kiosk's permit, which currently occupies a nearby site.
At the time, the Parish of St Brelade said it wouldn't be safe for it to remain in situ while the building work is carried out - but following a Parish Assembly, discussions between the parties are ongoing.
If planning permission is granted for the enabling works, HideOut owner Karl Sutton says he didn't want to be 'a noisy neighbour' and would re-locate to the nearby slipway.