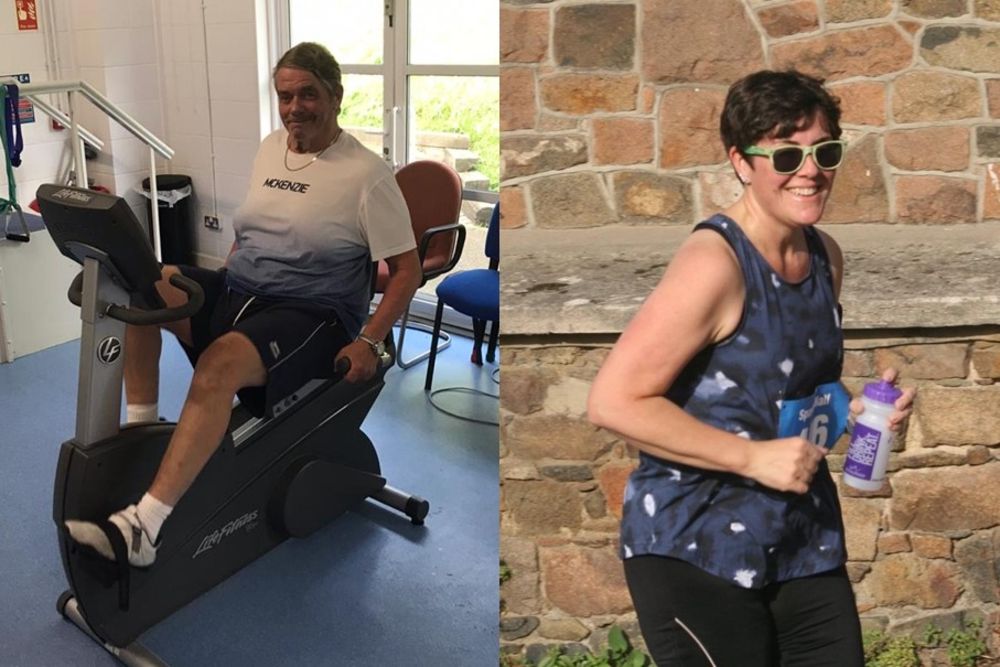 Fundraisers Paul Rayner and Kelly Nash
Staff and residents at Jersey Cheshire Home have been taking on their own fundraising challenges to see them through the lockdown.
It's the island's only 24-hour care facility for people with physical disabilities - costing £2.5 million a year to run.
One of its residents, Paul Rayner, has been using a static rower to head back and forth 'across the English Channel'.
Paul has been a resident at the Jersey Cheshire Home for four years, and wanted to keep active during the current lockdown so decided to undertake a rowing challenge on a static rower to row the equivalent distance from Sark to Jersey.
He completed the challenge over 25 days and wanted to do more so they took on the challenge of rowing from Gorey to Carteret.
His next challenge is already underway and which will see him completing a new challenge, cycling the equivalent distance from Barneville/Carteret to Ouistreham via Caen – a distance of 134.7km – and then rowing 187.4km from Ouistreham to Portsmouth across the English Channel. Paul aims to 'arrive' in Ouistreham on 24 April and to start rowing to Portsmouth on 25 April, to 'arrive' in the English port in June, in time for his mother's birthday.
Jersey Cheshire Home General Manager David Lord has been praising Paul's efforts:
"Paul has achieved so much in the past 25 days with his rowing challenges, and he has really enjoyed it. His new challenge is a huge task, especially the rowing which will take him around 50 days, but Paul has been such an inspiration to us all. He has independently rethought the current situation and found something positive from it that he can do to keep physically active."
"His positive stance helped us to reframe our own thinking and plans so that we could come up with some new ways to embark on fundraising."
Staff at the 24-hour specialist care facility have also been playing their part in the fundraising efforts.
Office Manager, Kelly Nash, aims to walk or run at least 100km each month to raise money for the charity.
She says she hopes to cover more than 3,000 miles over the course of the year:
"It's easy to ignore routine and get out of good habits while you're stuck at home. I love being active and thought I could combine the need to keep active with fundraising. Completing the monthly miles is harder than it looks but I'm doing well. This month I'm already nearly at my target so I will keep going and see what I get to. I am hoping that I can raise some valuable funds for the home through my efforts."
You can donate online through Jersey Cheshire Home's website.