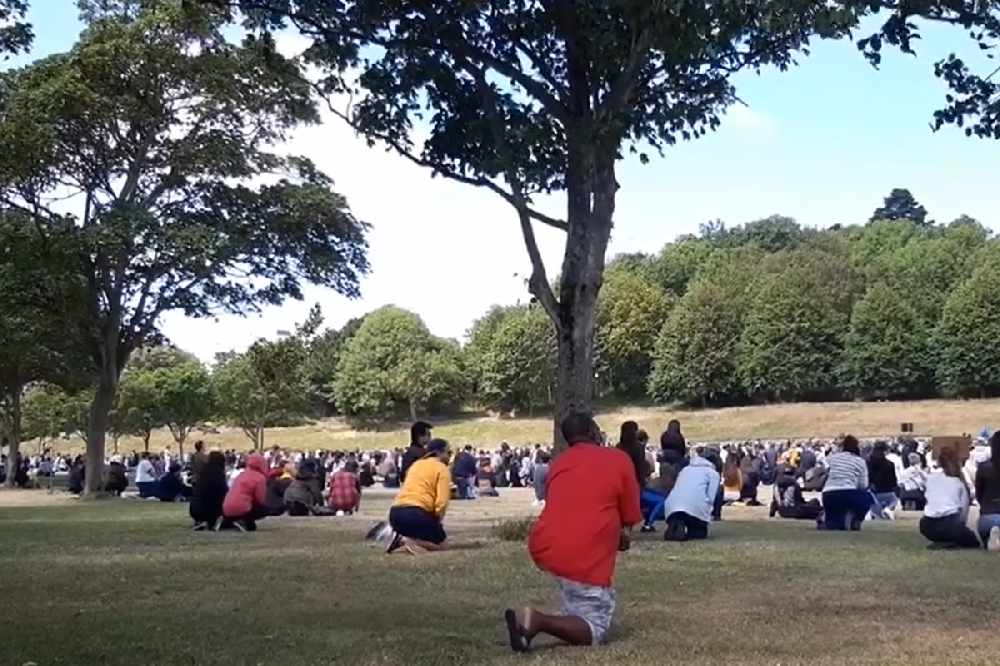 Hundreds of islanders gathered in Jersey's People's Park for a peaceful protest, to kneel for George Floyd and racial justice.
The event was moved from the Royal Square because of the expected numbers.
It was organised with the permission of the authorities, with those attending instructed to remain three metres apart to maintain physical distancing rules in place during the ongoing coronavirus pandemic.
Those present knelt, or sat with their heads bowed, for 8 minutes and 46 seconds. That is the length of time 46 year old George Floyd was pinned down by a US police officer kneeling on his neck in Minneapolis.
The demonstration was organised to show solidarity with the global Black Lives Matter movement.
"We kneel in solidarity with those who are expressing their hurt and anger towards the racism experienced by America's black community. We join
them in demanding better of ourselves and our institutions. In the age of information, ignorance is no longer an excuse." - Nicola Twiston Davies and Jude Kriwald, organisers
The kneel was followed by speeches from activists, politicians and members of the black community.
Jersey Police said it had worked with Honorary Police and the Bailiff's Office and thanked everyone for helping to support a peaceful and socially distanced gathering.
The event drew criticism on social media from some islanders, who believe it should not have been permitted during the current health crisis was guidance states people should not meet up with more than five people outside of their own household.
In the UK, the government strongly advised against people attending much larger protests in cities across the country because of the Covid-19 pandemic.
Those who attended the Jersey demo have praised organisers for a powerful and emotional event.