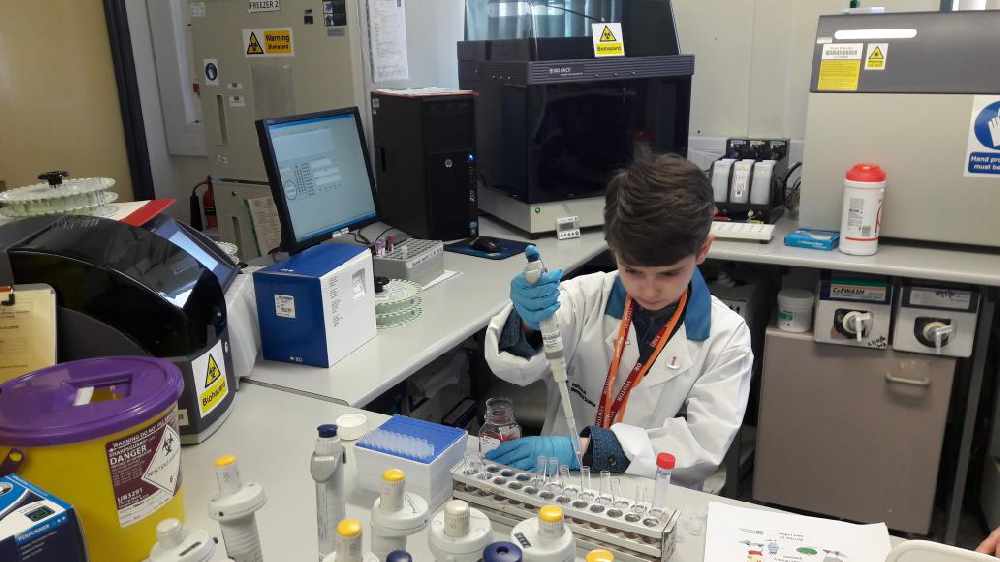 Image Credit: Harvey's Gang / Twitter.
Children having tests at Jersey's General Hospital could soon be able to tour the science labs to find out more about what happens to their blood samples.
Biomedical staff are looking to follow 'Harvey's Gang', a UK project started to help one little boy with Leukaemia through his treatment.
Adrian O'Keefe, from the hospital's Pathology Department, says it was started at Worthing Hospital, helping a little boy called Harvey to feel more comfortable during his treatment:
"Harvey was having blood tests done every day and hated having them done so the laboratory team got together and invited him down to see the laboratory so he could see what happened to his blood after it was taken from him.
"He spent the whole day there, got a badge to show he belonged, a lab coat to wear and all sorts of activities. It took off so much, and was so popular, that now hospitals all over the place are doing it for really sick children who are dependent on pathology laboratories for their treatment."
It comes as lab staff celebrate Biomedical Science Day - to spread the word about the work they do.
The 70 staff are using Biomedical Science Day to raise awareness of the part they play in treating patients.
Adrian told Channel 103 that their work often goes unnoticed:
"They're a hidden workforce - working away in the background. People may not know what they do, but they're crucial to the diagnosis of people's diseases. Probably 80% of diagnoses from your doctor involve people in the hospital laboratory in some way."
Staff are out in the hospital today spreading the word about their work:
The stand in the outpatients entrance for #BiomedicalScienceDay2019 #IBMScience #AtTheHeartOfHealthcare @GovJersey pic.twitter.com/HElTmZRYVt

— Adrian O'Keeffe (@AdrianOK75) June 20, 2019