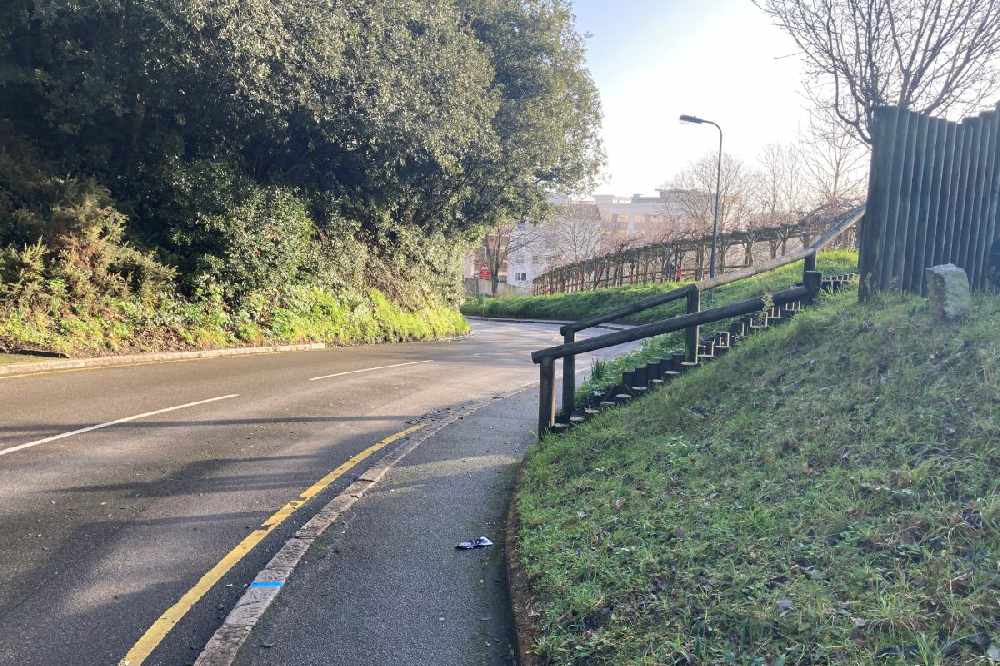 A Parish Assembly will be asked on Wednesday 9 June if they're happy with the details provided on creating an access route to the new hospital at Overdale.
Parishioners voted in February for work on Westmount Road to stop until more information was provided on the 'vehicular, amenity, cultural, or community impact' it will have.
It was the largest turnout in 20 years, with more than 200 attending either in-person or online.
Westmount Road was approved as the primary access route by the States Assembly on 1 February, despite calls for detailed drawings to be provided first.
Advocate Olaf Blakeley then served a requête on Constable Simon Crowcroft to hold the 10 February Parish Assembly, after arguing that Ministers responsible for the project had 'consistently, and unjustifiably, failed or refused to give details needed for the parish to make an informed decision.'
He wants parishioners who attend next week's assembly to reject next week's proposition, which will ask:
The Assembly has received the details it requires in respect of vehicular, amenity, cultural, and community impact outlined in recital D of the Requête considered at a Parish Assembly on 10 February 2021.
The Assembly is satisfied with the merits of creating an access route to the proposed hospital as described in the presentation P02.2021*
Advocate Blakeley says despite having more than three months to produce pictures or diagrams, nothing meaningful has been presented.
"There are no schematics of the road; there are still no diagrams of its design; nor is there any adequate detail on environmental impact; in short, completely contrary to the project's purported intended actions and to the words of the Our Hospital group, there are no "understandable images of what [the access route] will translate to in reality".
He's told Channel 103:
"All that has been added is a couple of extra lines to an aerial map showing the route of the road. We all knew what the route of the road was. We want to see what it will look like. (Senator Farnham) hasn't provided any details about how high it will be, he hasn't provided any details about the environment damage and the amount of trees or landscape that will be lost and he hasn't provided any details of any back-filling or embankments that will be needed to support the road."
More details of how the new hospital at Overdale will look like were released last week.
It stated that the Westmount Road carriageway will be around 6.7m wide, down to 6m on straight roads, alongside a 4m wide 'active travel corridor' consisting of a 2m footway and 2m cycleway.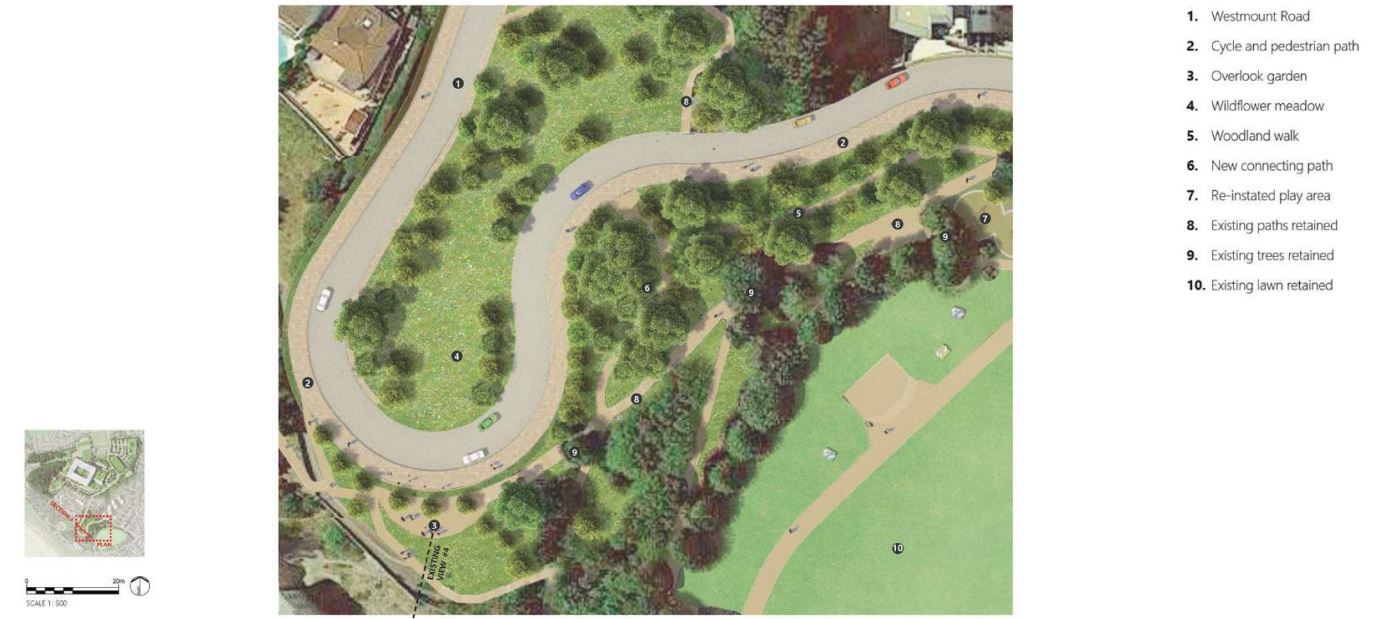 The hospital project team also said that while some trees may be lost as part of building work, three times as many would be planted to replace them.
Earlier this year, red ribbons were tied around trees that campaigners feared would be lost.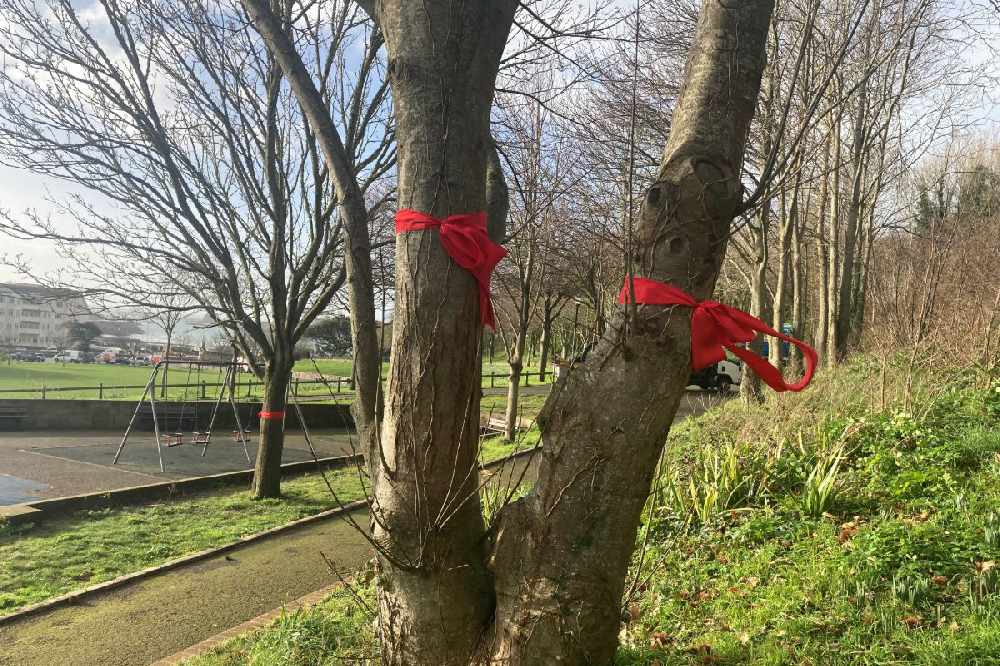 Anyone wanting to attend or vote at the parish assembly has to give notice to the Parish Hall by 5pm on Sunday 6 June.
Advocate Blakeley says, with many people away because of the half-term holidays, this will 'severely limit proper and adequate opportunities for
concerned parishioners to be involved.'
He's also claimed the Constable Simon Crowcroft hasn't given information on how the parish assembly was arranged, 'despite numerous requests'.
"A responsible and competent political department should understand the importance of being transparent with the public especially in regard to large scale projects which have the potential to damage the Island's beauty, degrade its facilities and destroy its valuable wildlife and environment. The Our Hospital team knows the importance of People's Park and the surrounding areas to residents of the area and the public of Jersey and should be doing everything it can to have their informed consent by providing proper and meaningful information. They have failed to do that in the past and they continue to fail to do that. It is perfectly reasonable to conclude that the reason why the assurance that "understandable images of what [the access route] will translate to in reality" have not been actually been provided is because the Our Hospital project team knows no support would be forthcoming if the public could visualize what is intended.
Channel 103 has contacted Constable Crowcroft for comment.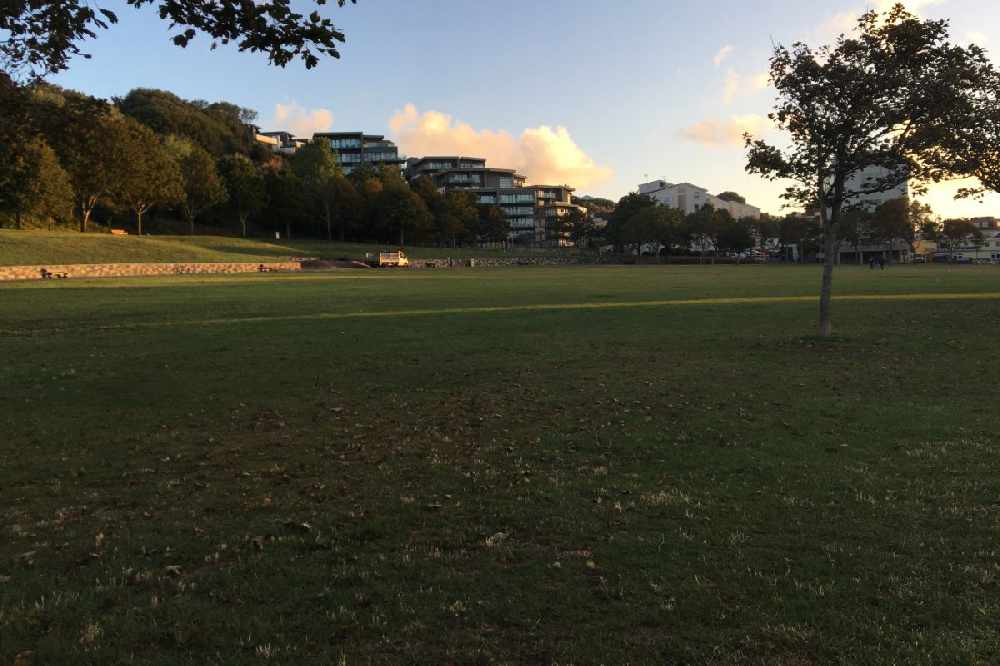 There are more details on next week's parish assembly here.
Senator Lyndon Farnham says there are huge amounts of detail in the concept designs that were published last week.
"What I suggest Olaf Blakeley does is to articulate his questions and send them into the Our Hospital Team and they will come back to him on all the issues and all of the questions he raises.
"There is a significant amount of new information and we're part of the way through the process now.
"The next stage is the development stage and that is when the hospital team will present the final drawings and plans.
"It's important for members of the public to get involved at this stage because that's the whole idea of publishing the concept drawings right now.
"We want to hear from members of the public. We want to say to them look, what are we doing right and what are we doing wrong and then apply their comments and ideas into the next stage."