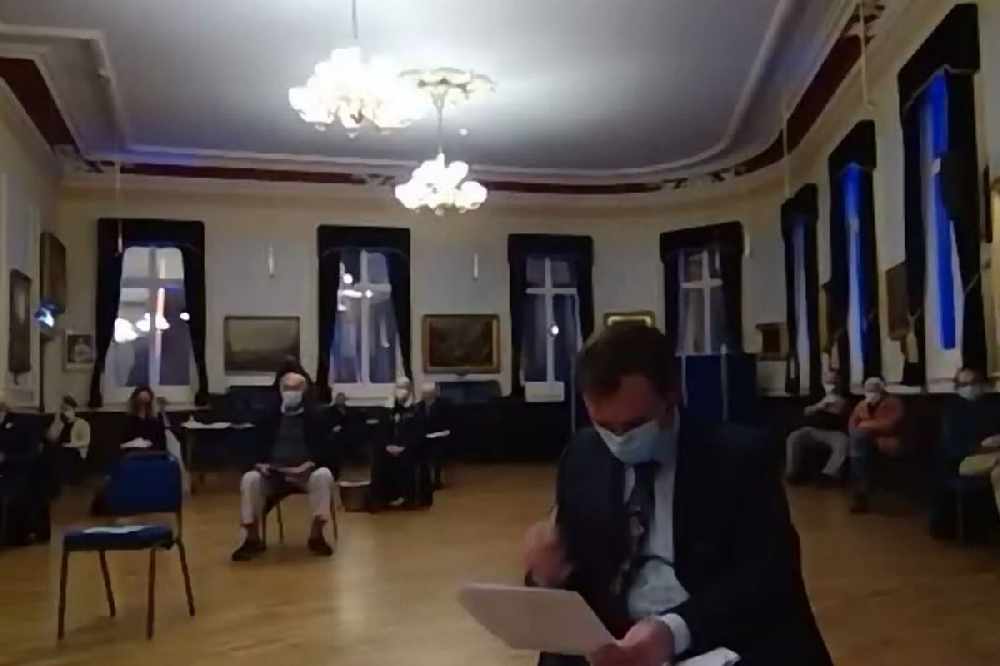 More than 200 people attended the Parish Assembly virtually. A few were allowed in the Town Hall, including Advocate Olaf Blakeley (front).
The Parish of St Helier has been formally asked not to allow those involved in the new hospital project to carry out any more work on its land until more details on the proposed access route are given.
More than 200 people attended a virtual parish assembly, the biggest turnout in two decades, after a requete was served on the Constable of St Helier by Advocate Olaf Blakeley.
It was amid concerns over the proposed Westmount Road access route and the 'vehicular, amenity, cultural, or community impact' it will have.
"It (the requete) merely puts control back in the hands of the parishioners of St Helier.
"It stops the land being misused. It stops the government taking control of that land until such time as the Parish of St Helier is content that enough detail and information has been provided."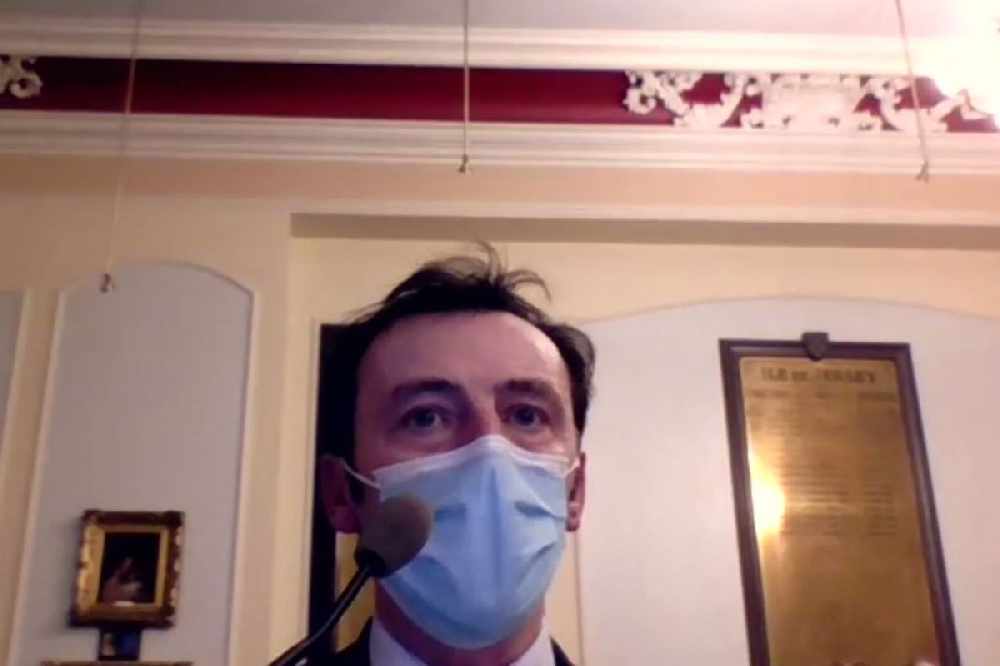 "I think that the government have behaved badly by not providing sufficient detail and giving people the opportunity to at least look at the plans or some sort of drawing.
"All we are asking for is a diagram so that we can decide whether or not it's agreeable. We're maybe fighting over nothing, everyone may be happy with it.
"If Senator Farnham and the Council of Ministers is correct and this is a road that will blend in and add value, I'd have thought they'd be clamouring to show us that." - Advocate Olaf Blakeley.
The States Assembly approved Westmount Road as the primary access route last week, despite calls from Scrutiny for detailed drawings first.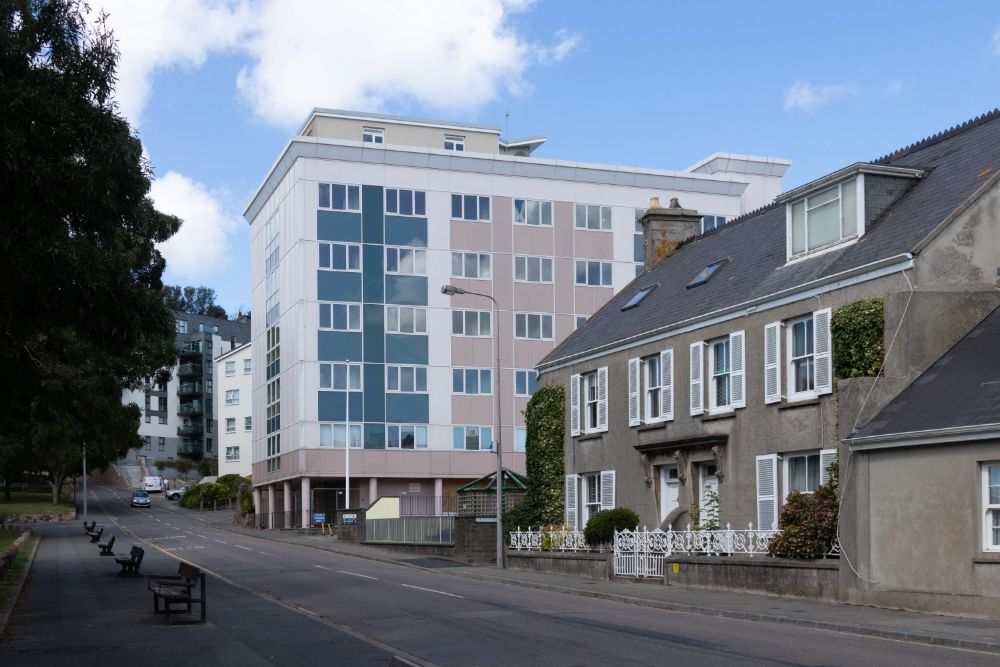 Senator Farnham argued that the detail being called for can't be provided now - and voting through his proposition would allow the project team to work on providing that information.
It was approved by 34 votes to 11.
71 route options were considered, with Ministers favouring a two-way Westmount Road with space for a cycleway and footway.
That is due to lead to three homes being demolished, and the Jersey Bowling Club being forced to move.
It's been admitted that the children's playground, and a few trees may be impacted as well.
Campaigners tied red ribbons were tied around trees they feared would be lost as part of this access road.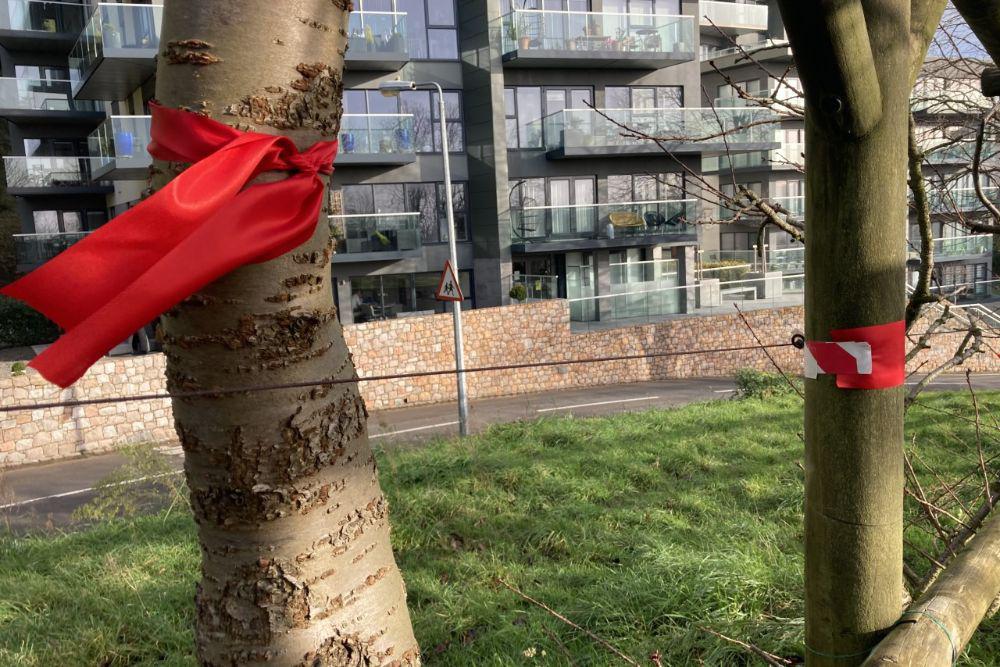 Senator Farnham told journalists that his intention was not to lose a single tree - and later clarified that a few trees may be lost, but not as many as people feared.
He insisted that any trees that are lost will be relocated.
Tamara van Meggelen was one of the parishioners who helped to tie the red ribbons and she spoke at the Parish Assembly.
"I do not doubt that Constable (Simon) Crowcroft will call another parish assembly if and when proposed road plans are produced.
"Unfortunately our experience to date with the government has indicated we cannot trust them to produce those details, nor can we trust them to produce it in sufficient time so we actually have time to look at it and vote on it in a meaningful manner."
There were calls from Scrutiny, and parishioners attending the parish assembly, for Ministers to consider doing nothing to Westmount Road instead. That option scored slightly lower than the option Ministers are favouring.
Senator Farnham indicated in last week's States sitting that would be considered further.
Three St Helier politicians spoke at last night's parish assembly.
Deputy Inna Gardiner voted for the requete.
"I do want to see the hospital. I want the hospital to be built as soon as possible, but it is important how and what will be the cost?"
The Parish Assembly to debate Requete started. Thank you for @StHelierJsy staff to combined meeting. More than 200 parishioners registered, the highest number in 20 years pic.twitter.com/zeVggTJzH7

— Inna Gardiner (@innagardiner) February 10, 2021
Deputy Steve Ahier and Senator Sam Mezec both voted against the requete.
"It (the requete) will put untold pressure onto the Constable and especially on the proceurers whose job it is to maintain an oversight of parish finances and ensure that those funds are not wastefully spent.
"It is imperative that the path to litigation is avoided." - Deputy Ahier.
"I don't think it is the most effective strategy because it is senselessly obstructive and doesn't, I think, have a regard for the bigger picture here.
"When we're wanting to send a message, we shouldn't be doing so by asking the Parish to undertake a course of action which cuts off our collective nose to spite our collective face." - Senator Mezec.
Other notable names to speak in the assembly included former Senator Ted Vibert, Reform Jersey chairperson Lyndsay Feltham, Jersey Action Group chairman John Baker, and Law Society CEO Neville Benbow.
24 people contributed to the debate, including many residents who would be impacted by the Westmount Road plan and complained of a lack of transparency throughout the project so far.
Before the landmark virtual vote was held, Procurer Peter Pearce urged parishioners 'not to tie their hands and make it more difficult'.
"The matter will be brought back to a Parish Assembly when we, the procurers and the Constable, have been able to negotiate perhaps.
"What we don't want is the States to ride roughshod over our rights and make a compulsory purchase order because we're not co-operating."
Despite that plea, the 205 parishioners voted as follows:
Proposition 1: "That the Parish should not allow any further interference with the Land or any part of it by the Ministers responsible for the new hospital project or by their agents, contractors or advisers unless and until such time as the Parish has confirmed at a further Parish Assembly that it has received the details it requires concerning the matters referred to in Recital D above and is satisfied with the merits of creating an access in accordance with the details provided." - VOTES FOR: 175. VOTES AGAINST: 30.
Proposition 2: "That in the meantime the Parish is required to take, or join others in taking, whether by legal proceedings or otherwise, such action as may be necessary or desirable to resist any attempt by the Public to acquire the Land pending the evaluation by the Parish of the details referred to in item 1 above." - VOTES FOR: 167. VOTES AGAINST: 38.