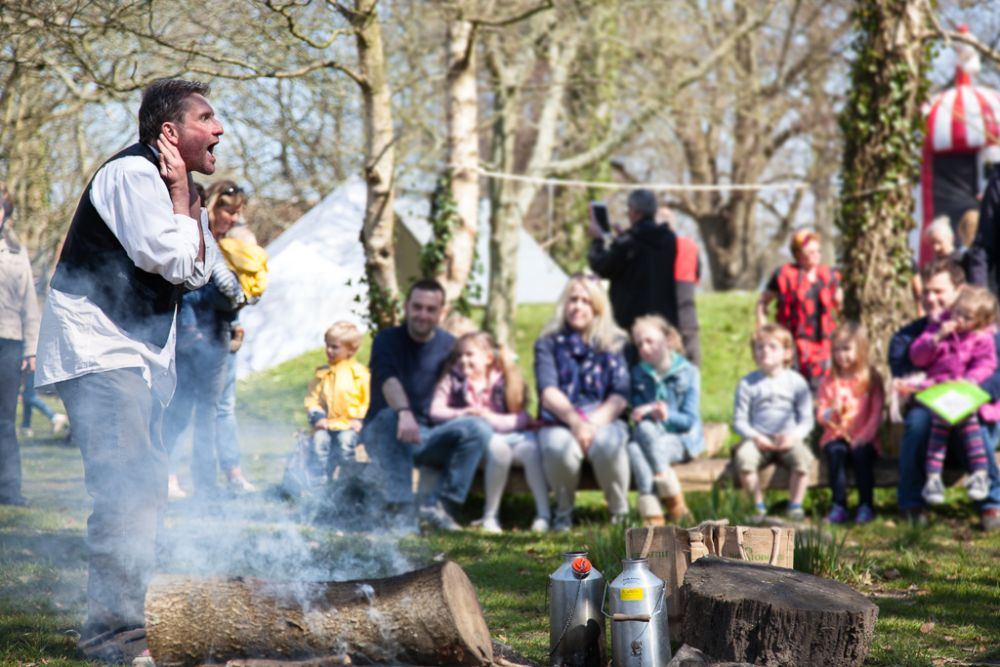 Paul Journeaux telling stories at last year's Fête du R'nouvé.
Jersey Heritage is holding its spring festival online this year to keep the community event going despite the lockdown.
The Fête du R'nouvé takes place every year at La Hougue Bie, but this year it's activities are being hosted online as Jersey's 'stay at home' restrictions prohibit public gatherings and have forced the island's heritage sites to close to visitors.
Lots of the same activities planned for the original event have been saved, including music, performances, stories, crafts, nature activities, poetry, recipes and dance.
Nicky Lucas from Jersey Heritage hopes the island will still take part from home, following events on the organisation's website and social media pages:
"The support and enthusiasm from so many talented local people has been amazing. It's taken a lot of hard work and pushed us all out of our comfort zones by having to think about how we could share everything online, whether that's been dancing by the Jersey Lillies, nature activities with Stephen Le Quesne, the creation of Jersey Wonders, or entertainment from Royston South and Sita's Circus.
"Celebrating springtime at La Hougue Bie will have to wait until next year but, in the meantime, we can still prepare a picnic, put down a rug in the lounge and enjoy some of the talents that our lovely Island has to offer. It's a pretty fantastic line-up and we really hope people join us on Saturday to be part of La Fête du R'nouvé Online."
Events get underway at 9am with a live stream on the Jersey Heritage Facebook page, followed by activities shared on the Heritage at Home website.