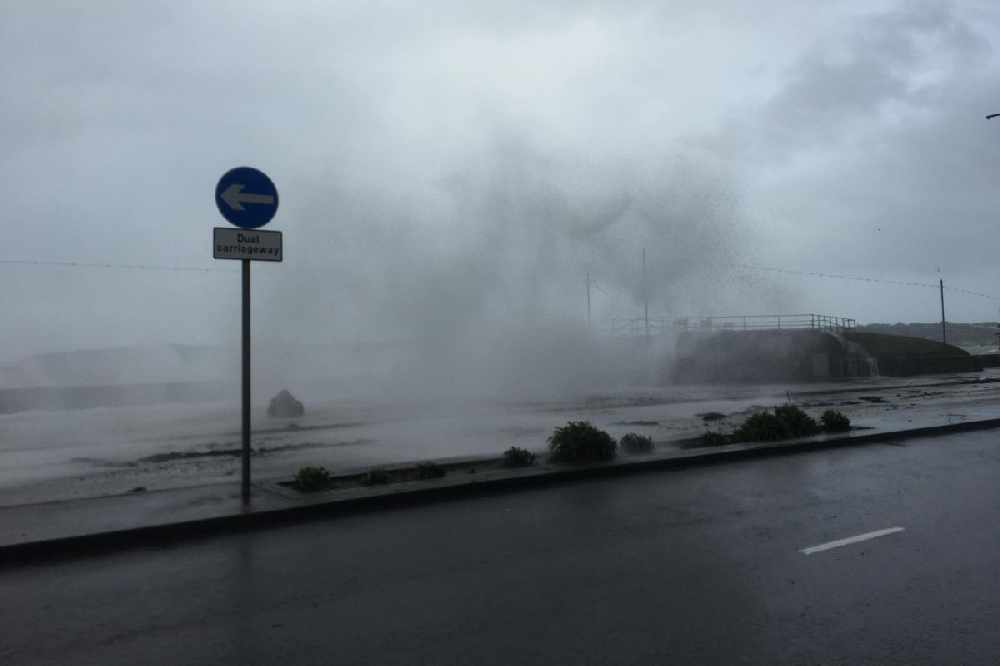 There is travel disruption on Jersey's roads for a third morning this week because of stormy weather.
Storm Ines - named by the French Met Office - comes just days after the island was battered by Storm Ciara, and as we're braced for Storm Dennis to hit.
A red level tide warning has been issued for high tide at 9.19am, which is expected to reach 12 metres.
Waves will combine with up to gale force 8 winds gusting to 65mph to send water and debris over the sea wall.
Victoria Avenue closed westbound at 8.15am because of the conditions, with flooding likely along the south coast.
The eastbound carriageway shut just after 9am for high water.
Downpours have also caused surface flooding on several roads, including a landslide on Rozel Hill towards Trinity.
We are taking reports of flooding in several areas:

Westhill down to Pomme D'Or farm
La rue du Hucquet - St Martin
La Grande Route de St Martin
La Route de Maufant - St Saviour
Mont de Rozel towards Trinity - (landslide)
GHE have been notified regarding the above locations.

— States of Jsy Police (@JerseyPolice) February 13, 2020
8.4mm of rainfall was measured at Maison St. Louis Observatory, Jersey between 4 a.m. and 5 a.m. this morning as a cold front crossed the island and the southerly wind gusted to 52kt at St Helier Harbour. pic.twitter.com/Gq8QaDQhK0

— Jersey Met (@Jersey_Met) February 13, 2020
LibertyBus and school bus services will be running as normal but there might be some delays.
Ferry services are affected - with the Rapide not running on Thursday and the Commodore Clipper is operating to a revised schedule.
Condor has cancelled fast ferry sailings on Saturday because of the impending Storm Dennis and Sunday's service to St Malo is under review.
Tune in to Channel 103 (103.7FM) for the latest travel and weather updates.