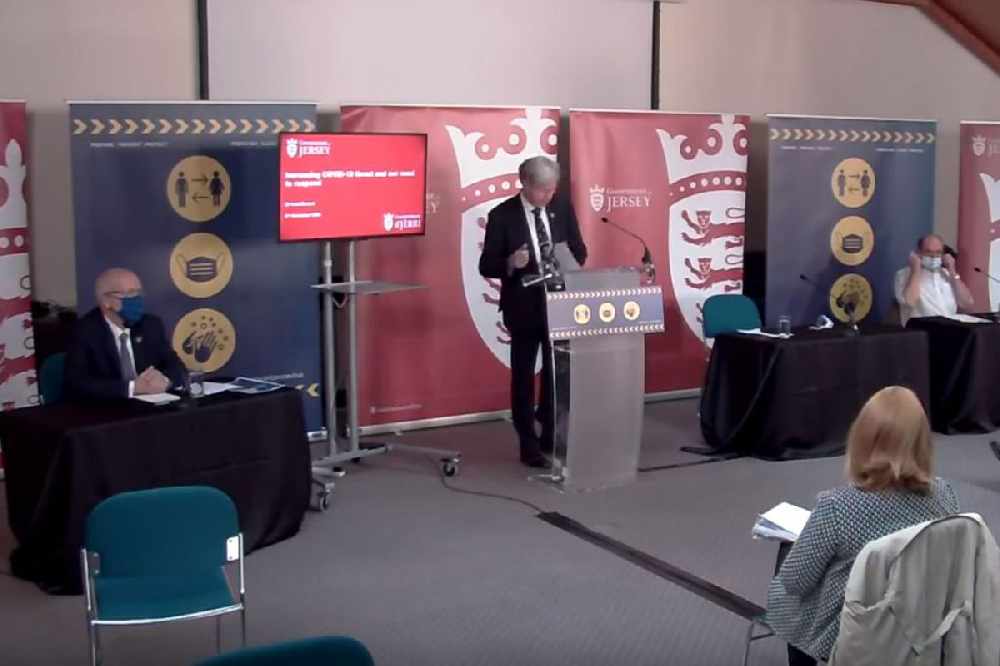 The Chief Minister has warned the island's young people that they can catch Covid-19 and spread it to their friends and family - after saying that they're having a 'significant impact on the growing spread' of the virus within the community.
Ahead of passing 100 known active cases of coronavirus, which has now been confirmed, Ministers have spoken about taking all possible safety precautions now to avoid further restrictions on people's livelihoods - and a possible second lockdown.
In a speech broadcast on social media this afternoon, Senator John Le Fondre fired this warning.
"We know through our interviews during the contact tracing process that physical contact between friends, between boyfriends and girlfriends, and the sharing of drinks and vapes, is leading to the spread of the virus among younger and asymptomatic carriers.
"We are now seeing cases that we can trace back to Halloween parties and this is particularly troubling, given the number of warnings we issued about keeping safe during that holiday.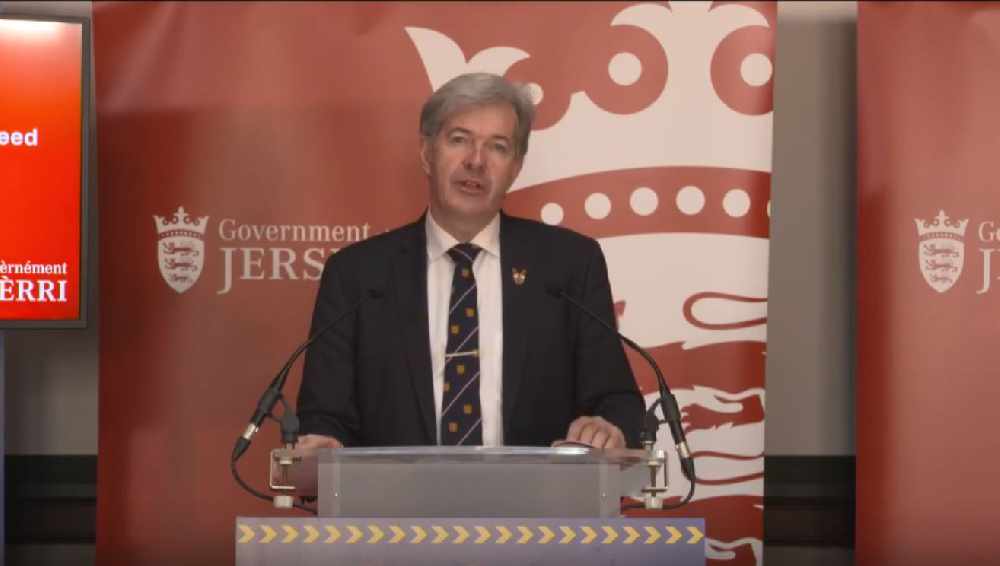 "I want to address all young people in Jersey directly and say simply and starkly:
"You can catch COVID-19 and if you do, you will spread it to your friends and family. You may not have symptoms, but you could infect someone that will. While your lives may not be at high risk from COVID-19, that of your family, and especially your older relatives is.
"Please think how devastating it would be for you, and your family, if you were to infect your grandmother or grandfather and, worse still, lead to their deaths.
"I know many parents will be watching today and I hope they will impress on this important message to their own children, as I have to mine."
LOCKDOWN WARNING
In a wider warning to islanders following increased case numbers, Senator Le Fondre said there are 'pockets of community transmission' through seeking healthcare or contact tracing - and has accused many islanders of becoming 'too relaxed in their compliance with public health guidance'.
He said stricter measures will quite possibly come into force if people don't do the right things now.
"I want us to avoid draconian measures. We will not re-introduce any restrictions lightly. But we will act swiftly and in a targeted way if necessary.
If we don't change our behaviour, then our case numbers will increase and we face the real possibility of ending up in a lockdown. Just like the UK moved into yesterday and France moved into earlier than that.
This is NOT a position that any Islanders want to be in. Where we risk being unable to see friends and family over the Christmas period."
"This is how we behave as a community and keep one another safe."
CORONAVIRUS CLUSTERS & UNKNOWN SOURCE OF INFECTION INCREASE
68 cases of coronavirus have come from an unknown source of infection since the start of September - including 24 in the first week of this month.
September: One incident of unknown source affecting one person
October: Eight incidents of unknown source leading to 43 cases.
November: Eight incidents of unknown source leading to 24 cases.
There were two clusters of coronavirus in October - one following a workforce dinner party at a hospitality venue and the other at a healthcare site.
There have also been two clusters in the first week of November - one workforce social event and a party at another hospitality venue.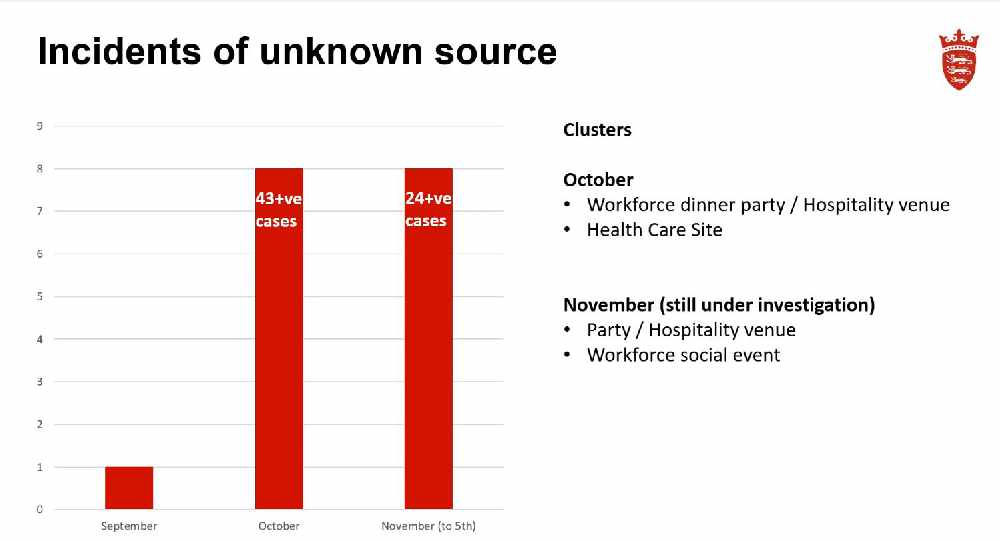 The Deputy Medical Officer of Health, Dr. Ivan Muscat, has warned that the island 'is at a critical stage'.
"We need to act more carefully. We need to act more responsibly.
"We need to make decisions, safe decisions, based on risk."
"WE ARE BORDERING THE LINE"
The Health Minister has warned that we are 'bordering the line' that could lead to more serious measures.
Deputy Richard Renouf reiterated the public health measures such as keeping our distance and limiting the number of people we socialise and gather with.
The law on wearing masks still hasn't been lodged - but the Chief Minister says he hopes it will come forward for debate at the start of December.
Deputy Renouf says now is the time to react, now that the virus is spreading within the community.
"If we are forced into a lockdown scenario, we force ourselves apart. We become isolated from each other, our social connections are broken, and our way of life stops.
"We do not want this to happen. We can stay connected, but we can also stay safe.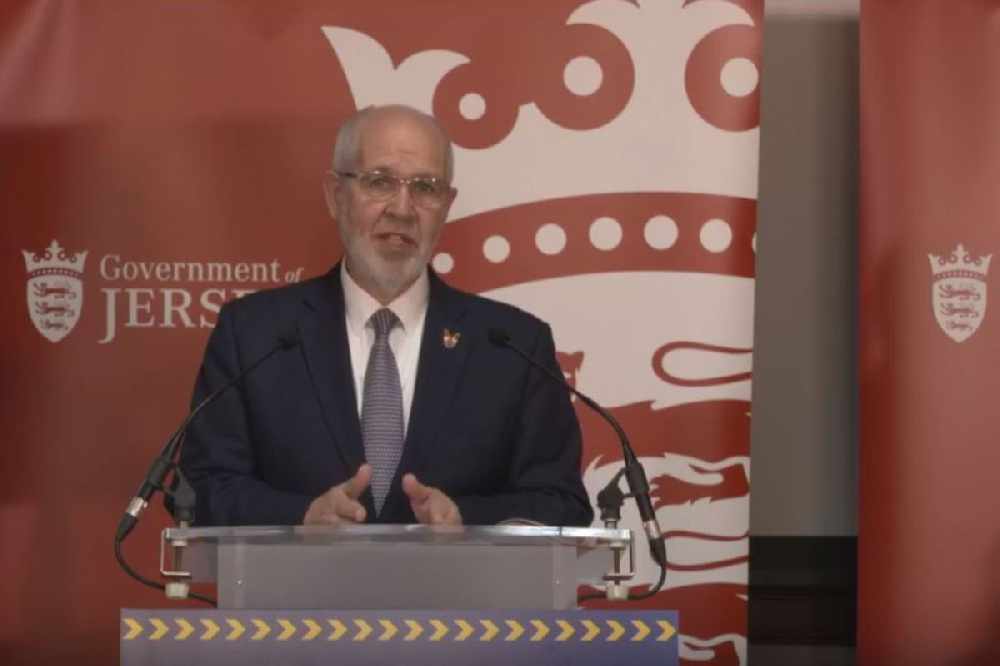 "Please think about protecting our Island and preventing the virus spreading in every decision you take.
"Act responsibly. Act with a shared purpose to protect our community. Act to make positive impact and help bring Jersey through this pandemic."
The Chief Minister's words regarding young people have been heavily criticised by the Children's Commissioner.
Deborah McMillan has told Channel 103 that she was 'flabbergasted' by what she heard - adding that it's not the way to pass on really important messages to young people.
We were listening to @GovJersey press conference just now - but how many young people will have been, in the middle of the pm, on Twitter?

👋It's not enough to just talk *about* teenagers @John_Le_Fondre - you have to talk *to* them as well.

— Office of the Children's Commissioner for Jersey (@OCCJersey) November 6, 2020
You can hear from the Children's Commissioner on 103.7M and online at Channel 103 tomorrow (Saturday 7 November)