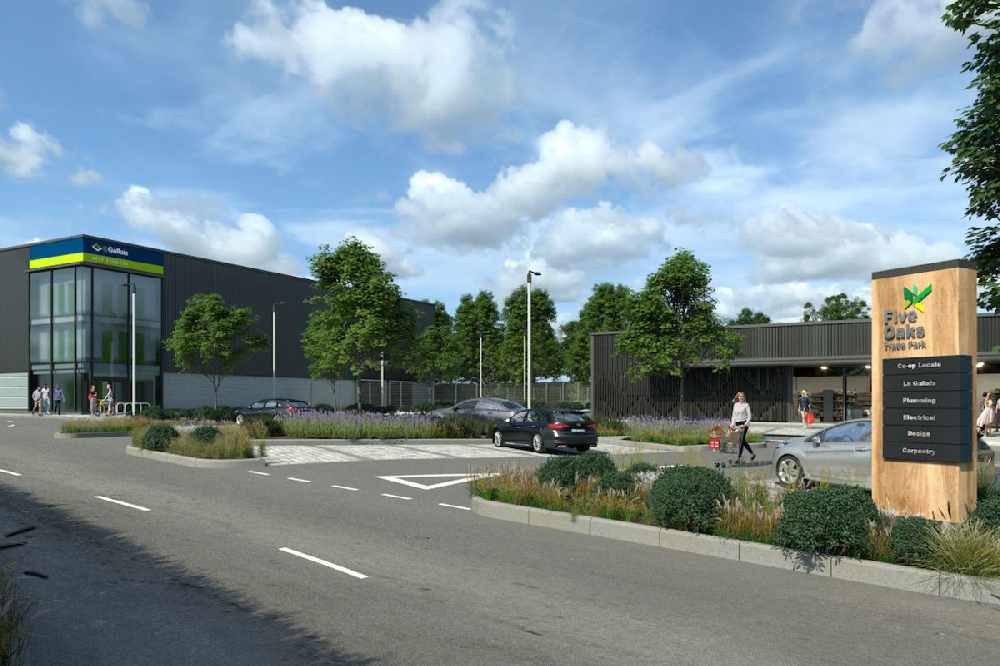 £12 million plans for a multi-purpose consumer and business park at Five Oaks have been unveiled.
If approved, the old JEP site would house a new Co-op Locale, a self-storage building, and four light industrial units and offices.
Property investment firm Le Gallais has bought the site and has revealed its idea for 'breathing new life into the area'.
All current buildings on site would be demolished and replaced with what has been described as a 'environmentally state of the art development'.
Le Gallais says at least 30 new jobs would be created.
It also says the development will not increase the amount of vehicle traffic passing through the area and there will be improved and safer pedestrian access as part of the scheme.
"This is a significant development for our business and one we believe will bring rewards for the local community at Five Oaks, for small businesses needing quality modern facilities and for those who need short- or long-term storage space. We have considerable experience of developing mixed use sites in the UK but this project will be a first for Jersey.
"The project team has worked tirelessly to come up with a scheme that we can be proud of, and that will transform this redundant commercial site. I am delighted that another Channel Island business with a long local history has come on board the project. The Channel Islands Co-Op has a warm place in Islanders' hearts, giving back to the community it serves and that is very much in line with our own business mission." - Tim Le Gallais, Managing Director.
Much of the existing landscaping will be kept or enhanced to provide screening and encourage wildlife habitats around the area.
The application has a 'Species Protection Plan' to encourage wildlife habitats around the site, which includes:
Installing 10 x type 24 Schwegler nest boxes on the eastern elevation of the proposed retail unit
2 x hedgehog houses
1 x bug hotel
Wildflower grassland
Insect-attracting plants
Tree planting
There will be 26 cycle spaces, and a zebra crossing will be installed to encourage more environmentally-friendly modes of transport.
A public art installation worked on by local artist Siobhann Macleod also form part of the plans.
"The developer, Minihi Ltd, wishes to propose a contemporary, site specific public art commission that adds aesthetic enhancement to the proposed high quality contemporary architectural facades of the retail unit that forms part of the redevelopment proposals. The intention is to work with a local artist to provide an abstract motif design, based upon the iconic 'cross' paintings of the late op-kinetic artist Richard Allen, which will be incorporated into the vertical bands of the external charred timber cladding on the most publicly visible façade of the building.
"The motif design which is based upon historical research into the history of the site and the immediate surrounding area of Five Oaks will be become a brand signifier for the development whilst also leaving a cultural legacy for future generations in terms of innovation and design".
"The re-development of the former Jersey Evening Post offices on La Grande Route de St. Martin, presents a unique opportunity to make an outstanding contribution to the understanding and appreciation of public art in Jersey and as such a substantial Percent for Art contribution of up to £45,000 will be generated for a site specific installation based on capital build costs of approximately £6m. The proposed art installation which is integrated into the skin of the building will also be ambitious in terms of its scale and ambition."
The planned Co-op Locale would be opened close to the main road.
"We know we have a lot of members living in the Five Oaks area and we believe this new store will be very much welcomed by them. Our Maufant store is very small and significantly overtrades and it is fantastic that we are now able to add an additional store in the area, which will be built to the highest standard with a number of features which will benefit the local environment.
"As a locally-owned community retailer we are delighted to be working with one of Jersey's oldest businesses, Le Gallais, on this new development." - Mark Cox, Channel Islands Co-op Chief Executive.
You read more on the plans here.