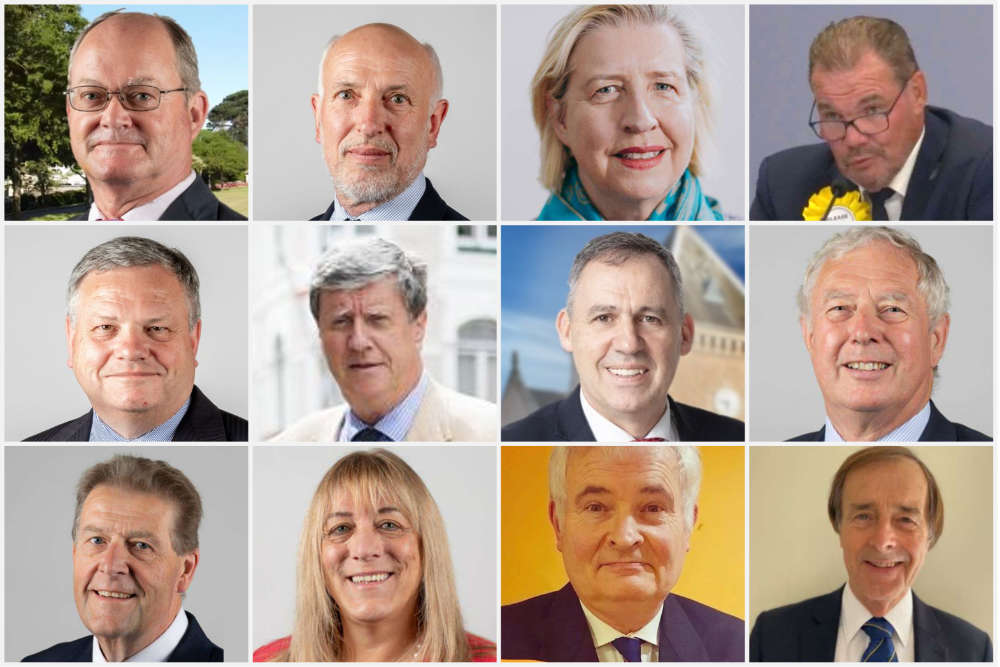 Two new faces to politics will be taking their places on the Constables benches in the next States Assembly.
Mark Labey won the seat in Grouville by a very narrow margin - just 72 votes separated him from opponent Sarah Howard.
Mr Labey is a farmer and former postman who sings with the Jersey Big Band and is heavily involved in the Battle of Flowers.
He received 975 votes compared to challenger, chartered accountant Sarah Howard's 903 votes.
Another newcomer is Richard Honeycomb, Chef de Police in St Ouen who now becomes father-of-the-parish.
He polled 955 votes. He was the only candidate, but 443 people voted for 'none of the candidates'.
He replaces the outgoing Richard Buchanan who was an Assistant Chief Minister in government.
In St Lawrence, Deidre Mezbourian keeps her seat, beating Emily Joseph 934 - 633. This will be her fifth term in office.
David Johnson - deputy for St Mary since 2014 - moves to the Constable benches. He polled 400 votes, narrowly beating Mike Fennell's 317.
The seat was vacated by John Le Bailly, who chose not to seek re-election after a single four-year term in office.
There were comfortable victories for Karen Shenton-Stone in St Martin and Andy Jehan in St John.
The former received 1,119 votes. Just 62 parishioners voted 'none of the candidates' - an addition to the ballot paper for 2022 that was initially proposed by Constable Shenton-Stone herself.
Andy Jehan, who won a by-election in 2021, will serve his first full term as Constable. He was re-elected with 1,080 votes and just 44 people registered a vote against him. He told Channel 103:
"I think it's important we follow the process. Roll our sleeves up, engage with the community, and listen to the community. I have done by very best over the last 14 months, and certainly the last four weeks, to get out there and listen."
In contrast to Mr Jehan's endorsement, Philip Le Sueur was re-elected to serve a third term of office, but 28% of the electors chose the NOTC option.
Constable Le Sueur is the only party member on the benches. He is part of the Jersey Alliance.
He told Channel 103 he's a bit disappointed with the number who opposed him:
"I don't really understand it because I made it clear from the outset that I would always put the interests of my parish and parishioners first. The party principles would say there is no party whip - we are just like-minded politicians, but that doesn't seem to have satisfied some people obviously."
Richard Vibert has been returned as Constable of St Peter to serve a second term at the parish hall.
1,150 people voted for him, while 278 registered disapproval.
In St Brelade, where a concerted 'none of the candidates' campaign had been running, Mike Jackson has been returned as father-of-the-parish to serve a fourth term.
He won 2,333 votes compared to 882 for NOTC.
Simon Crowcroft remains in charge at the Town Hall. He's been at the helm of the island's largest parish administration since 2001 and this is his seventh term of office.
He faced a challenge from Mark Le Chevalier but won 3,110 to 2,166 votes.
In St Clement, Marcus Troy has been re-elected. He won a by-election following the death of Len Norman in June 2021.
Constable Troy received 2,039 votes from parishioners, compared to 291 votes for 'none of the candidates'.
The last result of the night wasn't announced until nearly 3am - for the Constable of St Saviour.
After a long night, current St Saviour Deputy Kevin Lewis was re-elected - albeit in a new role. He takes on the parish's top job.
The Constable-elect received 1,552 votes, compared to 1,146 votes for 'none of the candidates'.