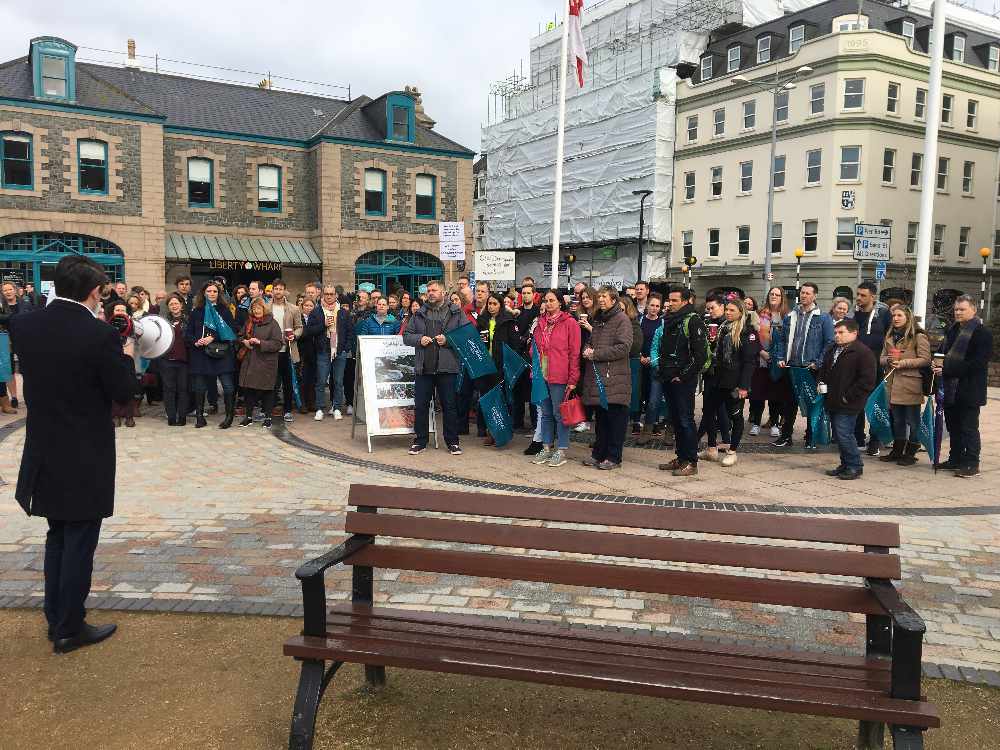 Seven Jersey secondary schools are closed today because teachers are striking
Members of the National Education Union gathered in Liberation Square this morning in protest at their pay.
The latest offer, which includes 1.3% above inflation for 2020, was soundly rejected.
Jersey NEU President Brendan Carolan says the offer for 2018 and 19 needs to improve to prevent further walkouts.
"If we need to continue action, our plan will be to have rolling action and we will move on to primary schools in the next instance"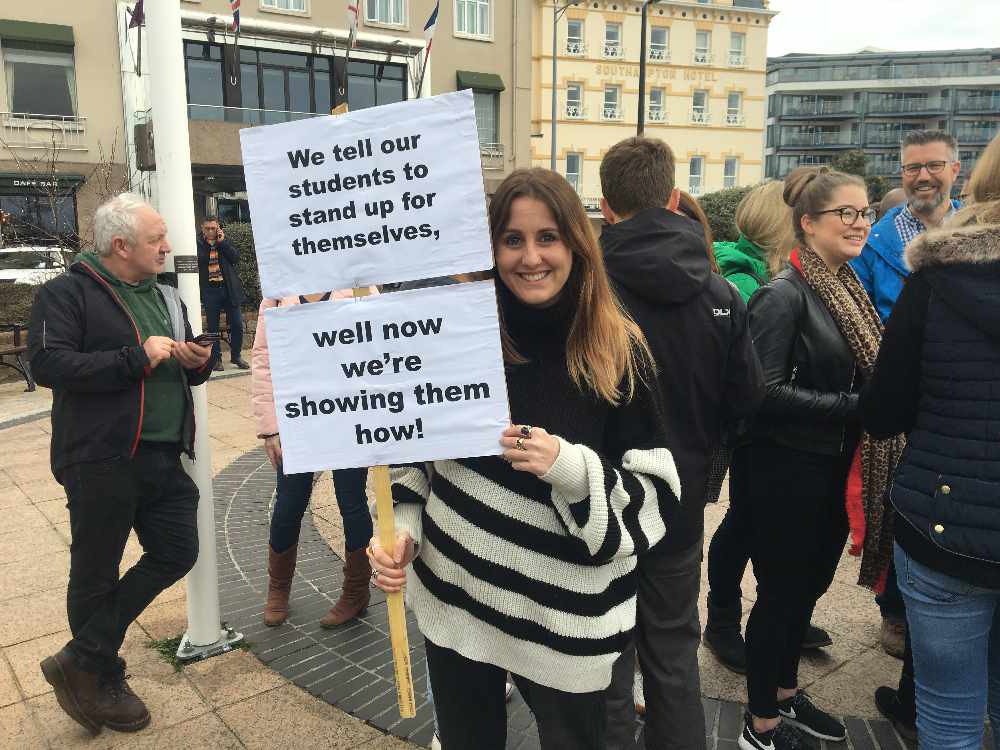 Grainville, Haute Vallee, Hautlieu, JCG, Le Rocquier, Les Quennevais and Victoria College are shut, except for students sitting exams.
Channel 103 spoke to some of the teachers who came out to protest this morning.
"We just feel like we're being taken for a ride. Like nobody is really listening to us."
"They are struggling to afford to work here and live here and to live the lifestyle you associate with a position like that."
"There are important exams coming up and being here is a very difficult decision. But at the same time I know that students support us and know that we should be down here to fight for what we believe in."
"I earn less, even having taken on more responsibility, I earn less now than I did 10 years ago and that can't be right."
"Enough is enough. We want to be listened to and that's why we've got a great turnout here today. Teachers are saying listen to us, we deserve our pay rise!"
The States Employment Board has written to all States members over pay, urging them not to vote for Deputy Geoff Southern's renewed proposition to release more funds for pay offers.
The last debate on the issue was lost by a single vote.
The letter includes an infographic on what each sector is paid and says :"Our analysis shows that public sector employees are, as a group, paid second only to employees in the financial services sector."
Reform member and former teacher, Deputy Rob Ward, made reference to that letter in his address to crowds this morning.
"The letter from the SEB and the spin that's been put on does not come from all of us (politicians). Do not tar us with the same brush.
"Certainly my direct colleagues and other colleagues around the assembly do not support the words in the letter and we certainly don't support the infographic nonsense.
"There are some very false ideas around. The comparison with the UK is wrong. Living standards here are much higher, living costs here are much higher. You have so many other things that you have to pay for here.
"If we are to attract and retain staff that we need to have the best possible education system, then we need to pay our staff accordingly."
SCHOOL CLOSURES: The school bus services to Le Rocquier, Haute Vallee, Grainville and Les Quennevais will not operate tomorrow during the strike action. All other school bus services will run as normal.

— LibertyBus (@LibertyBusje) March 18, 2019
Members of the NASUWT teaching union will walkout next Tuesday, 26th March. That action is expected to have a wider impact and force the closure of both primary and secondary schools.