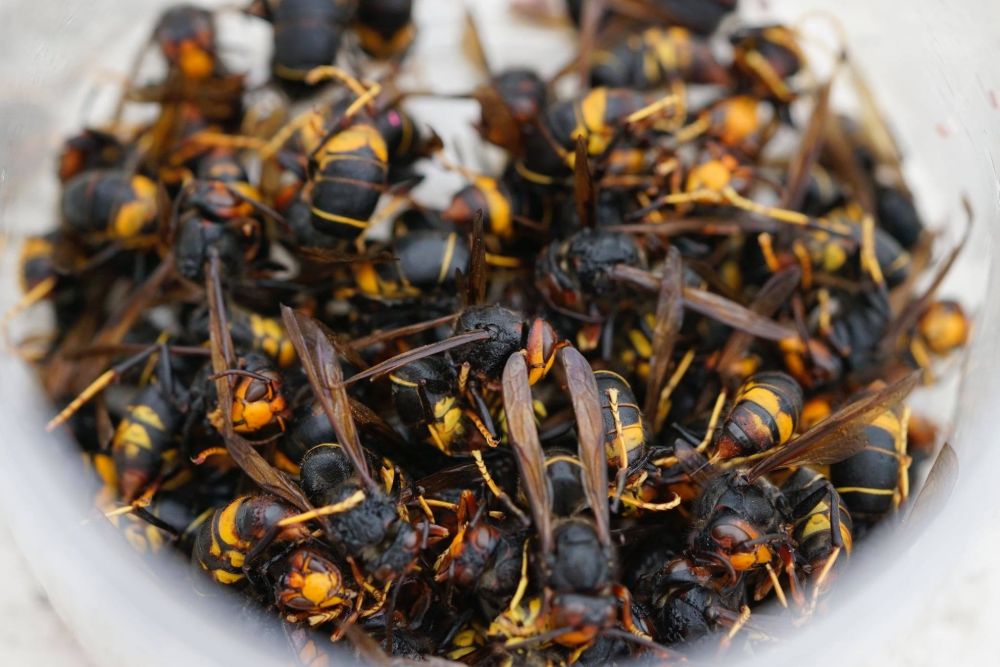 Credit: Jersey Asian Hornet Group
An Asian Hornet Hunter who was stung last week is warning islanders of the dangers if they disturb a nest.
Local Asian hornet hunters have been discovering an abundance of well-hidden nests in bramble patches, in the ground, and under shrubbery across the island - including Howard Davis Park, St Clement, and St Brelade.
The Government's Asian Hornet Coordinator Alastair Christie was stung last week during an extraction.
"I was wearing my full protective suit, but because I was using a sickle, I was wearing gardening gloves, and although my hands were fully covered in the gloves, a hornet stung me on the back of the hand through the gloves, which gives an indication about how long their sting is and how strong it is as well."
Embed not found
Alastair's advice to avoid being stung is to always examine the area you're planning on working on before you begin, and what to look out for.
"They would be looking for an unusual insect, probably one they've never seen before, they're larger than wasps and darker than them too. There's a certain malevolence of Asian hornets, they sort of tell you to keep away, so people should be looking for that unusual insect activity in the area that they're going to be working. Individual Asian hornets pose very little risk, it's when you disturb nests that the risks escalate."
A farmer was stung six times during last year's Branchage after his hedge cutter cut through a nest in the ground. He managed to escape with just mild swelling, but there is the risk of a sting being more serious for others - especially those with bee, wasp and hornet sting allergies.
The Asian hornet group found their 34th nest last week, compared to 48 at the same time last year, and have been using radio tracking to locate nests.
"We attach a small radio transmitter to an Asian hornet, and we release it and the idea is the Asian hornet goes back to its nest and shows us where it is, it's an effective technique, it's another technique in our armoury to find those nests and of course when we find those nests they are destroyed."
Anyone who thinks they've seen an Asian hornet or a nest can report it to [email protected] with a photo or via the Asian Hornet Watch app.
There is more information here.