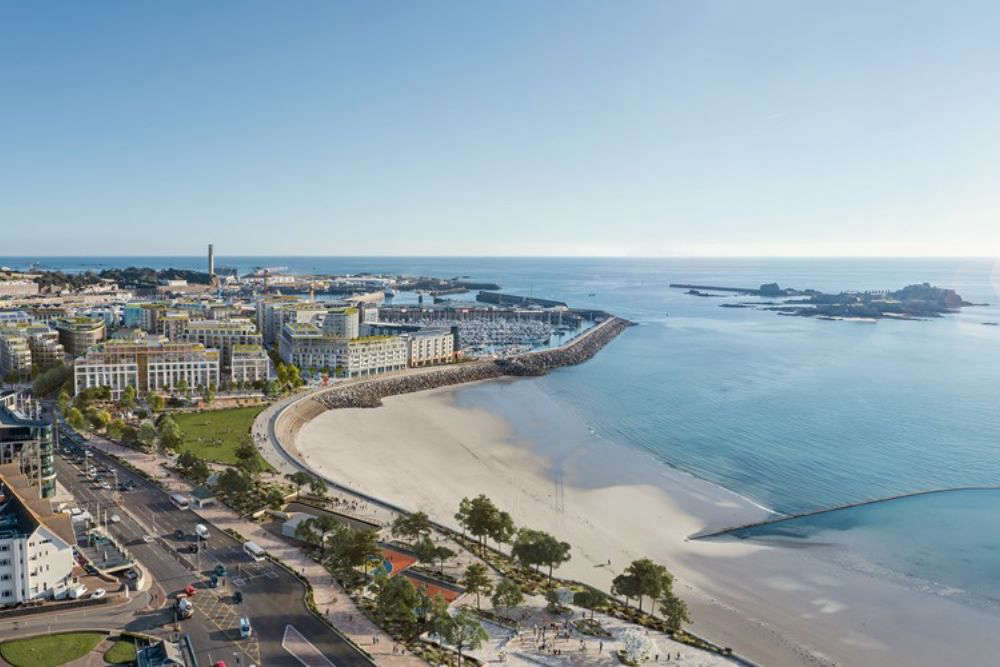 Credit: Gillespies architects for JDC.
The public inquiry into plans for new homes on Jersey's Waterfront will open on 15 May.
The recently-revised proposals are for 984 flats, parking, shops, landscaping and leisure facilities.
It includes moving the slipway and Le Fregate café -which was recently listed - and reclaiming land and creating flood defences.
Independent Inspector Philip Staddon has been appointed to lead the inquiry.
Transformation plans for 'South West St Helier' were originally lodged in January 2022, and the then-Environment Minister John Young announced the following month that he was calling an inquiry into the Jersey Development Company's plans.
His successor Deputy Jonathan Renouf has now given a timescale for the process.
"I encourage Islanders to engage with this Inquiry and submit their comments through the official channels for consideration by the inspector.
The hearings at St Paul's Centre in town will see the plans examined in great detail, and will hear from many stakeholders and Islanders with a keen interest. I look forward to receiving Mr Staddon's report."
Anyone wanting to make a representation in advance should submit it in writing by midnight on 19 March.
The word limit for the so-called 'Statement of Case' is 1,500 words.
A more detailed 'Proof of Evidence' can be submitted before midnight on 16 April.
"Statements of Case and Proofs of Evidence should be emailed to the Inquiry Programme Officer at [email protected] or sent by post to: Mrs Helen Wilson, SWSH Waterfront Programme Officer c/o IHE (Regulation), PO Box 228, Jersey, JE4 9SS."
The inquiry is expected to last five days. Mr Staddon will then make a recommendation to the Minister about whether the plans should be approved or not.