Great-grandmother Beryl Taylor (87) has become one of the first people in Jersey to receive the Pfizer Covid-19 vaccine.
The vaccine programme was due to start tomorrow (Monday 14 December) but it was brought forward by a day in light of the jump in coronavirus cases in Jersey care homes.
As of yesterday (Saturday 12 December) there were 20 known positive cases in care homes. That compares to four on Thursday 10 December.
A member of staff at Cheval Roc filmed Beryl as she received the vaccine and to get her reaction.
"I think it's marvellous (to get the vaccine). I think it's the best thing that could happen.
"I think everybody should have it and I had no hesitation in saying yes!
Care home residents were identified as the first group to benefit from the vaccine. Care home staff are set to be the next from Monday 21 December.
It's hoped that some frontline health staff will also be vaccinated before the end of 2020, but that is dependent on how many vaccines arrive in Jersey.
Just under 1,000 arrived earlier this week, with the next batch due later this week.
A second dose of the vaccine is required 21 days after the first.
Other islanders will be contacted as and when they will be able to get vaccinated.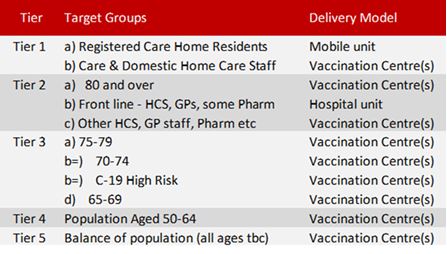 Beryl says her family all thought it was a very good idea to get the vaccine.
"I must admit when we discussed it, they all agreed that I should have it and we all feel the same.
"We think it's a very good idea so I'd eventually, after the second vaccine, be able to see them.
"I would definitely advise them (other people) to take it (the vaccine)
"Who knows what the reaction is going to be and a lot of people I know are worried about it, but I do feel that to get our lives back, that is the only thing we have at the moment and I'm certainly looking forward to getting the rest of my life back."